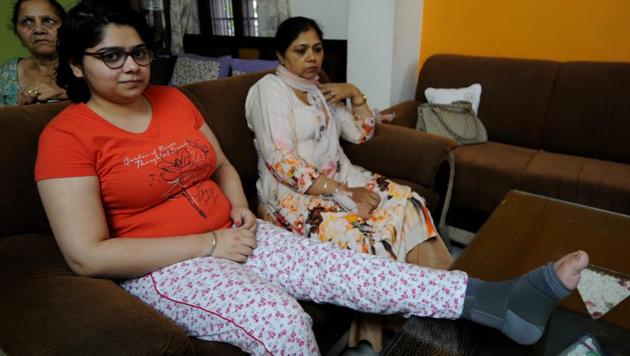 Father of Chandigarh accident victim says he should have insisted his daughter to wear a helmet
Six months after, every women in Harsimran Kaur's sector has started wearing a helmet.
UPDATED ON MAY 04, 2018 01:22 PM IST
Harsimran Kaur, 22, will never forget November 3, the day when the two-wheeler she was driving was hit by a speeding bus, leaving her battling for life.
Six months later, wearing leg braces and unable to see clearly because brain damage has affected her eyes, the only regret Kaur has is that she had not worn a helmet.
The accident triggered an intense debate in the city over women driving without helmets. Even the Punjab and Haryana high court asked UT administration to consider changes in laws that allowed women to drive without helmet. "Is there a difference between the skull of a woman and a man?," HC had asked. Now UT administration plans to make helmets mandatory for all women, except "Sikh women wearing a turban (keski)".
UT administration data from 2015-2017 reveals that 24 women riding two-wheelers lost their lives and 85 sustained injuries on city roads.
Kuldeep Singh Multani, Kaur's father, recalls how two lives were impacted within a month in his family. "On November 3, my daughter met with an accident. 15 days later, my father-in-law, a turbaned Sikh, also suffered severe head injuries in another accident and passed away."
Since then, Multani has started advocating the use of helmets to anyone who cares to listen. "Irrespective of gender or religion, people must wear helmets," he says.
Almost all women living in his sector (23) now drive with helmets, he adds.
On his daughter's accident, Multani says, "It was the bus driver's mistake, but it was also our fault because as parents we did not insist that our children wear helmets."
Not many, however, treat such advice seriously.
30 new head injury cases at PGI's trauma centre daily
At the Advanced Trauma Centre (ATC) of Post-Graduate Institute of Medical Education and Research (PGIMER), at any given moment, you will find at least one woman with head injury battling for life.
In the last four months, the ATC intensive care unit (ICU) has received 95 cases of head injury, 20 of them women, all injured in road accidents. At least nine have died.
Dr Rajesh Chhabra, professor, neurosurgery department at PGIMER, says, "These ICU cases are just a fraction of what we see at the ATC. About 40 to 50 new trauma cases come in daily at the ATC, 20 to 30 with head injuries."
About 75% of the patients are men and 25% are women.
Doctors say that the recovery rate is very slow among patients with head injuries. Survivors can also suffer from behavioural problems, paralysis, post-traumatic seizures or memory loss.
"There is a significant cognitive decline in patients with even minor head injuries," he says.
Findings of a PGIMER study
A 2014 study conducted by PGIMER had revealed that only 13.4% two-wheeler riders were wearing a helmet at the time of accident. Of these, 5.6 % females against 14.7 % males wore helmets.
Among patients wearing helmets, only 4.8% suffered severe head injuries, compared to 23.7% without helmets.
Injuries that could have been avoided
Kaya Devi, 65, Kangra, Himachal Pradesh
On April 25, Kaya Devi, 65, from Shahpur, Kangra, and her son were coming back home on a motorcycle after meeting an ailing relative. Both were thrown off balance when the motorcycle skidded. However, while the son, who was wearing a helmet, got a minor fracture in the leg, Kaya Devi was rushed to the PGIMER, in a critical condition.
"There were multiple contusions (bleeding) in her brain and cerebral oedema. If she had been wearing a helmet the impact of injury would have been minimal, chances of survival are slim," said a senior resident of the neurosurgery department.
Mamta Rani, 62, Ludhiana
Mamta Rani, 62, of Ludhiana, recently, suffered severe head injury due to excessive bleeding after she fell off a two-wheeler.
"The head injury has weakened the left side of her body. It will take her at least six to 12 months to recover," her doctors said.
Close