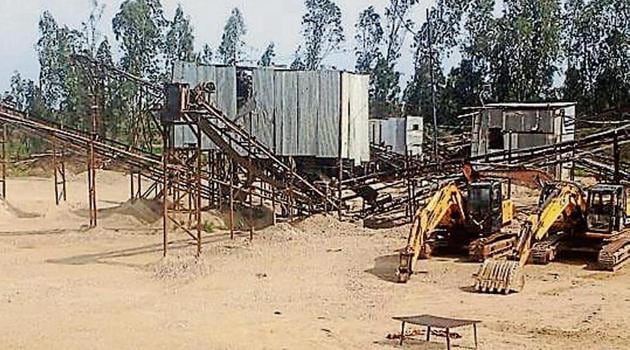 'Goonda tax': Construction firm's letter to Punjab CJ, Amarinder lends new ammo to opposition
Stormy session ahead: Letter says frontmen name 'CM house' in dictating prices of sand, gravel for projects at refinery; Khaira points finger at Captain's son Raninder too.
UPDATED ON FEB 25, 2018 09:58 AM IST
A letter from a construction-related firm to the chief justice of the Punjab and Haryana high court, Punjab chief minister Captain Amarinder Singh and Congress president Rahul Gandhi, alleging "goonda tax" being levied on supply of sand and gravel for projects at Guru Gobind Singh Refinery, Bathinda, has provided fresh ammunition to opposition parties before the budget session next month.
In the letter dated February 22, Ashok Bansal, who has a ready-mix concrete (RMC) plant at the refinery, has alleged that the Congress had raised the "goonda tax" issue before the assembly elections last year and promised to control prices of sand and gravel, "but after formation of Congress government, the situation has gone from bad to worse".
"Two companies, Sam India and Northern Logistic (P) Ltd, have submitted written complaints to both state government and district administration. I have also given an audio clip as proof to the Bathinda DC. As per the audio, the mining mafia is under direct control of political leaders and even CM house," reads the letter accessed by HT.
It adds that the CM ordered a crackdown at a cabinet meeting on February 15 but, on February 20, Ramandeep Sidhu alias Happy Sidhu, sarpanch of Bangi village in Bathinda, came to the firm's site office and threatened him (Bansal) "that no raw material can be moved to refinery without his involvement". Audio recording of the conversation is available with him, says Bansal's letter.
Happy's brother Amandeep Sidhu is the main person behind "goonda tax" through his firm Satgur Peer Builders and through a firm named Mahindra Constructions of brothers Tejinder and Narinder Bhaleria (Congress district president of Bathinda rural), it says, underlining that Narinder is a relative of Congress' Rampura Phul MLA Gurpreet Singh Kangar. They are dictating terms to buy material from them at exorbitant rates, and their call details will reveal their involvement, says the letter.
When contacted, Bansal said the CM office replied to his letter on email and marked that to the principal secretary, industries and commerce, for action.
Investigations by HT revealed that Amandeep's firm is now the main supplier of material to Sam India, a Delhi-based company making a township inside the refinery since September last year. Bansal has also annexed a letter written by Sam India's regional head Karan Aggarwal to the Bathinda DC and SSP on September 8, 2017, which says that "gangsters are operating forcibly and frequently take a plea that they have permission from the CM house".
Reacting, leader of opposition Sukhpal Singh Khaira said the Aam Aadmi Party will raise the issue in the budget session. "Akalis and Congress both are involved. When I visited the refinery recently, I was told Amandeep Sidhu has eliminated other Congressmen from the business. He is brother of an Akali sarpanch (Happy) and has been able to grab the business through Palwinder Singh aka Pappi Adnia, a close aide of Raninder Singh, the CM's son. We will demand a thorough probe into the issue," Khaira said.
Raninder, when contacted, said Adnia handles his office but is not involved in any business of the refinery. "This is just political mudslinging," he insisted. Adnia, who hails from Adnia village in Muktsar's Lambi segment, said he has been handling Raninder's work in Bathinda since 2009 when the latter contested the Lok Sabha election there. "But I have no involvement in the refinery," he said.
Amandeep Sidhu claimed that he supplies material to Sam India through a legal purchase order. But both Sam India and he refused to share details of such an order. Kangar denied knowing Gurbaksh Dhillon, named by Sam India in its letter and whose video of threatening Bansal has gone viral: "All this is due to the impending cabinet expansion. Former Akali minister Sikander Singh Maluka wants to sabotage my chances." Bathinda DC Diparva Lakra said no threats have been issued in the four days: "We will take strong action against anyone doing so."
Silent on Jojo
The letters by Bansal and Sam India are silent on the alleged involvement of Jaijeet Singh alias Jojo, brother-in-law of finance minister Manpreet Badal. The minister had himself demanded a crackdown on the "goonda tax" at the February 15 cabinet meeting after his estranged cousin and SAD president Sukhbir Badal alleged that Jojo is involved. Manpreet's cabinet colleague Tript Rajinder Bajwa too had then said Jojo's name figured in the matter.
Jojo agreed that he knows Amarjeet Mehta of AP Miles Pvt Ltd, a supplier to the refinery. Mehta also accompanied Manpreet during his victory procession in Bathinda after the assembly poll. But Jojo added, "I am not involved in Mehta's business dealings. He is a defaulter of taxes worth crores and was a loyalist of Maluka. Manpreet did not respond to calls and messages. Mehta too did not reply to calls.
Close