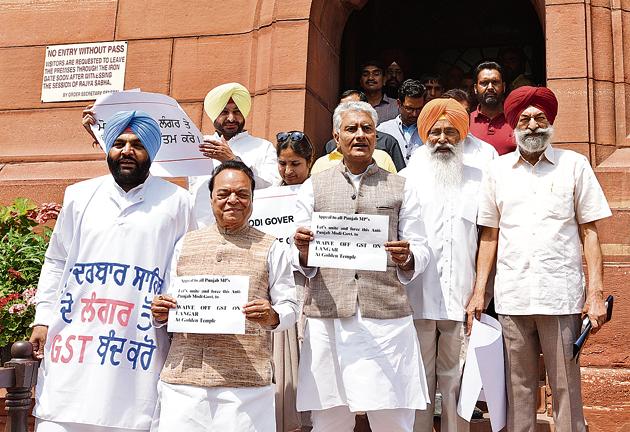 GST on Golden Temple langar: Punjab MPs rise above party lines, flay Centre
Jakhar accuses Modi govt of failing to understand sentiments of Punjabis, presses for immediate rollback
UPDATED ON APR 05, 2018 11:13 AM IST
Cutting across party lines, Punjab MPs on Wednesday held a protest outside the Parliament over the refusal of the central government to grant GST exemption on goods required to prepare 'langar' at the Golden Temple.
Gurdaspur MP and Punjab Congress chief Sunil Jakhar flayed the Centre for refusing to understand the sentiments of Punjabis.
The Golden Temple in Amritsar, which is the holiest of all Sikh shrines, runs one of the largest community kitchens in the world feeding freshly cooked food to 50,000 devotees on weekdays and over one lakh on weekends and festivals.
The Shiromani Gurudwara Parbandhak Committee (SGPC), which manages all gurdwaras, has been urging the Centre to exempt the free kitchens at the Golden Temple and other Sikh shrines from the purview of the Goods and Services Tax (GST).
Jakhar was joined by party MPs Ravneet Bittu (Ludhiana), Gurjeet Singh Aujla (Amritsar) and Santokh Singh Chaudhary (Jalandhar) and SAD lawmakers Sukhdev Singh Dhindsa and Balwinder Singh Bhunder. Bihar MP Ranjita Singh also joined the protest.
Jakhar appealed to all other MPs from Punjab to rise above party affiliations and raise their voice against the "stubborn attitude" of the central government.
"The (GST exemption) amount is nominal, but conveys an important message," he added. Earlier, sporting a kurta imprinted with a demand for roll back of GST on the 'langar', Congress MP Aujla stood out in the Lok Sabha.
Amid the din in the House with AIADMK members demanding immediate constitution of the Cauvery Water Management Board, Aujla made many heads turn with the colourful message printed on his white kurta. Union food processing minister Harsimrat Kaur Badal had also urged Jaitley to exempt all purchases made by the SGPC for the 'langar' service from the GST.
After the GST rollout, the Golden Temple reportedly shelled out over Rs 2 crore extra in 2017 for purchasing ration for the 'langar'.Under the new GST Act, there is a provision for exemption to institutions and businesses on the recommendation of the GST Council.
(with agency inputs)
Close