HT Youth Forum 2018 l Soaring high on the wings of hard work
Updated on Oct 25, 2018 12:41 PM IST
HT presents the first set of achievers for Top 30 Under 30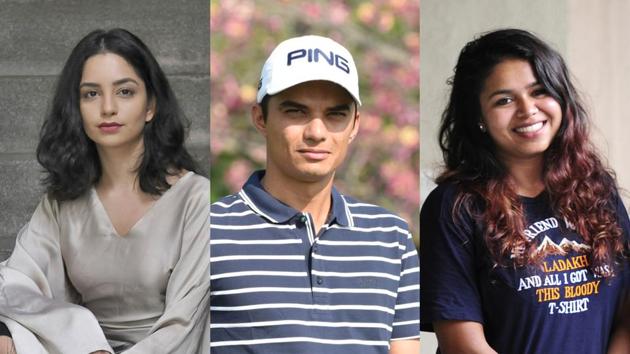 They are raising the bar for success, be it in the field of sports, art, armed forces, or fashion. Meet eight of our achievers, who are blazing a new trail. A girl from the mountains sailed around the globe in 254 days, a boy from a dusty town in Punjab clung to his dreams even when a wholesome meal was a luxury, yet another feisty man from trouble-torn Kashmir made it his life's mission to train children in martial arts. What binds them all is their grit and never-say-die spirit. HT presents the achievers for Top 30 Under 30
ON THE OARS OF SUCCESS
Sukhmeet Singh, 24, Rower, Mansa
Because
He won gold in rowing event in the 2018 Jakarta Asian Games. Jakarta was his first-ever international outing.
Secret of success
Relentless practice is the key to my success. Rowing requires a lot of endurance so practicing for around seven hours a day is a must. I always try to keep a positive outlook. I am an army man so the zeal to make my country, state, district and parents proud motivates me to push myself harder. I was also very inspired by the movie Bhag Milkha Bhag. It is a matter of great pride to get an opportunity to wear India's coat and represent the country.
My goal next
I am all geared up for the 2020 Olympics even though they are almost two years away. I am also preparing for the World Rowing Championship in 2019. If we are among the top 6, we will qualify for the 2020 Tokyo Olympics.
My role model
My role model is undoubtedly, award winning rower, Swaran Singh Virk, who hails from Mansa, my district. I was elated to get an opportunity to meet him in 2016 during an Army competition.
By the way
I am very fond of playing kabaddi. My guilty pleasure is buying clothes. I love going to the malls to look for clothes and shoes. It is an indulgence that I can afford now. When I was growing up, my parents were very poor and I used to often end up wearing hand-me-downs or shabby clothes.
Second Opinion
"He is the golden boy of rowing. He was able to clinch gold during his first attempt. He is a great potential."
—Swaran S Virk, gold medal winner in rowing at the 2018 Asian Games
SHE SAILED THE WORLD
Lt Payal Gupta, 28, naval officer, Dehradun
Because
She was part of the all-woman crew of INS Tarini, the first Asian team to circumnavigate the globe in 254 days. She was awarded the Nau Sena gallantry medal on August 15 . She was also feted with the Tenzing Norgay National Adventure award 2018 besides getting the Nari Shakti Award. An avid sailor, she has sailed 50,000 nautical miles since 2015. She has also participated in the prestigious Cape to Rio 2017 race.
This youngster from Dehradun, the land-locked capital of the mountainous Uttarakhand, admits that no one in her family had ever done a stint in the navy. But she wanted to carve a new path for herself. She was inspired by the men in uniform she would see at the neighbouring Indian Military Academy.
Secret of success
I believe life without goals is nothing but emptiness. So my dreams drive me. Secret of my success is nothing but perseverance, consistency and the never-say-die attitude.
The goal next
I want to hone my sailing skills further, and participate in the Volvo Ocean Race to mark India's presence there as well.
My role model
My parents are my role models because seeing them working so hard for the family always gives me strength .
By the way
I love to travel, meet new people, and explore different cultures. I also love to spend my free time with friends and family, they are my world.
Second opinion
"Lt Payal is a very fine officer with a positive attitude and a strong will. I admire her grit and determination."
—Nisha Rawat, senior software developer at BNG Mobility Solutions
HARD WORK, HIS SECRET
Rupinder Pal Singh, 27, hockey player, Faridkot
Because
He was part of the Indian men's hockey team that won the bronze at the 2018 Jakarta Games. He also has the 2014 Asian Games gold in his kitty.
From travelling in a sleeper class and skipping a meal to save money so that return ticket could be bought to affording a ₹25-lakh car, Faridkot-born Rupinder Pal Singh has come a long way, thanks to hockey. He hails from a humble family, where his elder brother —former state-level hockey player —had to sacrifice his own career in sports so that Rupinder could pursue hockey. Rupinder started his hockey career from an academy in Ferozepur but it was his six-year stint at Chandigarh Hockey Academy that helped him earn national colours. Of late, Rupinder has become one of the lethal drag-flickers of Indian hockey with 90 goals in 190 international matches to his credit.
Secret of my success
Hard work is the sole secret of my success. I train for five to six hours every day, come rain or hail. I am motivated by my dreams to make my country proud.
My goal next
I want to be part of the team that wins the World Cup.
My role model
My parents are my role models. They had to face a lot of ups and downs in life but they still gave us the best they could.
By the way
I love bingeing on movies on Netflix. I am also fond of watching football.
Second opinion
He is one of the finest players we have and we expect him to deliver for the country in the coming tournaments.
—Rajpal Singh, Ex-hockey captain
TO STRIVE, TO SEEK
Ashima Raizada, 23, artist, Mohali
Because
This engineer by training has a won a bouquet of awards which include the Chandigarh Lalit Kala Akademi Award 2017, All India Academy of Fine Arts Award 2017, Raghu Rai Scholarship in Multimedia Arts by Punjab Lalit Kala Akademi 2017, We Group All Women Annual Art Exhibition Award 2018 and the FFF Forum Rising Star Award 2017.
Secret of success
A consistent sense of dissatisfaction with the dynamics of the world, curiosity about the possibilities that lie above us and the process of creation itself. I seek and find beauty in the ordinary. I also don't try to confine myself to the pre-conceived notions of how things should be.
The goal next
I want to further understand the finer nuances of art and enhance my artistic practice accordingly.
My role model
Naming one is difficult but there are many who inspire me. Robert Rauschenberg, Mark Rothko, Andy Warhol, Bharti Kher, James Baldwin, Charles B, Nietzsche, Richard Linklater, Kendrick Lamar and so many more. All of them are/were pioneers in their fields, visionaries who helped in the evolution of their respective disciplines and followed an unorthodox approach towards their work.
By the way
I love trekking, exploring different genres of music, and going for long walks.
Second opinion
Art is a feeling, pure instinctual energy. It transports, freezes time. Ashima's work is all of this, it is soul with curiosity for the beauty in mundane.
—Madhuvanthi Senthil Kumar, design director, Taxifabric
TRAINER OF CHAMPS
Faisal Ali Dar, 27, coach, Bandipora, J&k
Because
Faisal Ali Dar, the trainer of wunder-kids Tajamul Islam and Hashim Mansoor, runs the most celebrated sports academy in one of the terror-affected areas of Kashmir. Faisal took up martial arts in 2003, inspired, he says, by Bruce Lee movies. Faisal has persevered in the face of every difficulty – political, social and economic. Even during the unrest, he continues to train these kids. Faisal received Dr. B.R. Ambedkar National Award in "Sport and Peace".
Secret of success
Following my grandfather's advice is the secret of my success. He always said whatever you do, do it with a pure heart; if your intentions are good, success will surely come your way. I started my academy with the aim to provide youngsters good training and encourage sports in Kashmir. Initially, I faced a lot of obstacles but my grandfather's words kept me going and I finally succeeded.
The goal next
Most parents encourage their children to pursue academics and often view sports with contempt. I want people to see sports with the respect they accord to academia. I plan to introduce a variety of new sports to the youth of my region.
My role model
My coach, Kuldeep Handoo, is my role model because I owe everything to him. I am also a fan of American actor, film director, martial artist Bruce Lee.
By the way
Cooking has always been a source of joy for me. I love preparing mixed veggies.
Second opinion
He is an unparalleled sportsperson. Despite all obstacles Faisal has succeeded in promoting sports in the valley.
—Arsullah Habib, national kabaddi player, from Kashmir
THE PERFECT PACER
Siddharth Kaul, 28, bowler, Chandigarh
Because
After Kapil Dev, Yograj Singh and Chetan Sharma, Siddharth Kaul is the fourth pacer from Chandigarh to play for India in the T20 and ODI format. He made his T20 debut against Ireland and his ODI debut came against England in June 2018.
Secret of my success
My desire to represent my country at the international level keeps me going. I feel will power, hard work and honesty towards the sport are part of my secret sauce.
My goal next
I want to play for my country for the next six to eight years and win the World Cup.
My role model
I look up to my parents Sandhya Kaul and Dr Tej Kaul and also my elder brother Uday Kaul.
By the way
I love listening to music, especially Punjabi. Also, I am very fond of driving.
Second opinion
In an era when India has got tremendous strength in fast bowling, he has made his mark. He needs to keep up the good work and aim for a berth in 2019 World Cup.
—Harish Sharma, UT coach
HE TEES OFF TO MUSIC
Ajeetesh Sandhu, 29, golfer, Chandigarh
Because
He won the Asian Tour event Yeangder Tournament Players Championship at Taipei last year, followed by a win in Japanese Challenge Tour.
Ajeetesh Sandhu is steadily building a niche for himself in the world of golf. Jeev Milkha Singh was among the first to bring the Indian golf to world level and achieve global recognition for golfers from this part of the country.
Now, Chandigarh-lad Sandhu is making sure that he is counted first among equals in India's Next Gen golfers from this region.
Ajeetesh got hooked to golf early in his childhood , thanks to his father SMS Sandhu. He started playing it his backyard and soon moved ahead under his coach Jesse Grewal.
At 29, he has been on the radar for long and 2017 can be considered a breakthrough year for him when he won his first Asian Tour title — US$500,000 ( ₹3.2 crore aprox) Yeangder Tournament Players Championship in Taipei. Now he joins a select league of Indian golfers who have scored a won in the Asian Tour.
Ajeetesh, who turned professional in 2008, has been in mix this year missing the podium by a whisker with his best being Tied 5 in 37th GS Caltex Maekyung Open Golf Championship followed by a Tied 11 in Sarawak Championship, where at one point he slipped to Tied 43 before rallying back.
Secret of my success
Patience is the keyword for me. You wait for success, focus on processes, and keep doing hard work. I don't think success can happen overnight. Whenever people see someone succeed or scale unprecedented heights , they don't look at the years of hard work that may have gone into that moment of pride. My motto is to keep at it. You require a certain regimen and nerves of steel. Mental strength is equally important for this game.
My goal next
To win again, preferably in Europe.
My role model
Jeev Milkha Singh. At that time there was no CGA range, so he used to practice on Hole No. 1 at Chandigarh Golf Club.
I remember watching him and getting inspired to take up golf. I am sure many youngsters at the Chandigarh Golf Club were inspired by him. No wonder this club is called the nursery of golf champs. Many youngsters who are playing internationally trace their roots to this club.
"He has always been hard working and focused. There is little he leaves to a chance. All his coaches have told me that he possesses one of the best swing in the golf. He is a capable golfer and I am sure he will pretty soon make his mark in the world circuit," said SMS Sandhu, Ajeetesh's father.
By the way
I usually listen to electronic music while I am practicing. It keeps me away from any distraction. I travel a lot and it's hard for me to have a home base, but if I had one I would surely learn to read music and play the piano.
Second opinion
Everyone knows that Ajeetesh has got one of the best swings in the game and that has been his key to success. He won last year and this year we did some technical corrections and I am sure he will win tournaments in the rest of the year as well.
—Jesse Grewal, coach
STYLE AND SUSTAINABILITY
Seerat Virdi, 27, designer, Ludhiana
Because
Her first two sustainable designs got her selected to the Lakme Fashion Week X IMG Reliance incubator program in India. Her first sustainable collection took her to the Redress Design Awards, the biggest sustainable design competition held in Hong Kong. Redress has had seven cycles of competitions in the last seven years and she is the first Indian designer to have represented the country at the Redress Design Award platform in Hong Kong.
Also, her brand 'Miesu' has come a long way in the last two years.
The secret sauce
I continually strive towards being humble, kind and insightful. I feel being a sustainable designer allows me to do that. I'm constantly challenging myself and trying to advance on a personal level and to be the best version of myself, I think that's what drives me.
What attracted me to design in the first place is that it's so multifaceted, we can choose to change our expression and still be able to identify ourselves with our work.
Being a designer has allowed me to develop new skills and interact with people that I never could have imagined – and I've barely scratched the surface. It's changed my confidence level and this continues to keep me motivated.
The journey was not easy at all. I had to work extremely hard consistently and give it everything I had. That took a lot of courage and determination. I aim to take it to much greater heights.
The goal next
I am open to new and exciting opportunities but at the same time, I want to use this opportunity to reinvent my brand and work on designing sustainable and fashion-forward clothing.
I also hope to collaborate with other designers/brands on sustainable design projects. I strongly believe that working with other people towards a common goal has a much stronger impact.
I think this it's a great way to not only teach others about ethical fashion but to spread consumer awareness as well.
My role model
Imran Amed, Founder of The Business of Fashion. For me, he is the true example of an exceptional entrepreneur whose influence on our glamorized fashion culture is highly essential. Every morning I get an email notification from BOF (his media and technology company) and its the first thing I find myself happily reading every morning.
The articles that he and his team write are intelligent and very insightful on what's happening in the fashion world. A conversation with him would be invaluable to me.
By the way
I love to paint and I always carry a journal or my iPad with me. If certain moments are special and I have the time, I sketch them down.
Second opinion
"Seerat Virdi's works are very impressive. I look forward to meeting with her whenver I am in India."
—Christina Dean, founder of ReDress
Personalise your news feed. Follow trending topics