Army chopper makes emergency landing in Hoshiarpur village
Updated on Mar 12, 2016 12:48 AM IST
An Indian Air Force (IAF) helicopter crash landed in Hoshiarpur district's Maili village, approximately 30 kilometres from here, Friday morning, after it developed a technical snag. Two of the four crew members on board were injured in the mishap.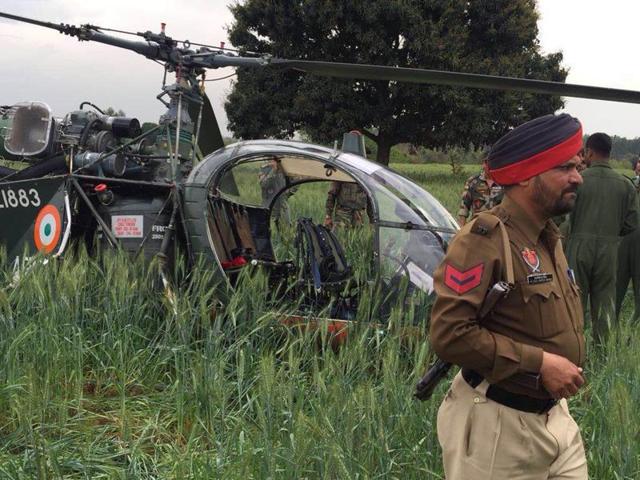 An army helicopter made an emergency landing near Maili village, 30 km from here, on Friday morning after it developed a technical snag. Two officers received minor injuries as the pilot averted a major tragedy.
The chopper had taken off from Jalandhar Cantonment and was on a routine sortie to the Border Security Force training camp at Kharkan in Hoshiarpur district. On its way back, the pilot detected a technical snag, leading to malfunctioning of the engine, while flying over Maili village. After hovering in the sky for some time, it made an emergency landing in the wheat fields around 11.45 am.
Pilot Aditya Verma and co-pilot Ajit escaped unhurt while Major Guriqbal Singh and Lt Col DS Chohan suffered minor injuries and were rushed to the nearby Mahilpur civil hospital.
Superintendent of police (detective) Kulwant Singh, who reached the spot, told Hindustan Times that the pilot's presence of mind helped avert the tragedy. The SP said, "The helicopter was flying at 1,400 feet when the pilot detected the snag. He tried to bring down the chopper but on seeing the village habitation surrounded by eucalyptus trees, he took the machine away and made an emergency landing in the wheat fields."
The SP said that according to the pilot, they had lost control over the chopper while it was coming down. Villagers saw the chopper make rounds in the air before crash-landing. "The pilot said they did not lose hope but the safe landing under the circumstances was no less than a miracle," the SP added.
As the word spread, locals rushed to the area. Balram Singh, whose wheat crop was damaged, said, "I saw the helicopter hover in the sky but had no idea it would land in my fields. By the time we reached, the officers had come out of the chopper."
The Jalandhar Cantonment control room sent an air ambulance to the site. Experts will inspect the chopper on Saturday.
Personalise your news feed. Follow trending topics