Illegal mining: Sand mafia using vehicles without registration numbers in Mohali
Updated on Oct 22, 2018 10:56 PM IST
The drivers of sand-laden vehicles get booked while owners go scot-free.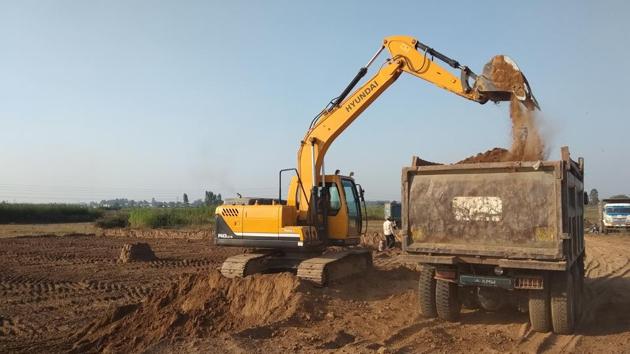 Even though the Mohali police have been impounding vehicles and arresting drivers who are involved in illegal mining, others involved in it are far from their reach.
According to the information, people who are involved in illegal mining have been using vehicles without registration numbers so that no case can be filed against them.
Villagers of Kakrali and Mukandpur villages in Mohali alleged that illegal mining is rampant and sand-laden tippers and trolleys ply on road even outside the police station.
On Saturday, Mohali police impounded nine tractor trolleys and arrested three people of Kakrali village, Dera Bassi. The nine people were booked under the Mining Act as a case of theft was not be established against them. However, owners of these tractor trolleys were not be booked as the vehicles were without registration numbers.
Dera Bassi SHO Mahinder Singh said, "This is violation of Motor Vehicle Act. We will add sections of the act."
"We are investigating the case. The drivers were carrying out mining without requisite documents on their own fields," he added.
On October 13, the cops from Zirakpur, Dhakoli and Dera Bassi were deployed near Kakrali village to nab people involved in mining. The police said Lakhvir Singh, Jaspal Singh, Gurjant Singh, and Manga, all residents of Kakrali village are still at large, adding that hunt is still on.
Illegal mining rampant, allege villagers
Villagers of Kakrali and Mukandpur villages in Mohali said illegal mining in villages along Ghaggar river is rampant.
Dilbag Singh, resident of Mukandpur village, said, "In the name of land levelling, some people are involved in digging of sand and mud. Trucks full of mud and sand is being transported to brick kilns and crushers."
Octogenarian Baksheesh Singh of the same village, said, "Police should take strict action act against people who are involved in illegal mining. Heavy vehicles carrying mined material ply on village roads. Some of these vehicles even ply outside the police station."
Close Story
Personalise your news feed. Follow trending topics