Kejriwal aware of Mann's alcohol addiction: AAP's suspended MPs
The video showing Aam Aadmi Party's (AAP's) Sangrur MP Bhagwant Mann allegedly drunk at a religious function at Bargari village in Faridkot on Sunday has left the party red-faced.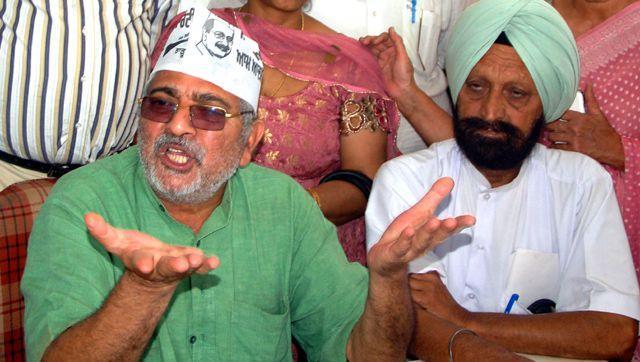 Updated on Oct 26, 2015 11:54 PM IST
The video showing Aam Aadmi Party's (AAP's) Sangrur MP Bhagwant Mann allegedly drunk at a religious function at Bargari village in Faridkot on Sunday has left the party red-faced.
The video, which has gone viral, shows how Mann was forced to leave the religious ceremony on Sunday, held for the two protesters killed in police firing, after he was allegedly found drunk by a former "granthi"
Even party convener and Delhi chief minister Arvind Kejriwal and other party leaders are aware of Mann's drinking habit. Mann's colleagues term him a habitual drinker as they say he used to come to Parliament drunk.
The #Drunkbhgwantmann has become a top trend on twitter inviting people's ire. Some are even cracking jokes on Mann and the AAP.
Radical Sikhs have already given a call to boycott Mann, who is considered a mass leader due to his oratory skills. He is also being projected as AAP's CM face in Punjab for the 2017 assembly elections.
Suspended MPs of the party Dharamvira Gandhi and Harinder Singh Khalsa said: "We had discussed the drinking habit of Mann with Kejirwal and had even cautioned that one day he would bring embarrassment to the party as he often comes to Parliament drunk. Kejriwal was also concerned about Mann's habit."
"Informally, it has been our agenda within the party to find out ways and means to get Mann out of the drinking habit. I even suggested shifting him to a de-addiction centre," said Khalsa.
"Once Kejriwal questioned me why I don't sit next to Mann in Parliament? I told him that he comes drunk to the House and I cannot stand the foul smell. It's a well known fact that he is a drunkard." I even suggested him to switch to vodka instead of whiskey as it smells less," added Khalsa.
Patiala MP Dharamvira Gandhi said: "I was concerned over his drinking habit and suggested Kejriwal to counsel him. Mann is in early 40s and can be nurtured as a popular leader in Punjab, provided he quits drinking. I am disappointed that due to his habit, the party's prospects have received a setback in Punjab."
In his tweet, ousted AAP leader Yogender Yadav said:" "#drunkbhagwantmaan is an open secret in AAP. Prashant Bhushan and I had objected to it."
Taking to media Yadav said: "I discovered it first in July 2014 when party had called a meeting of all its Lok Sabha candidates. Mann was sitting next to me and was drunk. I told this to Kejriwal. Later, I came to know that he used to attend Parliament sessions while being drunk."
Congress leader Harminder Gill, who was present at the religious ceremony at Baragri on Sunday, said: "Mann came with Sucha Singh Chhotepur but didn't sit on the stage. Later, on request of some Sikh leaders, he came on the stage and sat next to me and Sukhpal Khaira. Mann was drunk and Giani Jagtar Singh, who was sitting next to him, asked him to leave."
Dismissing the allegation, Mann on his Facebook page termed the incident a well-planned conspiracy. "It's wrong that I was drunk. I can't even think of going to a religious congregation drunk. It's a conspiracy to divert the people's attention from the core issues of Punjab. I will keep fighting for the cause of Punjab." he added.
NOT THE FIRST TIME
It's not the first time that Mann was found drunk in public. He was under the influence of liquor when he was addressing a press conference at the Chandigarh Press Club which was called to raise the issue of abducted Indian youth by IS in Iraq.
Close Story
Personalise your news feed. Follow trending topics