Modi praises Punjab CM Amarinder as 'independent soldier', leaves him fuming
Amarinder was quick to dismiss Modi's remarks as part of BJP's "futile attempts" to create a wedge between him and the Congress high command.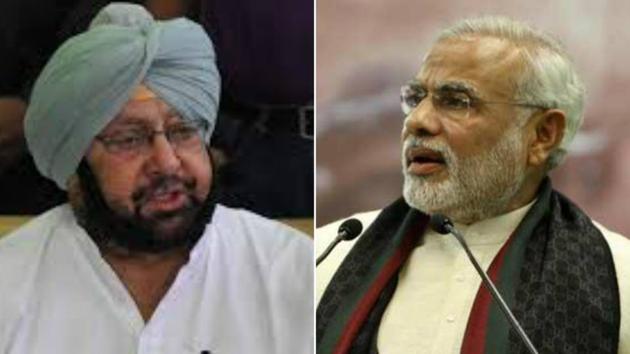 Updated on Mar 04, 2018 12:29 AM IST
Hindustan Times, Chandigarh |
HT Correspondent
Amid the euphoria of poll results in Tripura, Prime Minister Narendra Modi's compliment for Punjab chief minister Captain Amarinder Singh has put both him (Amarinder) and the Congress at unease.
Delivering a victory speech on Saturday, Modi mocked the Congress saying its chief ministers are becoming rare. But he heaped praise on Amarinder saying: "Neither he nor they (Congress) consider each other their own. He is a 'swatantra fauji' (independent soldier)." He also tweeted it later. As the Congress saw red, Amarinder was quick to dismiss Modi's remarks as part of the "BJP's futile attempts to create a wedge between him and the Congress high command through frivolous and unsubstantiated statements ahead of the 2019 Lok Sabha elections".
Questioning the source of Modi's information, Amarinder quipped: "I don't remember complaining to him against the Congress high command. Did the high command go and complain to him against me? Neither he nor the Congress high command needed the PM's advice on how to manage their internal relations." He said the PM's "jumlebaazi" would not have any impact on the Congress leadership, workers or the citizens of the country. Amarinder also tweeted it later.
"Contrary to what Mr Modi would like to believe, the Congress was not a fly-by-night party which he could simply wish away," Amarinder said, declaring his party's complete readiness, under the leadership of its president Rahul Gandhi, to take on the BJP in the Lok Sabha elections next year.
But the Modi-Captain bonhomie has been worrying the Congress since Amarinder took over in March last year. He softened his stand towards the Centre by welcoming talks on the Sutlej-Yamuna Link (SYL) canal issue. In November 2016, Amarinder had resigned as a Lok Sabha MP after the Supreme Court gave a verdict supporting Haryana. In run-up to elections, Amarinder had announced that Punjab will not share its waters with Haryana at any cost.
BJP's ally SAD was quick to hit out at the CM with his predecessor Parkash Singh Badal and Akali Dal president Sukhbir Badal questioning Amarinder's stand to put "waters of Punjab on the negotiating table".
Close Story