Now, facial recognition attendance for Chandigarh govt college staff
May 06, 2017 06:23 PM IST
A teachers seeking anonymity said, "There are days when our lectures get over early or we are on an exam duty. But we cannot leave the premises without marking attendance. It makes no sense at times to wait for five hours."
With a view to checking absenteeism among faculty members and administrative staff, city government colleges have started facial recognition attendance system.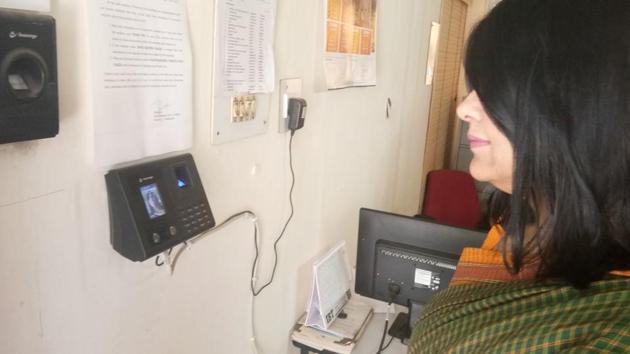 Earlier, the biometric attendance system in colleges was based on thumb impression only. The new machines not only scan fingerprints but also iris and face.
The Postgraduate Government College (PGGC), Sector 11, claims to be the first in the city to have installed these machines. College principal JK Sehgal said, "It is for the convenience of teachers. Many used to complain that machines did not accept their thumb impression at time. Now, they simply have to stand in front of the machine and their attendance will be marked."
However, the new system has invited criticism from teachers who said that it is unfair to sit in the college for five hours just to sign it twice after five hours duty.
A teachers seeking anonymity said, "There are days when our lectures get over early or we are on an exam duty. But we cannot leave the premises without marking attendance. It makes no sense at times to wait for five hours."
Another teacher said, "I believe it will have a positive result. Earlier, teachers did not mark their attendance regularly. Many resorted to proxy attendance but now with the new biometric attendance, teachers cannot leave before completing five hours."
Sources in government colleges said the new biometric system is not being implemented uniformly and some teachers, who are physically challenged and visually impaired, are exempted from marking attendance on the machines twice.
"Some teachers from Delhi University had also come to our college recently. They said this system of facial recognition attendance had failed there. Our authorities should look into it," said an official at the Postgraduate Government College for Girls, Sector 11.