Punjab govt wary of opening Pandora's box by summoning ex-DGP Saini in graft case involving "conman" Amandeep Skoda
Though the vigilance bureau is likely to summon Saini in the case involving 'conman' Amandeep Skoda, govt worries stem from the latter's alleged close ties with many top-rank police officials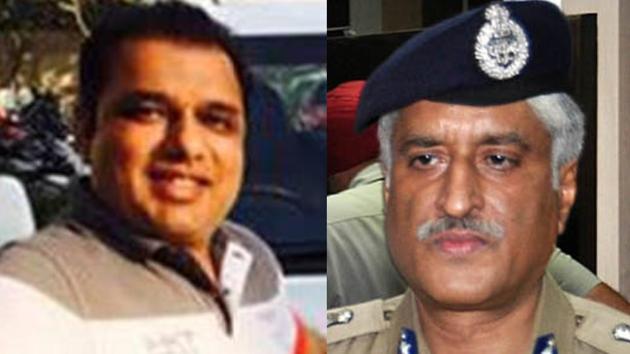 Updated on Oct 16, 2018 09:04 AM IST
Even as the state vigilance bureau (VB) is likely to summon former Punjab director general of police (DGP) Sumedh Singh Saini in a graft case involving "conman" Amandeep Skoda, the government is treading cautiously as the case may open Pandora's box, with Skoda allegedly having close ties with many top-rank police officials.
It has been an open secret in Punjab Police and the administrative circles of the state that Skoda, a proclaimed offender (PO) who is facing at least 12 cases of fraud registered across the state, had allegedly used names of many big shots, including Saini, to cheat people to get money.
He projected his "personal ties" with senior government functionaries and even the judges.
What has put the government in a fix before proceeding further in the case is the analysis of other cases relating to Skoda, disclosed a VB official, which has created a "doubt" that this case may end up defaming many individuals, most of them unnecessarily.
With such doubts in mind, the VB on Monday reportedly consulted a DIG-rank official, who had done a detailed investigation into Skoda's acts, when he was SSP Patiala during the previous SAD-BJP government.
The Congress government is now making desperate attempts to zero in on Saini, who is in the eye of storm with Sikh organisations sitting on dharna in Bargari and demanding the arrest of the top cop, holding him responsible for police firing on Sikh protesters, seeking justice in incidents of sacrilege of Guru Granth Sahib, on October 14, 2015.
"There are a few doubts in the mind relating to the case. Officials who have investigated into Skoda case earlier term him a conman. There are some officials whom Skoda knew personally. But at the same time there are many whose names he was just using," said a VB official.
Most of the cases were registered against Skoda when Saini was Punjab DGP.
To mint money by promising to arrange jobs for many people and settle police cases of others, Skoda allegedly used names of many senior police officials, including a present DGP rank official, two ADGPs, some IGs and DIGs, said a VB official privy to the investigations in the case.
The list also includes two officers on special duty (OSDs) posted in the office of the then deputy chief minister Sukhbir Badal during the SAD-BJP government. Skoda used to refer one of them as his 'fufad' (uncle) before his prospective victims, the official said.
The biggest worry for the government in moving ahead in the case are Skoda's alleged "flaunts" in which he used to boast about his relations with two senior woman IPS officers.
"However, it has emerged in earlier investigations that Skoda did not know them personally and has tampered with their telephonic conversations to impress people. It will be interesting to watch if the government will let all such skeletons to tumble out of cupboards," a senior government functionary said.
Saini is likely to be summoned by the VB in one such case where Bachittar Singh, a head constable of Punjab Police, was accused of taking money from at least 15 people on the pretext of getting them appointed as assistant sub-inspector (ASIs) and constables.
Bachittar, who was posted in the DGP office during Saini's tenure, was allegedly worked on a commission basis for Skoda. Bachittar turned approver in the case recently.
Saini, when contacted, refused to comment on the issue. VB chief director BK Uppal also did not respond to HT queries.
The Skoda link
Saini is likely to be to be summoned in a case involving "conman" Amandeep Skoda. A native of Chak Punna Wala village of Fazilka district, Skoda's original name is Amandeep Kamboj. He earned the surname Skoda as he originally used to own an 'Octavia Skoda' car. Skoda, now 34, shifted to Chandigarh after his post-graduation from Panjab University.
He is very soft-spoken and has skillfully developed rapport with many political leaders, according to some officials familiar with the investigations. He amassed huge wealth by projecting himself as a close relative of many top officials.
A total of 12 cases are pending against him with one of them under VB probe, in which Saini is likely to be summoned. He has been declared proclaimed offender (PO) in two cases and has been on the run since 2016.
Close Story