Ram Rahim rape verdict: Trains suspended, airfares sky high, buses in short supply
All passenger trains to Chandigarh will be cancelled, except the Shatabdi Express between Chandigarh and Delhi.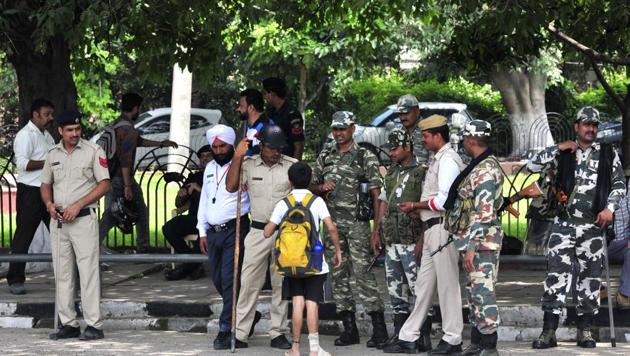 Updated on Aug 24, 2017 06:00 PM IST
It was another tough day for commuters in the tricity (Chandigarh, Mohali, Panchkula) as rail traffic was affected in the noon with Haryana additional chief secretary, home, Ram Niwas asking the railways ministry to immediately stop all passenger trains coming to Chandigarh for two days. Buses of Haryana Roadways coming to Chandigarh and Panchkula have already been stopped for two days.
The airfares continued to skyrocket for the second day in running as more people took the air route out of the city to Delhi. Residents travelling between Chandigarh and Delhi spent approximately 12,464 to 14,561 for a one-way flight on Thursday. Although no flight from Chandigarh was affected, the air fares saw a massive rise ranging from Rs 5000 to Rs 14,561 per ticket.
A seat on Spicejet Chandigarh-Delhi flight scheduled for 4:10 pm set you back by Rs 14,561 on Thursday followed by the JetAirways 3:05 pm flight, which cost Rs 12,464 and the Jet Airways 7:40 pm flight, which was the cheapest at 9,787. Usually, the airfare between these two cities ranges around Rs 2500 to Rs 3000.
According to airline officials, the airfare will remain around Rs 4,729 on August 28 while coming down to Rs 2098 on August 29 before falling further to Rs 1688 in September.
On August 23, a one-way Spicejet airline ticket between Chandigarh and Delhi was pegged at Rs 7992 followed by Jet Airways flight at Rs 6112. Other airlines, including Vistara and Indigo, were charging Rs 4719 and Rs 4729, respectively.
All trains except Shatabdi suspended
The Ambala Division of northern railways announced in the evening that all passenger trains to Chandigarh will be cancelled, including train no. 19717 Jaipur-chandiharh intercity, 19718 Chandigarh-Jaipur intercity, 14614- Chandigarh-Ferozepur, 14613 Ferozepur-chandigarh and 64563 Ambala-NangalDam.
Officials said the Shatabdi Express between Chandigarh and Delhi will not be affected and will run on schedule.
Station superintendent TP Singh said the people are panicking for no reason. "Many who had booked their tickets for August 25 left on August 24 itself. Some are getting their tickets cancelled."
Travel Advisory
• Punjab Roadways will not ply buses to Haryana from Chandigarh, Ludhiana, Muktsar and Bathinda on August 24 and 25.
• Haryana state transport buses will be stopped at Ambala, thus if travelling from Delhi to Chandigarh, avoid taking Haryana Roadways buses.
• Buses originating from Chandigarh are also operating as usual.
• Buses of Himachal Pradesh road transport are plying as per schedule from Sector 43 Chandigarh.
• All flights are on, but the ticket prices have shot through the roof..
• Carry your identity card if going to Panchkula in case you are stopped for checking.
What all is closed
• Schools and colleges are closed in Chandigarh and Panchkula.
• All government offices, banks, corporation offices in Sector 2,4,5 and 6 in Panchkula are closed.
• Marriage palaces in Panchkula and its periphery have been asked not to take any bookings for on August 24 and 25
Close Story