Regional buzz: From mutual admiration between Amarinder and Manpreet Badal to Akali fire on fire
From Manpreet Badal being a green warrior to Sidhu being under Akali fire, here is a round up of the goings-on in the region: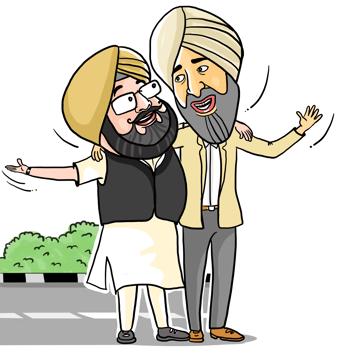 Updated on Mar 26, 2018 12:09 PM IST
Keeping tabs on power politics in Punjab, Haryana, Himachal Pradesh and Jammu and Kashmir
The mutual admiration society!
Punjab chief minister Captain Amarinder Singh and his finance minister Manpreet Singh Badal have their own different approach to politics. But the two top leaders of the Congress show great mutual admiration for each other in public. Manpreet, in his budget speech on Saturday, lavished praise on the chief minister for being "a friend and a leader of men", "providing the finest leadership in the form of a former soldier" and "living up to his word on debt waiver". The CM's name found six mentions in the budget speech. Amarinder also, in an interview to this newspaper, recently appreciated Manpreet for being good at his work and doing it quietly. Mutual admiration durbar!
Politics & hoardings
Politicians never miss a chance to display their pictures on hoardings. Ahead of the martyrdom day of Bhagat Singh, Rajguru and Sukhdev, hoardings were installed by Indian Youth Congress president and Gidderbaha MLA Amrinder Singh Raja Warring in Muktsar to pay tribute to Bhagat Singh. The names and photos of Rajguru and Sukhdev were missing. The hoardings had pictures of Congress president Rahul Gandhi, Punjab chief minister Captain Amarinder Singh, Punjab Congress chief Sunil Jakhar and the Gidderbaha MLA.
Manpreet, the green warrior
Punjab finance minister Manpreet Singh Badal is known for doing small things that send a big message – never mind that some call them "tokenism". Manpreet, who presented the second budget of the Congress government on Saturday, did not hand out bulky hard copies of the budget documents – his speech, demand for grants booklets, statistical abstract, economy survey and other documents. All these documents were supplied by the state finance department in a compact disc (CD) to legislators, journalists and others instead as part of 'green agenda'. "The switchover has not only helped save Rs 48 lakh, but also about 200 trees, as hard copies require reams of paper," said the finance minister.
Sidhu under Akali fire
Punjab local bodies minister Navjot Sidhu is in the line of fire of top Akali leadership. Responding to an MLA's query during the question hour on Saturday, he gave some information on budgetary provisions minutes before the budget was unveiled. The opposition claimed breach of budget secrecy and has moved a privilege motion against the minister for revealing the budget info before it was announced. "There should be action against Sidhu for breaking the code of Vidhan Sabha. He should pay for being outspoken," said SAD president Sukhbir Singh Badal.
When Randhawa rallied behind Sidhu
Congress MLA from Dera Baba Nanak Sukhjinder Singh Randhawa took up cudgels for his party colleague and local bodies minister Navjot Sidhu in the assembly last week. During the debate on the governor's address, he said there is Atro-Chatro comedy – a popular comic series on Doordarshan in 1990s – going on in the Shiromani Akali Dal. Taking a dig at Akali leaders Sukhbir Singh Badal and Bikram Singh Majithia, Randhawa said that like Atro-Chatro, one is tall and the other is fat. "They better not address Navjot Sidhu and his wife as Bunty and Babli," he thundered. Whoever said politics is serious, needs to hear this!
Khattar drives home the point
Haryana chief minister Manohar Lal Khattar is not known to spring surprises. So it came as surprise when he mentioned the name of the daughter of a sitting Congress MLA as one of the persons recruited by the BJP government, during the recently concluded assembly session. Khattar was trying to drive home the point that recruitments made during his rule were fair and based on merit. "One of the persons recruited is Sukriti Bhukkal and she happens to be the daughter of Congress MLA, Geeta Bhukkal," Khattar told the House. The Congress MLA, however, was not impressed. "She is a meritorious girl. Please don't try to take credit for her selection," she said. Khattar had the last word when he told Bhukkal: "That's exactly my point. The recruitments have been made on merit," he said.
Tanwar & his 'elbow strike'
Haryana Pradesh Congress Committee (HPCC) president Ashok Tanwar was recently caught on camera assaulting his own party worker who was trying to get close to him to have a photo clicked. The video of the incident shows Tanwar angrily throwing an elbow strike to the worker's stomach to push him away. The video was widely circulated by Tanwar's rival Hooda camp within the Congress. Leaders supporting Hooda criticised Tanwar for not respecting party workers and treating them like this. Tanwar, on the other hand, brushed off questions related to the incident calling it regular "dhakka-mukki" during such events.
Jai Ram's jibe at Agnihotri
Congress Legislative Party (CLP) leader Mukesh Agnihotri has been on the offensive ever since he was chosen to lead the party MLAs in the Himachal Pradesh assembly. He never lets go of any opportunity to target the BJP government in the House. But chief minister Jai Ram Thakur has a different take on his fire-spewing rival. Addressing a public meeting in Agnihotri's home district of Una, Thakur said: "(Former CM) Virbhadra Singh remains in the House all the time to observe Congress MLAs' performance. So, it is Agnihotri's compulsion to perform". Whatever be the reason, the Jai Ram government is likely to face more opposition heat when the House meets this week after recess.
Poll time: J&K BJP ministers in active mode
For three years, the 'pro-Jammu' Bharatiya Janata Party (BJP) played second fiddle to the Peoples Democratic Party (PDP) in the coalition government in Jammu and Kashmir. But it has started playing to the gallery in the run up to the 2019 general election. The BJP ministers, who usually remained "inaccessible" and their phones unreachable, appear to have had a "change of heart". Following Tuesday's cabinet meeting, some of them called up reporters to give the lowdown on their tough posturing over issues related to Jammu region. PDP ministers had a different version of the story, though.
(Navneet Sharma, Gurpreet Singh Nibber, Sarbmeet Singh, Hitender Rao, Hardik Anand, Naresh K Thakur, Ravi K Khajuria)
Close Story