Regional buzz: Of Capt Amarinder's masterstrokes and war of supremacy among BJP's Jat satraps
After Akali Dal MP Sukhdev Singh Dhindsa resigned from party posts on "health grounds", now Akal Takht jathedar Giani Gurbachan Singh too is citing health concerns, as demands for his resignation over the controversial pardon to Dera Sacha Sauda chief Gurmeet Ram Rahim grow louder.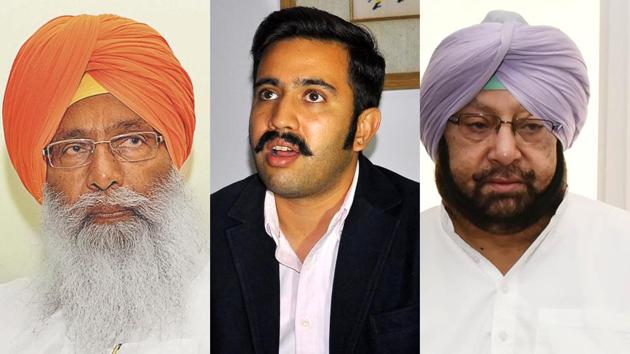 Updated on Oct 15, 2018 10:32 AM IST
Hindustan Times, Chandigarh |
HT Correspondents
Keeping tabs on power politics in Punjab, Haryana, Himachal Pradesh and J&K:
Capt and his masterstrokes
Punjab chief minister Captain Amarinder Singh has mastered the art of courtesy. At a recent ceremony to give away awards to sportspersons, the CM invited Punjab Olympic Association president, Rajya Sabha MP Sukhdev Singh Dhindsa, who has resigned from party posts of the Shiromani Akali Dal, up on stage. Amarinder hugged Dhindsa when he came up. He also requested local bodies minister Navjot Singh Sidhu and MLA Pargat Singh, a former national hockey team captain, too to join him in giving the awards. Both Congress leaders are not among his favourites in the party. Later, Amarinder sat with Dhindsa and the two spoke at length on party affairs. Talk about disarming political opponents.
Who's in 'pink' of health in SAD?
After Akali Dal MP Sukhdev Singh Dhindsa resigned from party posts on "health grounds", now Akal Takht jathedar Giani Gurbachan Singh too is citing health concerns, as demands for his resignation over the controversial pardon to Dera Sacha Sauda chief Gurmeet Ram Rahim grow louder. Much to the amusement of Punjab Congress leaders who quip that only Badals seem to be in "pink of health" in SAD. Their other joke is on AAP rebel leader Sukhpal Khaira. "To don the Panthic hat, he will have to first stop dyeing his beard," they say. Can Khaira give up his dapper look and follow in footsteps of his arch-rival Rana Gurjit Singh who has gone for an image makeover and no more sports that designer look with handle-bar moustaches!
Father or son: Sangrur SAD cadre's dilemma
Shiromani Akali Dal veteran and Rajya Sabha MP Sukhdev Singh Dhindsa has refused to take back his resignation from party posts leaving the SAD cadre in Sangrur, Dhindsa's home turf, confused. Dhindsa's son, former state finance minister, Parminder Singh Dhindsa, who represents Lehra seat as MLA, has stood by party president Sukhbir Singh Badal and they also held a meeting together in Sangrur recently. Junior Dhindsa was at SAD's Patiala rally too, which senior Dhindsa skipped. The MP has also visited the Golden Temple to "apologise for his mistakes". SAD workers are asking if its sunset or 'son-rise'.
Pilgrimage time for Khattar
Haryana chief minister Manohar Lal Khattar has been on a pilgrimage spree. He has been to Badrinath in Uttarakhand, Mata Sheetla Devi Mandir in Gurugram and Mata Mansa Devi in Panchkula during the Navratri festival besides nine temples in Jind and a few others last week, at times accompanied by a minister or two. Leader of opposition Abhay Chautala too visited Mata Mansa Devi temple. Is it an indication of which way poll winds are blowing in Haryana?
Modi rally: Boost for Birender
Prime Minister Narendra Modi's visit to Rohtak to unveil the statue of farmer leader Sir Chhotu Ram also bolstered the political stature of his maternal grandson, Union steel minister Birender Singh, who had been making announcements of Modi's visit only to extend the date of inauguration after not getting time from the PM. In the political circles of Haryana,
Birender, a Jat leader who carries legacy of Chhotu Ram as the maternal grandson, was viewed as out offavour of the BJP top brass due to Jats' resentment against the saffron party. It didn't help that BJP president Amit Shah's rally in Birender's stronghold Jind earlier this year did not get the expected response.
However, Modi's show has come as a booster shot for the leader who did not hesitate to declare to the media that he is in the reckoning for the CM's post in Haryana elections next year.
War of supremacy among BJP's Jat satraps
Prime Minister Narendra Modi's Haryana visit also unveiled the tussle for supremacy among ruling BJP's Jat leaders. Not just Birender Singh got a shot in the arm but also agriculture minister OP Dhankar, who is being as top contender as BJP's candidate from Rohtak Lok Sabha constituency, the stronghold of former CM Bhupinder Singh Hooda. Dhankhar, a Jat, was the only cabinet minister present on the stage and also addressed the gathering. Finance minister capt Abhimanyu who had faced criticism for filing CBI cases against Jat protesters for setting his Rohtak house on fire during 2016 Jat quota violence, was also left out of frame during a group photo with the PM.
No patting the back
After taking over as Himachal chief minister last year in December, Jai Ram Thakur had launched a fancy public grievance redress program called 'Jan Manch'. But the ministers made it a forum to tom-tom their department's achievements and patting their own back for the achievements. Their cut short their tiresome speeches during 'Jan Manch', the CM has issued specific instructions to his colleagues to be precise in their speech and focus more on redressing public issues.
Vikramaditya's PR skills
Former Himachal chief minister Virbhadra Singh's son and Shimla rural MLA Vikramaditya Singh knows how to win friends. The royal scion misses no opportunity to heap praises on working of chief minister Jai Ram Thakur and his government. But hus PR skills did not work recently, when as head of the Sports, Culture and Environment Association, Vikramaditya invited the CM for opening ceremony of a cricket tournament at his constituency. The invites mentioned the CM's name but Jai Ram chose to skip the ceremony but Vikramaditya told people the CM wanted to attend it but had to change plans owing to "party pressure".
(Contributed by Gurpreet Singh Nibber, Sukhdeep Kaur, Avtar Singh, Rajesh Moudgil, Neeraj Mohan, Hardik Anand and Gaurav Bisht)
Close Story