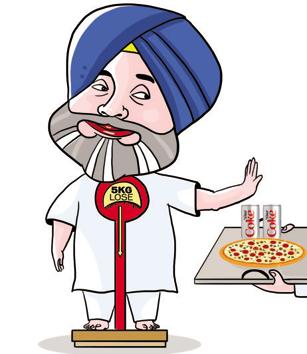 Regional buzz | Sukhbir trying to get in shape and Ghuggi's oops moment
Keeping tabs on power politics of Punjab, Haryana, Himachal Pradesh and J&K.
Hindustan Times | By HT Correspondents
UPDATED ON MAY 01, 2017 12:02 PM IST
SUKHBIR TRYING TO GET INTO SHAPE
After losing the state assembly polls, former Punjab deputy chief minister Sukhbir Singh Badal is on a weight loss spree these days. Having lost five kilograms in as many weeks, he wants to shed more. Sukhbir, as per his aides, has been so fond of diet coke and pizzas that even his party's jathedars used to arrange junk food for him in far-flung areas of the state. "I haven't lost so much that we can talk about. Let me do more," Sukhbir told a reporter of this newspaper last week. He is following strict diet and exercise regimen under the surveillance of his wife, Union minister Harsimrat Kaur. Coke and pizzas are a big no. In case he manages to lose the bulge, the SAD chief would join netas such as MPs Dushyant Chautala and Partap Singh Bajwa, and Punjab minister Rana Gurjit Singh who have been through the weight loss journey and look much fitter now.
MINISTER'S PLEDGE AGAINST CORRUPTION
Public works department minister Razia Sultana set a precedent last week. In a meeting with officers and engineers of the department, she took a pledge against corruption. "I pledge before you that I won't indulge in corrupt practices and also advise you all to observe 100% honesty and transparency in official work," she told those present. When she was making the statement, the officers had smirks on their faces. But that did not stop the minister. She asked them to desist from lobbying for postings of choice. "It's easier said than done. Let us see how she makes it possible," an engineer, who attended the meeting, remarked later.
GHUGGI'S OOPS MOMENT
Gurpreet Ghuggi, Punjab state convener of the Aam Aadmi Party (AAP), posted a one-line tweet with a photograph on Twitter last week. "*Amazing moment* Canadian army chief welcomed by Malaysia's capital police chief (sic)," the AAP leader tweeted on Thursday. He erred in identifying the two gentlemen. The photo showed Canadian defence minister Harjit Singh Sajjan being welcomed by Ajeet Singh, president of Immigration Services Union Peninsular Malaysia. Another tweeter Imran Ali @AAPkaImran pointed out the slip-up. "Defence minister and not army chief. But very cool nevertheless!" he posted. But Ghuggi neither replied, nor corrected his post. He is still to acknowledge the mistake. To err, they say, is human. But, then, there is something called social media manners.
RANA KP'S GAFFE
After the news of death of veteran actor and Gurdaspsur MP Vinod Khanna spread, condolence messages started pouring in from all sections. Punjab Vidhan Sabha speaker Rana Kanwar Pal Singh also expressed grief over the demise, but the press release of his condolence message named Rajesh Khanna, another noted film actorturned-politician who died a few years ago, instead of Vinod Khanna. While the headline was correct, the opening para contained the error. The release did talk about the contribution made by Khanna to the film industry and national politics, calling him a versatile actor who would be remembered for his unique performances and selfless service as MP.
DHARAMSOT PATCHES UP WITH PRINCIPAL
Social welfare and forests minister Sadhu Singh Dharamsot, who had a spat with Mishi Jalota, principal of Govt Senior Secondary School at Nabha, for not writing his name on a plaque fixed outside the newly built section of the school building, seems to have reconciled with her. In a video that was circulated, the minister is seen sitting beside the school principal and declaring that there was some confusion but it was sorted out. The principal also said some people played foul. The patch-up came after a rebuff from chief minister Capt Amarinder Singh who asked the ministers to desist getting their names written on plaques.
YOGI VERSUS KHATTAR
After Yogi Adityanath took charge as the chief minister of Uttar Pradesh, social media has been abuzz with a number of people raising questions over the performance of his Haryana counterpart Manohar Lal Khattar. Impressed with Yogi's showing in his first month, a few have asked the BJP top brass whether they have someone like the UP CM in Haryana. The scribes have also started comparing the two, putting questions to leaders of the ruling party. "We should not compare one CM with another. Everyone has his own working style. The Khattar government has done lots of work in the past two-and-a-half years," he said in response a journalist's query in this regard. Health minister Anil Vij also spoke in favour of Khattar, saying that 'jo jyada bhagte hai, jaldi hanfne lagte hai.'
KHAKI SURGE: HARYANA BABUS FRETTING
A section of the IAS officers isn't miffed with the Manohar Lal Khattar-led BJP government in Haryana for nothing. The present regime has slowly challenged the dominion of the bureaucracy, pampering IPS officers. If giving the post of chairman and managing director (CMD) of power utilities, manned by IAS officers for the past many years, to a police service officer wasn't enough, the Khattar government last week appointed former director general of police Yash Pal Singal as the new chief information commissioner of the state, overlooking a few retired IAS officers. The position created in 2005 was the preserve of retired mandarins till now. But that's not all. Being CIC, Singal now heads the commission of which retired IAS officer Samir Mathur, who as the state home secretary supervised the working of all IPS officers in the state not very long ago, is a member. As the inter-services rivalry between IAS and IPS is legendary, not many bureaucrats turned up for the new CIC's oath-taking ceremony.
BJP PAMPERS ITS WORKERS
The rich hospitality at the ruling BJP's state executive meet at Karnal appears to have pleased the party workers, especially those who were accusing the party leadership of not showing them 'mansamman'. The party had made arrangements for its leaders and workers at leading hotels, offering delicious food, snacks, high tea and other facilities. During the two-day closed door meeting, groundlevel workers were treated like VIPs. And, many of them were later heard praising the party leadership for their hospitality.
NAIDU IN A HURRY
Union minister for housing, urban development and information and broadcasting Venkaiah Naidu, who was in Chandigarh last week to hold a meeting on housing for all with Haryana chief minister Manohar Lal Khattar, was his candid self at his press conference after the meeting. His opening sentence was: Mitron, aaj samay kum hai, mujhe jaldi se apni baat kah ke aur aap sub ko khana khila ke, jaldi se flight pakadni hai (Friends, I have little time in which I have to put my point across, share meals before taking a flight to Delhi). The minister's comments remained pointed and, at times, in lighter vein. He quickly wrapped up the interaction and rushed to catch the flight.
DHUMAL'S ORATORICAL SKILLS
Former Himachal Pradesh CM Prem Kumar Dhumal was at his oratorical best at 'Parivartan Rally' at the historic Ridge Maidan in Shimla that was also addressed by Prime Minister Narendra Modi. Dhumal was repeatedly cheered when he came to the dais to address the crowd. Dhumal urged them to be calm, but at the same time left the leaders wondering about his future plan. "Aap log naarey he lagatey rahogay ya mujhe aagey bhi badhney dogey," he said. The two-time former CM is eyeing the post for the third time in case the party wins. But health minister Jagat Parkash Nadda is also seen by many as a serious challenger.
EYE ON POLLS, BJP LEGISLATOR HITS OUT AT SHIMLA MC
The rally provided an opportunity to BJP legislator from Shimla Suresh Bhardwaj to hit out at the CPI(M)-ruled Shimla municipal corporation that will go to polls this month. A large number of people had fallen ill due to supply of contaminated drinking water. "Why do you all tolerate them? You should throw them out this time," he said. His views were endorsed by other speakers also.
(Contributed by Gurpreet Singh Nibber, Navneet Sharma, Monica Sharma, Neeraj Mohan, Rajesh Moudgil and Gaurav Bisht)
Close