Residents protest water scarcity in Shimla, CM Jai Ram Thakur reviews water situation
May 27, 2018 11:33 PM IST
The supply in Shimla has gone down to 21 million litre per day against the required 45 million litre per day.
Even as Shimla reels under acute water shortage, residents are seemingly running out of patience. Residents of Lower Bazaar on Sunday staged a dharna outside Municipal Water Works office in Shimla.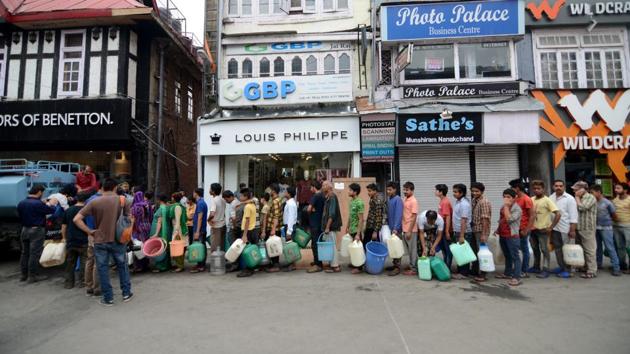 People on main Mall Road and Lower Bazaar stood for hours and jostled to draw a bucket of water from tankers pressed into service to meet the water deficit in town. The supply in Shimla has gone down to 21 million litre per day against the required 45 million litre per day.
In the wake of persisting dry weather and rising mercury, the water has receded in the main sources supplying water to the town.
"There has been no water in our areas for last one week. There is no improvement in the situation and we are just struggling to get a single bucket of water," shopkeeper at Lower Bazaar Ram Prasad said.
Municipal corporation staff had tough time controlling the long queues of people.
Meanwhile, Congress councillor Inderjeet Singh accused water works department of discriminating his area during the water distribution.
Residents of Kanlog area on Sunday also blocked traffic on Shimla-Tutikandi bypass as a protest against the supply of sewage mixed water. Residents demanded action against the official responsible for the supply of dirty water.
Situation was not any better in Sanjauli area, residents here threatened to lock the municipal corporation office. However, many areas in the locality received water later in the day.
Chief minister Jai Ram Thakur reviewed the water situation in the state on Sunday. CM said,"The water shortage is due to scanty rains and snow in the catchments. Government is aware of the situation and has taken adequate steps to meet the demands of people. Irrigation and public health department (IPH) has been asked to press into service."
Water shortage delays Shimla-Kalka train
Water shortage at the railway station delayed Shimla- Kalka train by two hours. Shimla-Kalka train was scheduled to leave at 2.10pm but it was delayed as the there was no water available to cool the engine. The train left Shimla station at 4pm.