Row over Justice Ranjit Singh commission report: Witness could retract from statement only before panel, says Congress
Says taking back statement before media of no consequence; had Himmat done so before final report was submitted, panel could've initiated perjury proceedings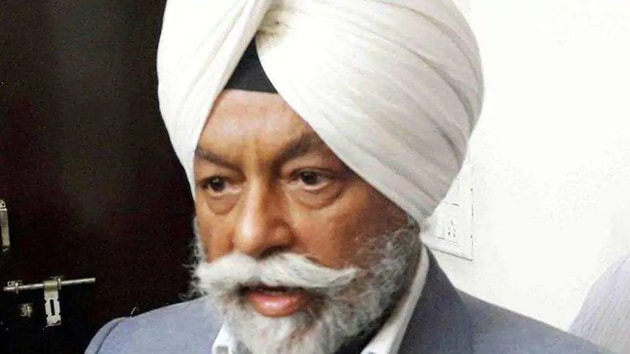 Updated on Aug 23, 2018 10:09 AM IST
The Congress government and the state unit of the party have dismissed the retraction of a key witness, Himmat Singh, from his statement before the Justice Ranjit Singh (retd) Commission, whose report on incidents of sacrilege of Guru Granth Sahib and police firing at Kotkapura and Behbal Kalan in 2015 will be placed before the Punjab assembly during the monsoon session beginning August 24.
Himmat, a former granthi at the Golden Temple and brother of former Takht Damdama Sahib jathedar Gurmukh Singh, had told the panel that it was former chief minister Parkash Singh Badal and his son and Shiromani Akali Dal (SAD) president Sukhbir Singh Badal who had "pressured" Akal Takht jathedars to grant pardon to Dera Sacha Sauda head Gurmeet Ram Rahim in the 2007 blasphemy case before the release of sect head's movie "MSG-2 The Messenger" in September 2015 and it became a trigger for sacrilege incidents.
Gurmukh, who had been removed as Takht head of Damdama Sahib in April last year after he too had made same allegations, has been reinstated as head granthi of Akal Takht on August 3.
But after Justice Ranjit Singh submitted his report on August 16 to chief minister Captain Amarinder Singh, Himmat retracted from his statement on Monday and told the media that the panel head had asked him to sign on two places on a statement that was already lying on his table. He had also alleged that he was not allowed to read the statement which was both in English and Punjabi, adding he cannot read English and the statement in Punjabi was not shown to him.
Justice Ranjit rubbished the charge saying he did not summon Himmat and the latter came voluntarily with a six-page statement written in Punjabi and four documents attached to it to the commission's office on December 12 last year.
The SAD, in its core committee meeting held on Tuesday, demanded Justice Ranjit be removed as the panel head.
But the Congress government and the party on Wednesday said retraction of Himmat "makes no difference at all" to the report.
Citing Commission of Inquiry Act, 1952, a top government official said Himmat Singh could retract from his statement only before the Ranjit panel. "Resiling from statement made on oath before the media means nothing. Had he retracted before the panel submitted the final report, it could have initiated perjury proceedings against him. But he is doing so now, that too before the media. The commission is a quasi-judicial body. If a witness gives statement in a court of law and retracts before media, does it mean anything," the official said.
Punjab Congress president Sunil Jakhar too dismissed Himmat's retraction as meaningless. "Justice Ranjit Singh has said on record that he did not summon the witness and Himmat himself brought his statement written in Punjabi to him. We are not witch-hunting. The commission's report is based on facts and evidence presented before it. We had promised before elections to bring those behind sacrilege incidents and police firing to justice. The report will be placed in the assembly to expose how Akalis used Akal Takht for dera votes," Jakhar said.
When contacted, Justice Ranjit Singh refused to comment. But in interviews to news channels on Wednesday, he questioned why the witness did not retract from his statement before the panel submitted its final report to the CM on August 16. "No written statement in English was produced before him nor was any statement typed in English. It is unfortunate that a former granthi is lying on statement he gave on oath. Had he resiled before the panel, we could have taken action for perjury. But he did not come before us and the panel has already submitted its report," he told a news channel.
Why was DGP Arora not summoned: SAD
The SAD targeted the Justice Ranjit Singh panel asking why it did not summon Punjab director general of police (DGP) Suresh Arora for questioning. "The panel sent summons to former DGP Sumedh Singh Saini and former home minister Sukhbir Singh Badal. But the present DGP took over from Saini 10 days after the police firing at Kotkapura and Behbal Kalan. He has served for more than a year-and-a half in both the previous and present regimes. Why did the panel not ask Arora if there was political pressure on him not to solve the sacrilege and police firing cases? It should have also summoned incumbent home minister (Capt Amarinder Singh) to know what steps were taken to probe the sacrilege incidents and who was behind them," SAD spokesman Mahesh Inder Singh Grewal said.
Close Story