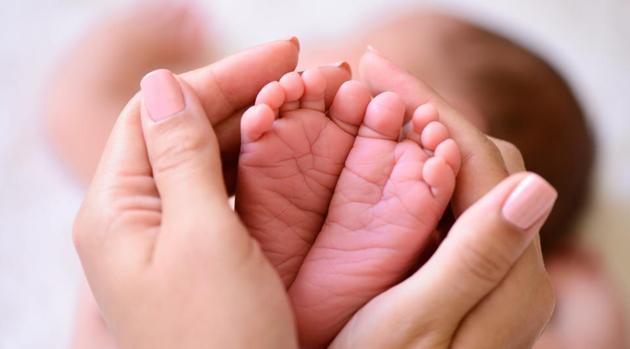 Scientists develop kit to predict pre-mature birth
Premature births, one of the leading cause of death of children under five years of age.
UPDATED ON JUN 17, 2018 12:28 PM IST
Scientists at the CSIR-Institute of Microbial Technology (IMTECH) have developed a diagnostic kit for early prediction of premature births, one of the leading cause of death of children under 5 years of age.
"The diagnostic kit 'KOMPAL', has an accuracy of ninety percent at fifth month of pregnancy," claims Dr Ashish, who has developed the kit.
Elaborating about it, Dr Ashish said that this kit measures gelsolin, an injury recovering protein that is present in plasma, a blood component. For this test, only two drops of a pregnant woman's blood are needed.
"In 2012, I thought that if child birth is an injury process and gelsolin recovers injury, then there should be a co-relation between gelsolin level of mother and the period of gestation," the scientist said.
Is there a co-relation? With this hypothesis, the scientist made a pitch to GATES foundation for funds in late 2012 and in May 2013 and got Rs 64 lakh for the project.
To measure Gelsolin protein in plasma, he designed a kit based on DNA aptamers which allow precise and sensitive measurement of gelsolin. The scientist later got a patent on that.
First survey in PGIMER
In 2015, the first survey was done in PGIMER, when blood samples of 83 pregnant women who walked into the labour room with 7 to 9.5 months pregnancy were examined.
In March 2016, the closure report was submitted. The kits were examined again and 70 samples were taken thrice from three hospitals in Rajasthan and Indore.
"The reports were giving an indication that mothers who were giving birth before time, their Gelsolin level is not increasing in the fifth month, whereas there was a sharp increase in Gelsolin level of mothers in the fifth month, whose delivery was on time," said Dr Ashish.
Again, they took 89 random samples and predicted the month of delivery. These results were complied in January-February 2018.
"Ability to predict, that when somebody's child will be born, was 90% correct. This is very reliable," said Dr Ashish.
He said once a doctor gets to know that the woman will have pre-term delivery, measures can be taken for the safety of both. Studies have shown that progesterone and exercise increased Gelsolin levels.
In March 2018, IMTECH licensed out this technology to Oniosome Pvt Ltd for further regulatory approvals and commercialisation who will utilise IMTECHs patented DNA aptamers to produce plasma gelsolin estimation kits.
"In 12-14 months, this should reach at a stage where it is a clinical indicator of pre-mature birth," said Dr Ashish.
The price of one kit, which can do 40 samples, is around Rs 36,000 but per person it will come out to be ₹900. Isolated kit, for single person's test will cost around Rs 1,400.
Close