SGPC against pardon to Sirsa dera chief in blasphemy case, says Longowal
Says no plan yet to replace Akal Takht jathedar, to seek 'holy city' status for Sultanpur Lodhi, where the Sikh body plans parallel celebrations for the 550th birth anniversary of Guru Nanak.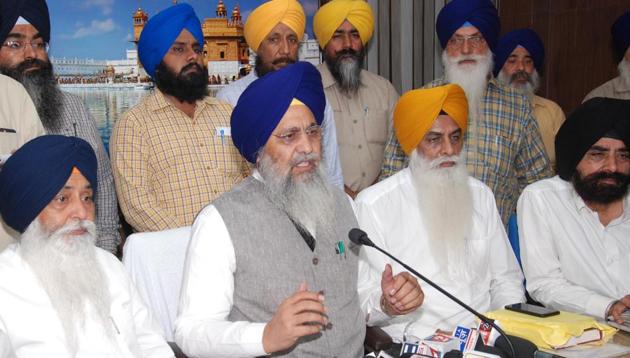 Updated on Oct 12, 2018 09:24 AM IST
For the first time a Shiromani Gurdwara Parbandhak Committee (SGPC) president has spoken against the pardon granted to Dera Sacha Sauda chief Gurmeet Ram Rahim by Akal Takht in September 2015 in a blasphemy case.
SGPC president Gobind Singh Longowal, while replying to a query, said, "The matter is three-year old and only 'singh sahiban' (Sikh clergymen headed by Akal Takht jathedar) can say anything on this. But, we don't want that the dera chief be granted pardon." However, he also mentioned that the pardon was revoked later.
The SGPC chief was briefing the media on the programmes chalked out to celebrate 550th Parkash Gurpurb (birth anniversary) of Guru Nanak.
Notably, before taking over the reins of the SGPC, Longowal was also declared 'tankhaya' (guilty of religious misconduct) after the last assembly elections for seeking votes from the dera followers in violation of Akal Takht's 2007 'hukamnama'. As 'tankhaya', he served 'tankhah' (religious punishment) at the Golden Temple.
The call to boycott dera chief was given for he had hurt Sikh sentiments by imitating Guru Gobind Singh by donning a robe that looked a copy of the one worn by the 10th Guru. The pardon was revoked on October 16, 2015, following a massive backlash from Sikh bodies. Notably, then SGPC president Avtar Singh Makkar passed a resolution in the SGPC meeting to justify the pardon. The resolution, however, still stands. Longowal remained mum on the resolution.
The issue of pardon is still a hot topic in the religious and political arena of Punjab and it has gained heat recently when Justice Ranjit Singh Commission's report on sacrilege incidents was tabled in the Punjab assembly. The report alleges that Badals played a role in granting pardon to the dera chief.
Amid the demands being raised by the Sikh bodies and a few SAD leaders for removing Giani Gurbachan Singh as Akal Takht jathedar for pardoning dera chief Gurmeet Ram Rahim in 2015, Longowal made it clear that the SGPC has no plan to replace the jathedar in near future.
SGPC seeks 'holy city' status for Sultanpur Lodhi
As 2019 will mark Guru Nanak's 550th birth anniversary, the SGPC has demanded that Sultanpur Lodhi in Kapurthala district, where Guru Nanak spent as many as 14 years, be given the 'holy city' status keeping in view its religious importance.
After a meeting with various prominent Sikh bodies, including Chief Khalsa Diwan, Singh Sabhas, Guru Gobind Singh Study Circle, Longowal said the gurdwara body will raise this demand with Punjab government.
Briefing on the programmes planned to celebrate the gurpurb, Longowal reiterated that they have received no invite from Punjab government for the celebrations, and the SGPC is organising parallel religious events from November 22 onwards. He said a sub-office will be set up at Sultanpur Lodhi for a year to spread teachings of the founder of Sikhism.
Invite for leaders from countries visited by Guru Nanak
Pertinently, the SGPC president said that heads of the countries visited by Guru Nanak to spread his principles will be invited to attend the celebrations. He said a Sarab Dharam Sammelan will also be organised in Delhi.
Close Story