Three-wheeler driver shot dead over parking by history-sheeter
Apr 10, 2016 01:15 PM IST
In a shocking incident that puts a big question mark on the working of the Ludhiana police, gangster Gaurav Sharma alias 'Goru Bachha' gunned down a three-wheeler driver to death in Dugri in broad day light on Thursday over a minor issue of parking his vehicle
In a shocking incident that puts a big question mark on the working of the Ludhiana police, gangster Gaurav Sharma alias 'Goru Bachha' gunned down a three-wheeler driver to death in Dugri in broad day light on Thursday over a minor issue of parking his vehicle.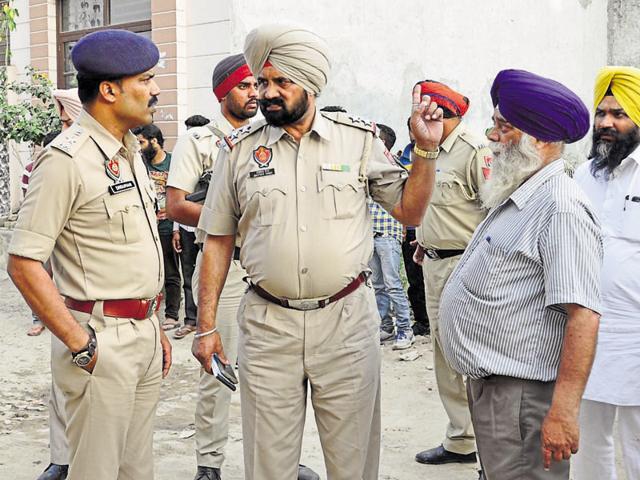 While the victim, 30-year-old Vikrant Kumar alias Vicky died on the spot, his two brothers suffered injuries while trying to rescue him.
Inspector Davinder Chaudhary, station house officer (SHO) at Dugri police station said that the incident took place at around 5.30 pm outside Vicky's house in the Himmat Singh Nagar area. Vikrant had come home after dropping schoolchildren to their respective homes. He parked the three-wheeler outside the house.
Goru Bachha, who is living in a rented accommodation near Vicky's house came out and started abusing Vicky for parking his three-wheeler the wrong way. Goru started forcing Vicky to park his vehicle somewhere else. Things turned ugly, when Vikrant resisted. Goru Bachha reportedly called his accomplices and flashed a gun. He opened fire from point blank range on Vicky, pumping two bullets into him, leaving him critically injured. When Vicky's two brothers came there for his rescue, Goru, along with his accomplices thrashed them before fleeing.
The victim was rushed to a private hospital in Jawaddi area where he succumbed to injuries.
Vicky was married and is survived by two children.
Deputy commissioner of police (DCM) Dhruman Nimbale said the police launched a manhunt to arrest the accused. A case has been registered against the accused.
Facing trail in several cases
Goru Bachha is hardcore criminal and facing trial in several criminal cases, including murder, loot, extortion and drug peddling. He was arrested by the Nakodar police three years ago, following an encounter after which he remained in jail for several months. Four months ago, Goraya police arrested him in a case registered under the Arms Act and was on bail for the past two months. Goru added that the police source was barely 23-year-old and started a life of crime with the Sachin-Mohini gang, which he had recently left and created a gang of his own.