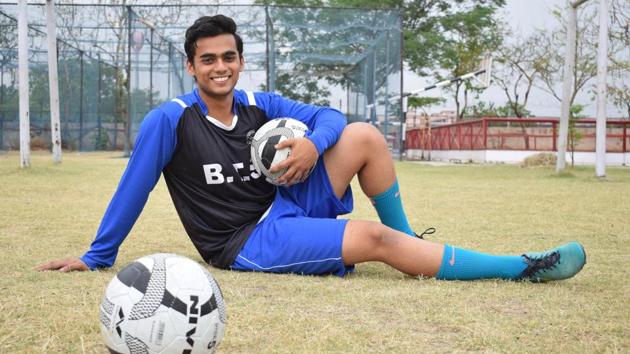 Turning 18 with HT: 'Brightest Indian minds prefer working abroad'
Banyan Tree School captain Karman Singh has his heart set on becoming a pilot in Australia and says corruption, nepotism and biases are leading to brain drain
Hindustan Times, Chandigarh | By Aishwarya Khosla
UPDATED ON MAY 03, 2018 11:09 AM IST
His greatest fear is exams and the nerve-wracking anticipation of results and his fantasy is to play an international football tournament with Messi, meet Karman Singh:
Name: Karman Singh
Born on: August 25, 1999
Badge of honour: School captain, Banyan Tree School, Sector 48, Chandigarh
What turning 18 means to me
It symbolises a big change. It means living on my own for the first time, making new friends and making myself at home in an unfamiliar city. It also means taking full responsibility for my decisions and actions. It is the age when I finally begin laying the groundwork for a successful future.
What I want to be and why
I want to become a pilot for an international airline. It would give me the opportunity to explore different countries and diverse cultures. I can't wait to set my eyes on the breathtaking view visible only from the cockpit.
My idea of India
India is inching towards becoming a developed country. It is unfortunate but true that the brightest minds in this country prefer working abroad. Corruption, nepotism and gender bias are to be blamed.
What makes me happy
Dogs. My parents don't allow me to keep pets in our house so I make do by feeding strays. The excitement with which the dogs greet me makes my day. Football and swimming are mood boosters.
What makes me angry
Insensitive statements made by politicians.
Fear and fantasy
My greatest fear is exams and the nerve-wracking anticipation of results.
It is a fantasy to play an international football tournament with Argentine footballer Lionel Messi.
Am I happy where I am?
Yes, I'm considering a few aviation programmes in Adelaide, Australia. I'm eagerly waiting for the future to unfold.
What money means to me
Money is important to lead a quality life. However, happiness and health trump money any day. The most valuable things in life cannot be bought.
What makes me proud of India
The unique culture, including our joint family system. I'm proud of Indian values, particularly respecting elders.
What I can't live without
My family and football. My world revolves around my parents Col Sukhdev Singh (retd), and Rajpreet Kaur, who's an English teacher, and my elder sister Mehak Nanner.
What social media means to me
Social media can be a waste of time. People mindlessly scroll away their day and eventually their lives on social media.
Change I'd like to see in Chandigarh
It's a clean and green city but the public transport system needs to be upgraded.
What religion means to me
One should be God fearing with a humanitarian outlook. Squabbling over faith is petty.
My role model and why
My sister, Mehak, 27, who is a management consultant in Gurgaon, is my role model. She has excelled at everything she put her mind to, be it academic, professional or artistic. She inspires me to strive for excellence.
Close