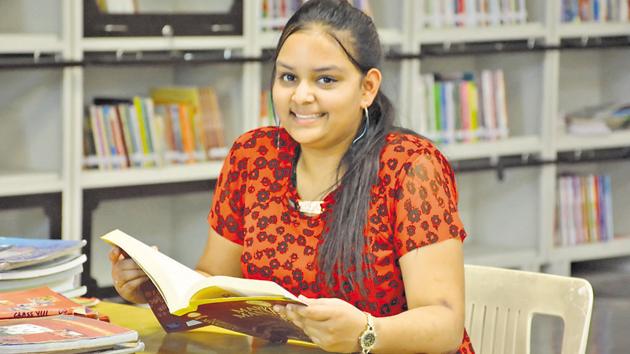 Turning 18 with HT: 'We are a young nation and must have a new mindset'
Ankita Singla wants to serve society and has faith in the potential of youngsters; she believes India is the best place to live and explore.
PUBLISHED ON JUN 04, 2018 02:07 PM IST
Ankita Singla
Born on April 19, 2000
Badge of honour: Head girl, DAV Senior Secondary Public School, Sector 8, Panchkula
What turning 18 means to me
I'm responsible for my actions and more confident about taking decisions. At 18, I'm focused about choosing a direction for life.
What I want to be and why
I want to serve society. It may be as a doctor, a teacher or a lawyer. I opted for the medical stream after Class 10 and am awaiting the results of the entrance test.
My idea of India
India is the world's fastest growing nation. It has a formidable young population and has a bright future. It's the best place to live and explore.
What makes me happy
Spending time with my family, particularly my father, Aseem Kumar Singla, who is a state consultant at the Punjab Forest Complex in Mohali. He is a good cook, no one makes suji ka halwa better. He is my go-to person for everything. His tuning with my mother, Anjna Rani, is perfect. My elder brother, Anubhav, who is in the final year of law, understands me best.
What makes me angry
Gossipmongers and those who damage public property.
My fear and fantasy
The thought of losing my loved ones freaks me out. I don't know whether to call it a fantasy, but I hope that one day I get an understanding partner.
Am I happy where I am
Life is at a crossroads. Things are uncertain so there's excitement and a bit of anxiety but I'm sure whatever happens will be for the good.
What money means to me
It's important but I'm not obsessed with money. I prefer saving and living within my means. I believe in quality than quantity.
What makes me proud of India
Our rich heritage and history. Our commitment to relationships, particularly the strong family foundation.
What I can't live without
Honesty, self-respect and confidence.
What social media means to me
It's a tool for communication that is misused more often than used. It can be a distraction. It's better to interact with real friends than virtual ones.
Changes I want to see in Zirakpur
Housing societies in Zirakpur need better infrastructure and amenities. The town is growing haphazardly. Thefts are on the rise in the area. Police should be proactive.
Changes I want to see in India
Everyone should have access to primary education. We are a young nation and must have a new mindset. Youngsters can drive the change our country needs. Elders should support us in the fight against corruption and discrimination.
What religion means to me
I respect all religions but I don't believe in blind faith and superstitions. God created us equal so we must respect humanity.
My role model and why
My school principal, Anil Pathak, has inspired me to do my best and stay focused despite the odds. He reposed faith in me as a leader. My father stood by me as I overcame hurdles to reach where I am today. I want to do them proud.
Close