Uttarakhand jeweller who was in cahoots with gang lands in Chandigarh police net
Updated on Apr 23, 2018 05:18 PM IST
Used to melt silver, gold articles stolen from city temples, convert them into bricks for resale.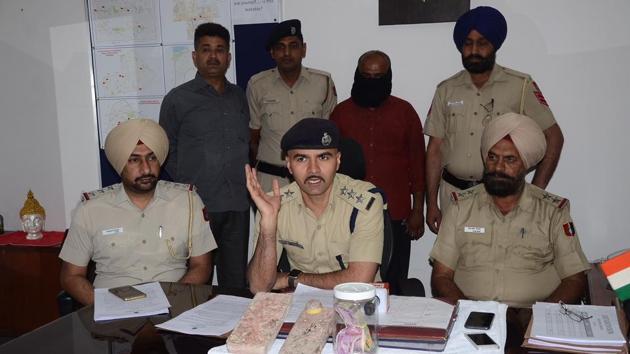 Hindustan Times, Chandigarh |
, Chandigarh
HT Corrsspondent
Making yet another arrest in temple theft cases, the Chandigarh police have nabbed a jeweller from Uttarakhand who used to receive the stolen silver and gold articles from burglars, melt them and convert them into bricks for resale.
Hanuman, 39, was held from Kashipur, around 225km northeast of New Delhi, following the quizzing of arrested gang members. Two silver bricks — weighing 8.4kg and 5.5kg — and two gold nose pins were also recovered from him.
Police on April 18 solved five cases with the arrest of three members of the gang involved in the recent temple theft spree in Chandigarh and its periphery this year. The trio confessed to burglaries at four temples in the city — including the double strike at Sanatan Dharam temple and Jain Temple in Sector 27 on April 11 — besides the one at the historical Shiv Temple in Saketri, Panchkula, on February 18. Their other targets were Sanatan Dharam temple in Sector 16 on March 22 and Shiv temple in Sector 24 on January 8.
The accused — Resham Singh, alias Rinku, 24, of Uttarakhand, Harjeet Singh, alias Jeet, 30, and Manbeer Singh, alias Dimple, 28, of Meerut, Uttar Pradesh — were arrested from Delhi. They were nabbed in a joint operation with Delhi Police with the help of sketches prepared from closed-circuit television (CCTV) footage that showed them conducted recce of the temples.
Briefing the media, UT deputy superintendent of police (east) Satish Kumar said: "Quizzing of the arrested gang members led us to Hanuman. He had melted silver items stolen from the temples and made two bricks that cost around ₹8 lakh."
Police are now looking for three local members of the gang who helped identify the targets and conduct recce. The gang used to conduct recce a day before striking at a temple. They used to visit the temple individually to identify the entry and exit points. Thereafter, they committed burglaries in wee hours.
With Hanuman's arrest, total recoveries have reached 26-kg silver, two gold pins and ₹1 lakh, said Sector-26 SHO Jaspal Singh Bhullar. Police said temple management committees of all four temples in Chandigarh were called and they confirmed their stolen items had been recovered.