Wary of farmers backing out, Punjab govt holds back no-free-power tubewell policy
Authorities fear farmers will not pay bills, later seek inclusion in subsidy category.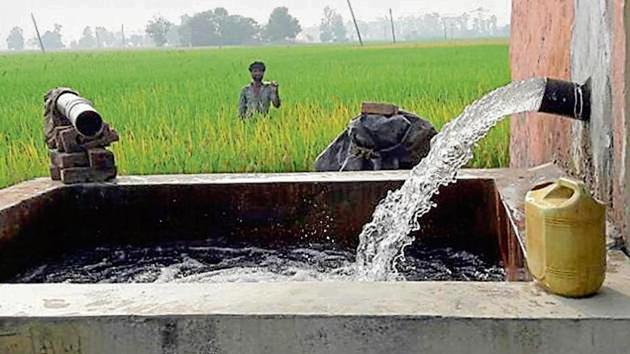 Updated on Jun 20, 2018 09:42 PM IST
Apprehending that the farmers will destroy the meters and not pay the bills later, the Punjab government has shelved the policy of out-of-turn tubewell connections to farmers who choose not to avail of free electricity supply. Now, the government plans to come up with a new policy to ask such applicants to pay annual charges in advance, it is learnt.
Under the scheme rolled out in September last — it was pulled back 10 days ago by the Punjab State Power Corporation Limited (PSPCL) on the state government's directions — 11,000 applications were received. Otherwise, the state has nearly 14 lakh tubewell power connections and 1 lakh applications are pending under priority categories alone. There are no meters on tubewell connections for now, and the state government pays PSPCL for the supply given to them. The subsidy has been climbing, and the government has been defaulting on it.
Applicants under the metered policy were to be handed out connections on top priority, on first come-first served basis, but the authorities became wary. Why? "Almost 95% of all these applications came from Bathinda and Muktsar areas. We got to know that farmers aligned with a union applied in large numbers and decided not to pay bills later," said a senior PSPCL officer on condition of anonymity. "These farmers would have later demanded that they be given free power too," he added.
Payment of the subsidy has been a contentious issue. Even the Punjab State Electricity Regulatory Commission (PSERC) noted recently that there is shortfall in payment by the government on account of subsidy for financial years 2016-17 and 2017-18. Subsidy payable as on March 31, 2017, was Rs 2919 crore, which shot up to Rs 4,769 crore as on March 31, 2018. The government told the commission that its financial position is not good. The PSERC even suggested that farmers be charged for power if the government fails to pay the PSPCL.
Meanwhile, Bharatiya Kisan Union (Dakaunda) general secretary Jagmohan Singh said, "We will continue to oppose meters on tubewells as the government has from time to time promised free water and electricity to the agriculture sector; it should keep that promise." He denied that the union asked farmers to get tubewells under the metered policy and then not pay bills. "Such policies anyway raise questions on the government's intentions; it appears that it wants to eventually charge for power to all tubewells, in a phased manner," he added.
PSPCL chairman-cum-managing director Baldev Singh Sran said policy matters are the prerogative of the government. "Whenever the government seeks feedback, we give it," he said. According to PSPCL director OP Garg, the state government asked PSPCL not to process the applications received under the policy as "it is being put under a review".
It must be mentioned here that the Punjab State Farmers' and Farm Workers' Commission, in a draft policy, recommended withdrawal of free power to farmers who own more than four hectares of land or pay income tax. Though a politically sensitive issue, power subsidy, which has been ballooning since 1997 when the then chief minister Parkash Singh Badal made electricity free for all farmers, has taken its toll on the state exchequer.
Govt to clear 50,000 'Tatkal' pleas of SAD-BJP regime
The state's Congress government has, however, decided to clear 50,000 tubewell connection applications under the contentious Chairman Quota Tatkal Scheme launched at the fag end of the previous SAD-BJP government last year. Each farmer paid at least Rs 50,000. "We have decided to give these connections in a phased manner." Garg said. There were 98,000 applications.
Close Story