Forced to sit atop Punjab police jeep, woman falls off, injured
Sep 27, 2018 09:24 AM IST
She was forcibly put there by the Punjab Police Crime Branch personnel, police sources said.
A video of a woman falling off a speeding police vehicle in the Majitha area of Amritsar district surfaced on social media on Wednesday, a day after the incident took place.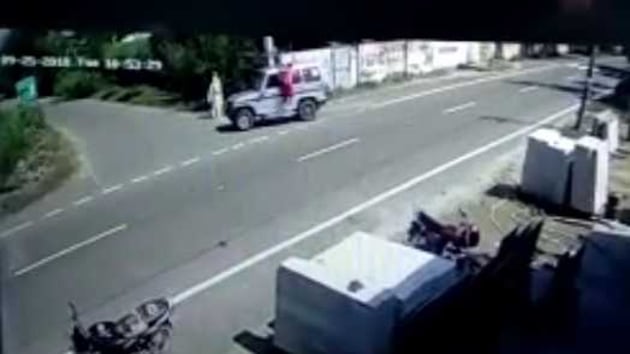 The woman, Jaswinder Kaur (32) of Shehzada village, has received injuries on her head, hands and other body parts and is undergoing treatment in hospital. The incident was captured in a closed circuit television (CCTV) camera.
A case was registered against unidentified persons on the basis of the medico-legal report (MLR) of the woman. A senior police official said action will be taken against the guilty after recording her statement.
As per reports, members of a crime branch team led by two inspector-rank officials, Palwinder Singh and Ravinder Singh, had gone to the village to look for the woman's father-in-law Balwinder Singh who was booked in a case last year.
When the crime branch personnel did not find Balwinder, they allegedly made the woman sit on the roof of Mahindra Bolero and drove it away.
In the video, the woman is seen falling down on the road when the jeep takes a sharp turn at Chawinda Devi bypass in Majitha. She then gets up and tries to run away. Some passersby took her to the Majitha civil hospital, said the police.
Jaswinder Kaur said the crime branch team had come to arrest her "innocent" husband Gurwinder Singh on September 22 and when they opposed the cops, they including women, were thrashed.
"On Tuesday, they once again barged into our house and started asking for the male members of our family. When I told them no man was present there, they dragged me out of my house and thrashed me badly. There was no woman cop in the team. Then they made me sit on the roof of their vehicle in front of the villagers. The vehicle also took a round of the village. After the villagers started gathering, the cops took the vehicle towards Chawinda Devi town," she said.
Majitha DSP Nirlep Singh said, "As per our preliminary probe, the woman was forcibly made to sit on the vehicle by the crime branch team. We have received MLR report of the woman and action will be taken against the accused after recording her statement."