Rajasthan Assembly Election 2018: Congress manifesto a fraud on people, says BJP
Updated on Nov 30, 2018 01:58 PM IST
Rajasthan assembly election 2018: Reacting to the Congress manifesto for Rajasthan assembly election, BJP leader Arjun Ram Meghwal claimed that Congress party has mentioned 'Right to Health', which is a copy of 'Ayushman Bharat' of the BJP.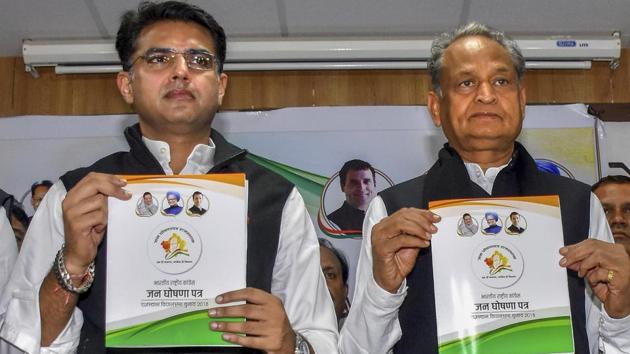 The Bharatiya Janata Party (BJP) on Thursday called the Congress' election manifesto "a fraud on the people", saying that the party's governments in Karnataka and Punjab had similarly promised to waive farmers' loan but "not a single penny has been waived".
BJP's election management committee co-convener Arjun Ram Meghwal claimed that the Congress had "got the farmers to fill loan waiver forms", referring to the party's campaign activity in Punjab before the polls in January last year, "but did nothing in this regard after coming to power".
Meghwal said, the Congress party has mentioned 'Right to Health', which is a copy of 'Ayushman Bharat' of the BJP. It speaks of giving allowance of Rs 3,500 to unemployed youth, whereas the BJP has already promised to give Rs 5,000 in its manifesto.
Also Read : On Rajasthan CM candidate, Arun Jaitley says Congress creating illusion
The BJP is launching a 'Kamal Diya' campaign on Friday, where party workers will seek to make contact with "51 lakh beneficiary families", the leader said. The campaign will next be taken up between December 2 and 4.
Social justice and empowerment minister Arun Chaturvedi told reporters that the Congress' manifesto was "a mere formality". "It looks like the Congress has outsourced the work of making the manifesto to some agency. It is an attempt to misguide people, as it does not reflect any willpower, feelings of the people and knowledge about the state," he claimed.
Union minister Gajendra Singh Shekhawat, too, alleged that the Congress has copied the BJP's manifesto. While talking to reporters in Jodhpur, he said most of the public welfare issues in the Congress's manifesto have already been raised by the BJP.
Click here for complete coverage of Rajasthan Assembly Election 2018
Personalise your news feed. Follow trending topics