Rajasthan election: Will get votes for development work, says BJP candidate Arun Chaturvedi
Updated on Nov 23, 2018 02:57 PM IST
Arun Chaturvedi, a minister in the Vasundhara Raje government in Rajasthan, is the BJP candidate from Jaipur's Civil Lines constituency in the upcoming assembly election in the state. He says development is a continuous process and people will vote for the development works.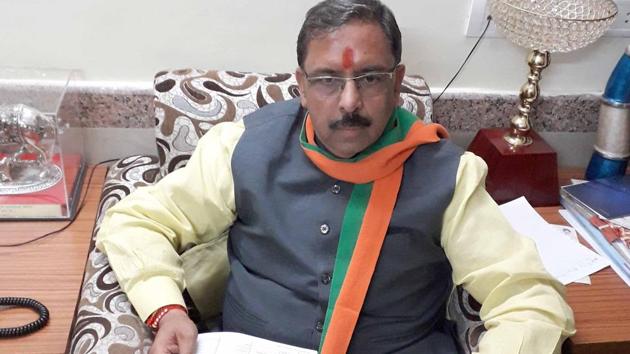 Hindustan Times, Jaipur |
HT Correspondent
With just two weeks left for assembly election in Rajasthan, candidates have hit the campaign trail to woo the voters. Arun Chaturvedi, a minister in the Vasundhara Raje cabinet, is in the poll fray for the Civil Lines constituency in Jaipur. In an interview to HT, he claimed that people will vote for development.
What will be your key agenda for the Civil Lines constituency?
When I fought elections in 2013, my main agenda was development. In the last elections I heard the ex-MLA saying that he has done so much for the constituency that nothing is left to be done. But the ground reality was different. People of my area were deprived of basic facilities like road, water, electricity and education.
In your opinion, what are you major achievements?
In my tenure we have spent around ₹200 crore to solve the water crisis in my constituency and ₹400 crore for construction of roads and their repair. Three dispensaries have been opened in my constituency and Kanwatiya hospital has been connected with the Sawai Man Singh hospital, ensuring people high-class treatment facilities. A sum of ₹38 crore was spent to change the water pipelines; in Haspanpura area people are getting fresh drinking water.
Also Read: Rajasthan Assembly Election 2018: PM Modi's poll campaign from BJP's lost ground, Alwar
Do you think anti­-incumbency against you is prevailing among the voters of your constituency?
With all honesty I am saying that I have put all my efforts for development works in my areas. Like my opponent, I' ll not be arrogant and say that nothing is left to be done. There are many issues in my constituency which need to be addressed. Development is a continuous process. People will vote for the development works.
Your opponent alleges you are stalling the development works of the previous government?
It is true that the ex-MLA had established water huts. But he had not connected these huts with electricity source; as a result they are not functional. The money spent on these projects is not of Pratap Singh or Arun Chaturvedi, it's people's money. My focus has always been on effective and sustainable projects. Pratap Singh should check the records. It would have been better had Khachariywas spent money on permanent projects
For complete coverage of Rajasthan Assembly Election 2018, click here
Personalise your news feed. Follow trending topics