Air pollution on rise in state capital, equipment gathering dust
Last year, the Jharkhand State Pollution Control Board (JSPCB) had purchased three devices to measure concentration of particulate matter (PM) 2.5. But all the three devices are gathering dust due to lack of filter papers required for reading the pollutant levels and measuring the air quality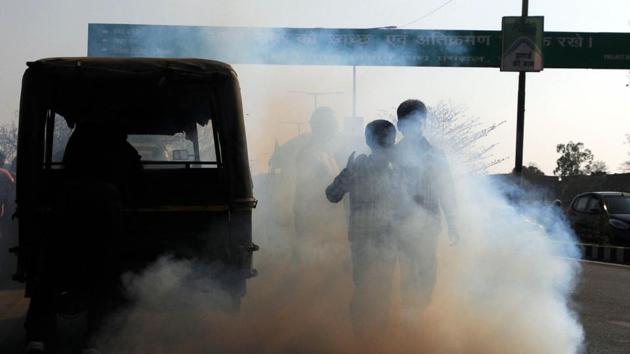 Updated on Oct 12, 2017 11:03 AM IST
Air quality of the city is getting worse due to rise in concentration of particulate matter (PM) 10 and 2.5 and situation is expected to worsen after Diwali. What's more worrying is that the state is not properly equipped to measure its air quality and its deterioration is fast emerging as a major health hazard.
Last year, the Jharkhand State Pollution Control Board (JSPCB) had purchased three devices to measure concentration of particulate matter (PM) 2.5. But all the three devices are gathering dust due to lack of filter papers required for reading the pollutant levels and measuring the air quality.
Of late, it has been observed that the air pollution across the state capital breaches the 'safety level' during Diwali. But the JSPCB has been able to measure air quality at just one place, i.e. Albert Ekka Chowk, due to lack of infrastructure. Experts say tiny particulate matter reaches deep into lungs, at times leading to diseases such as Asthma and Tuberculosis.
JSPCB has eight machines to measure PM 10 but only five are in a working condition. Out of the five, one was installed at Albert Ekka Chowk, two were on stand-by and the remaining two were used for surprise checking in industrial areas, officials said.
The officials, however, said the level of PM 2.5 had never been measured in any part of the state during Diwali due to absence of filter paper.
Such condition prevails at a time when it has been observed even in other parts of the country, including national capital, that the level of harmful pollutants in air increases drastically during Diwali due to bursting of firecrackers coupled with foggy weather conditions.
Taking cognisance of the high pollution level during Diwali, the Supreme Court earlier this week banned sale of firecrackers in the Delhi-NCR region till Diwali.
In Ranchi, the recorded data on Diwali last year at Albert Ekka Chowk showed respirable suspended particulate matter (RSPM 10) had escalated to 199% from the permissible limit of 100 micrograms per cubic metre (mg/m3).
The only automatic ambient air quality monitoring display installed in the city is at Doranda, where pollution level is considerably lower than other parts of the city, which has witnessed concentration of PM 10 and PM 2.5 above the permissible limit many times.
Concentration of PM 10 was recorded highest at 985 micrograms per cubic metre in Doranda, 10 times higher than the permissible limit, on World Environment Day on June 5 this year.
Kirti Abhisek, a professor of environment studies at Birla Institute of Technology (BIT), Mesra, said, "With rising number of vehicles, PM 2.5 level has also increased in the capital city and it needs to be monitored for people's awareness."
He said proper monitoring would help people and planners introduce preventive measures as PM 2.5 invites several health problems, mainly related to the respiratory system.
Indian Medical Association's, Jharkhand chapter president, AK Singh said over 15% rise in number of Tuberculosis and Asthma patients had been recorded in the state over the past 10 years, which could be attributed to the rising air pollution.
JSPCB member secretary SK Suman, however, said air quality in the city was 'still safe'. "We have been monitoring noise and air pollution levels in Ranchi and other cities of Jharkhand under guidance of CPCB," he said.
Suman said order to procure filter paper to read PM 2.5 had been placed.
JSPCB analyst RN Kashyap said, "We have ordered for Whatman filter paper from UK to measure PM 2.5. All procedure to import it has been completed. We are expecting to get the filter by end of this month."
Close Story