Jharkhand boils at 40 Deg Celsius, no relief in sight
Published on Mar 30, 2017 10:01 AM IST
Meteorological department officials predicted no relief from the scorching heat for next couple of days due to unrestricted flow of wind from north-west parts of the country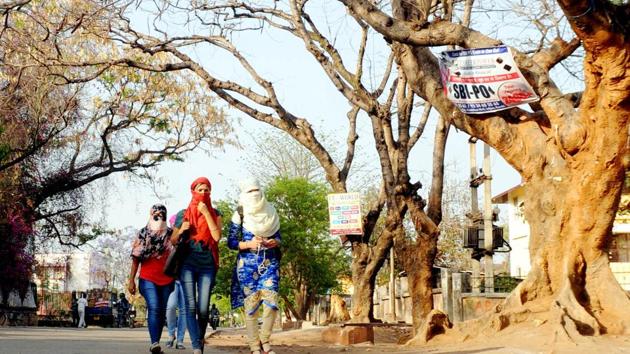 Jharkhand is simmering at average 40 degree Celsius with maximum temperature registering 4-5 degree Celsius above the normal. Mercury crossed 41 degree Celsius in many parts of the state. Ranchi, however, simmered at 37.2 degree Celsius, three notches above the normal, on Wednesday.
Jamshedpur and Daltonganj recorded the highest temperature at 41.6 degree Celsius on Wednesday, while Chaibasa simmered at 40 degree Celsius. Bokaro recorded 39 degree Celsius.
Meteorological department officials predicted no relief from the scorching heat for next couple of days due to unrestricted flow of wind from north-west parts of the country. Except northeast districts, including Sahebganj, Pakur and Godda, where partly cloudy weather prevailed, dry weather continued across the state.
"North-westerly wind is causing dry weather in Jharkhand, which may continue for next few days. Northwest states like Rajasthan and Madhya Pradesh are facing heat wave condition, which encouraged Jharkhand temperature to rise," said RS Sharma, forecasting officer of Ranchi Meteorological Centre. He added maximum temperature could rise by one degree Celsius more .
Sharma said drizzle to light rain is expected in few parts of northeast Jharkhand due to an upper air cyclonic circulation over northern parts of West Bengal.
With soaring of mercury, residents in several parts of the Ranchi city, particularly Kanke, Bariatu, Kokar, Harmu and Ratu Road, have started facing water shortage, as hand pumps and wells have started drying.
"There are three hand pumps in my locality but all of them have dried up. Civic body's water supply is also poor in this area. However, most of the residents here have now opted for deep boring to cope with the water crisis," said Rajiv Sinha, a resident of Kokar.
Mercury Meter
Cities Max Temp
Ranchi 37.2
Jamshedpur 41.6
Daltonganj 41.6
Bokaro 39.0
Chaibasa 40.0
Personalise your news feed. Follow trending topics