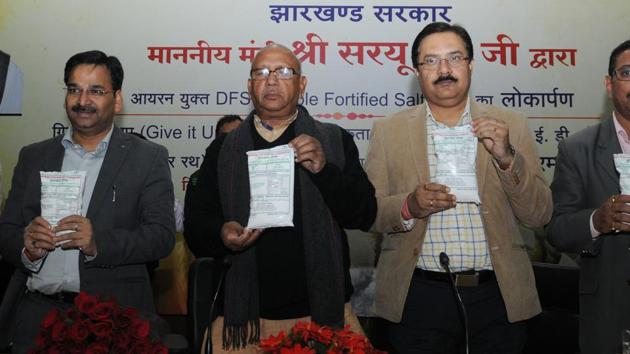 Jharkhand launches double fortified salt to fight anaemia
70% of the women in the state are anaemic and many of them also suffer from iodine deficiency
UPDATED ON DEC 23, 2016 10:00 PM IST
The Jharkhand government on Friday launched double fortified salt (DFS) to boost health of its citizens as 70% of the women in the state are anaemic and many of them also suffer from iodine deficiency.
Per household will get one kilogram of the iron and iodine fortified salt at Rs 1 per month through the ration shops run under the public distribution system (PDS).
Director food and public distribution Sunil Kumar Sinha told Hindustan Times, "More than 58 lakh ration card holders of the state will be benefited by the scheme."
The state will procure the salt from Gujarat at over Rs 7 per kg and will distribute among its citizens in a highly subsidised rate, Sinha said.
He said several private companies too have launched such salt in the market and selling them at Rs 25-30 per kg.
Jharkhand will require approximately 5,800 metric tons annually to meet the demand.
"The DFS contains both iodine and iron. Jharkhand's people, mostly women, suffer from iron deficiency. The DFS salt will help fight against anemia," said food and public distribution minister Saryu Rai.
Colour of the salt will be pale yellow, he said.
Tamil Nadu and Uttar Pradesh governments too earlier launched the similar double fortified salt.
Jharkhand has the highest number of women having iron deficiency in the country with 70% females between the age group of 15 and 49 are anemic, according to the National Family Health Survey (NFHS-III).
Head of gynecology department of Patliputra Medical College and Hospital (PMCH) Dr Pratibha Rai said, "Anaemia has been a bane for Jharkhand women. 90% of women visiting PMCH are anaemic. Anaemia causes low productivity in adults, slow development among children, severe anaemia also leads to low birth weight and child mortality."
She said state health department took several initiatives such as distribution of iron pills to control anaemia. "Lack of awareness among people is proving to be a major hindrance in the success of the programmes. Rural women do not take iron pills regularly. We hope DFS salt could bring some result in controlling anaemia," Rai said.
Disbursement of the salt will be made through biometric system like other PDS items sold through the fair price shops. "Under the system consumers require to give thumb impressions to get a link to their biometric data recorded under their Aadhaar number to collect the PDS items," said Sanjay Kundu, state general secretary of the Fair Price Dealers Association.
He said earlier iodized salt was given to the ration card holders, which was a huge hit among consumers.
Distribution of double fortified salt is the second big PDS programme undertaken by the state government. From October last year it started distributing 5 kg of rice and wheat per household for Rs 1 under the National Food Security Act. The scheme covered more than 2.63 crore people out of the state's total population of 3.29 crore.
Close