Buyers are picking Kolkata, Chennai, Hyderabad over prime metros. Here's why
May 13, 2017 07:23 AM IST
In the first quarter of 2017, post-demonetisation, cities that typically see more end-user demand are seeing sales figures soar.
The real-estate investment landscape is changing in interesting ways.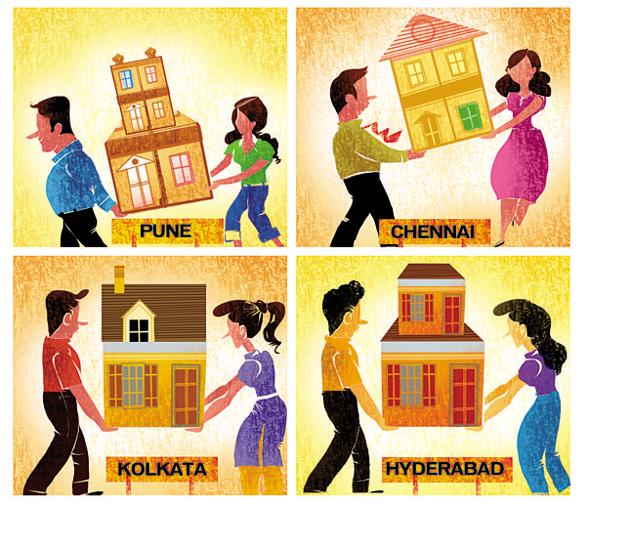 Residential sales and new project launches have grown by 70% in the first quarter of 2017 compared to the last quarter of 2016. Demonetisation, of course, kept numbers low in the preceding quarter, but what's interesting is that three research reports have reported that a bulk of the sales volumes are not in the prime metros of Mumbai-MMR and Delhi-NCR but in cities such as Chennai, Kolkata, Hyderabad, Bengaluru and Pune.
"These cities, in fact, are well-placed to outperform those in emerging economies across Asia-Pacific, particularly in terms of commercial spaces," says Siddhart Goel, senior director of research services at realty consultancy Cushman & Wakefield India, which authored one of the reports.
The other recent studies include an outlook report for 2017 by realty consultancy CBRE South Asia, and a quarterly report by PropUrban.
"A lot of end-users have entered the real-estate market, and since these cities offer mostly affordable and mid-segment housing, they are in demand," says AS Sivaramakrishnan, head of residential services at CBRE South Asia.
Inflated land prices in the bigger metros, developed infrastructure and connectivity in the new entrants and expansion of economic activities to these cities are among the factors driving this change.
"States such as Maharashtra, Tamil Nadu and Rajasthan are also providing greater FSI aimed at boosting the IT sector, and are helping create better job opportunities, leading to the development of real-estate in non-saturated cities in these states," says Pankaj Kapoor, director of real-estate research firm Liases Foras. "The cities are also seeing migration due to saturation of bigger metros such as Mumbai and Delhi-NCR, and that fact that the new entrants offer affordable properties is driving their growth."
In the next phase, says Sahil Vora, founder and managing director of real estate services company SILA, we can expect to see similar growth in cities such as Nagpur, Ahmedabad and Indore, where ready stock is available at affordable rates.
ON THE UP & UP
There's a global angle to the growth too, says Sukhraj Nahar, chairman and managing director of the Nahar Group of developers.
"Changes in international policy [Trump, Brexit, Australian visa policy] have inspired many Indians to work and invest in their home country," Nahar says. "This is driving demand for commercial and residential spaces this year, particularly in smaller cities that are growing as investment hubs and hubs of the IT and e-commerce industries."
Growing demand for commercial space is having a high spillover effect on the housing markets within the cities of Chennai, Pune, Hyderabad and Bengaluru, which typically see more end-user demand, adds Goel of Cushman & Wakefield.
The micro-markets of south and north Chennai are likely to remain sought-after destinations this year, due to the presence of IT firms and robust social and physical infrastructure, states the quarterly report by PropUrban. It also found that Hyderabad had more new supply in Q1 2017 than Bengaluru.
Buyers are watching the graph and celebrating. Anand Malhotra, 30, a physician from Powai, bought a flat in Chennai earlier this year. "The city offers affordable luxury projects in the range of Rs 50 lakh to Rs 1 crore," he says. "I expect favourable returns as the market there is low-risk and steadily growing."
"Exciting news! Hindustan Times is now on WhatsApp Channels
Subscribe today by clicking the link and stay updated with the latest news!"
Click here!