WATCH: Kaththi will be a Vijay show all the way
Hindustan Times |
, New Delhi
Nivedita Mishra
Oct 22, 2014 02:39 PM IST
Tamil film Kaththi's trailer, released on Sunday, has AR Murugadoss written all over it, with superstar Vijay hogging screen estate as always. Sadly, playing a one-man army in this day and age, who takes on the big bad world of power brokers, Vijay looks unconvincing.
For all Vijay and AR Murugadoss fans, the forthcoming film Kaththi promises to be an absolute double treat! But one look at the trailer, released on Sunday, and it tells you many things – it could be an underdog versus big guns story, a land grab tale, or even the coming-of-age story of an urban youth waking up to all the decay around him. However you choose to see it, one thing is clear – Kaththi promises to be an action-filled, fast-paced thriller, with Vijay hogging most of the screen space. Others, if they matter, must share the moment of glory in his company.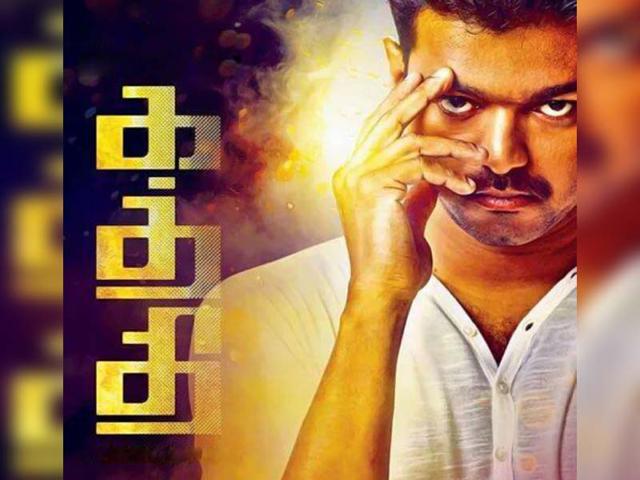 Needless to say, Vijay is in all his 'star' glory in this one. He is the go-to man to beat up the baddies, and, at the same time, adept at arousing a bunch of helpless villagers from the clutches of a mean-minded greedy industrialist/corporate set to rob them of only asset (we don't know yet if it's land or oil!). Vijay also gets to romance his girl (in this case, it is Samantha Ruth Prabhu) and as well. And finally, that gaze – that symbolic 'angry young man' look which is fast becoming a craze down south. In short, it is a complete package. But, seriously, how? You might just keep asking that question. We are not even going a ballot way here.
Given that it is a Murudagoss feast, be sure that the ace director will not let Kaththi spiral into a Vijay fare alone. The narrative will be gripping and larger than life. The storyline will be taut with little room for superficialities, and the trailer pretty much hints at that.
We also get to see a lot of Neil Nitin Mukesh, Bollywood's newest export, as Vijay's bête noire. In fact, if this is anything to go by, the villain has much more screen time than the heroine. Neil, it has been reported, plays a Mumbai-based character. He is relatively restrained with little room for melodrama.