'It's not about a face': Bengaluru man's post about finding love has touched many
Updated on Sep 27, 2017 10:31 AM IST
True love is often found in the unlikeliest of places and circumstances. And Bengaluru resident Jayaprakash has realised it over the years.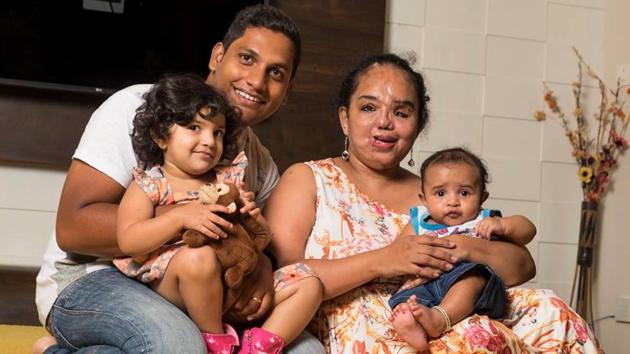 True love is often found in the unlikeliest of places and circumstances. And Jayaprakash has realised it over the years.
The Bengaluru resident married his teenage crush even as life threw many challenges at them but sailed through.
In a post shared on the Being You Facebook page that has received more than 1.5 lakh likes and been shared several times over, Jayaprakash narrated his touching story.
Jayaprakash says he was in school when he first saw Sunitha in 2004.
"I was 17 when I saw a new girl walk past my classroom. I couldn't stop staring. I had never seen anyone like her. Over time, we became friends but my heart sulked every time I saw her with someone else. Soon, I stopped talking to her even though she had no idea why. After the exams, she filled in my slam book saying she wanted to talk, but it never happened. I got into college but never met another soul like her. She moved to Bangalore," he writes.
They kept in touch off and on but "soon got busy with our lives".
Life for Sunitha took a horrific twist in 2011 when she met with a horrible road accident.
"In November 2011, I suddenly got a call from a mutual friend saying Sunitha had an accident and she was in Coimbatore ... When I went to visit, I saw a person with no hair, a disfigured face, no nose, no mouth and no teeth, walking like a 90-year-old. I was stunned. I broke down," he recalls.
From being crush'ed to getting hitched
Jayaprakash says that was the moment when he realised that he loved her.
"Later that night, I sent her a text. I am the only person who can take care of you. I love you. Let's get married," he says. "She called and I proposed again. She laughed but she didn't say no."
He stuck to Sunitha and shared all the "ups and downs" together and thanks her for making him a better person.
"January 2012 onwards, I was there for all her surgeries and would watch her giggle as she woke up after them in the ICU. We started knowing life as it is together and we had our ups and downs but we always got past them. I evolved for her and shifted to Bangalore, but it taught me to be a more confident person," he writes.
Jayaprakash shares that though her mother was initially shocked over his decision to marry Sunitha but his father backed him and later they both came around. The two eventually tied the knot in 2014.
'Don't have kids or they'd have her face'
Some even discouraged him from marrying Sunitha and questioned him about his decision.
"They even asked her not to have babies because they'd have her face. People still look at her with pity and think I did a big thing by marrying her," Jayaprakash recounts those days.
But Jayaprakash says he is happy that he didn't listen to those dissenting and dissuading voices.
"Today, I am married to my teenage crush. She became my love. Love isn't about a face or imposed conditions or external beauty. It is a connection of souls. It feels right. All I know is that I love her to the moon and back, infinity and beyond, forever."