This Valentine's, love is not just in the air but in apps too
Updated on Feb 14, 2016 07:16 AM IST
With changing trends, finding love has gone hi-tech and moved on from clubs and classrooms to apps and digital forums.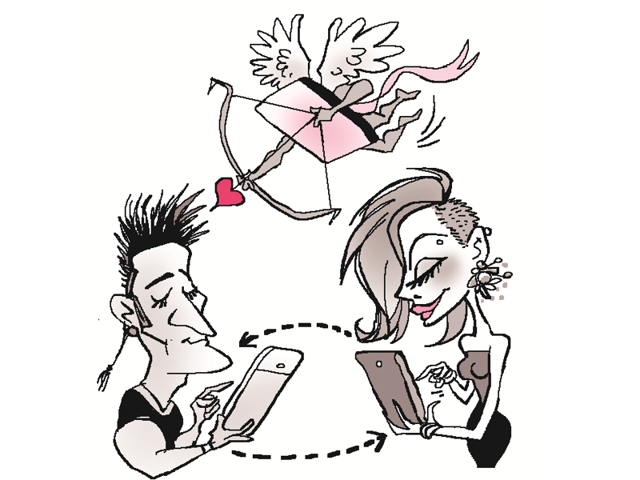 Changing times have also changed the way people find dates, with mobile apps replacing restaurants and clubs that once were prime playgrounds for those looking to mingle.
For 30-year-old Payal, whose job brought her to Delhi from Jaipur, life has changed completely — her evening-shift job left her with little time to socialise, let alone find a life partner. "I am on TM for some serious relationship but I think people are here just for casual dating, and that's not me. I can't date someone for three months and another person from the next three months. Are you here for a casual relationship or something more serious?" she wrote.
Payal was chatting with someone she was interested in, but has never met or knew anything about, on dating app TM, or TrulyMadly.
Read | Who invented the day of love?
And, she is not alone. Two million people are on TrulyMadly, hoping to find a partner. But not everyone is like Payal, looking for a 'serious relationship'. There are many who are on the lookout for a casual relationship, a one-night-stand, or maybe to date for a few months.
Less than a decade ago, this was unheard of and people usually met in a social environment or at the workplace. Dating apps like TM, Woo and Tinder are bringing about a tech-revolution of sorts in the world of dating.
"We are not promising or helping find love, we are making people meet. Close to 80% of the singles on our app is in the age group of 18-26," said Sachin Bhatia, co-founder and CEO of TM.
To put things into perspective, India has 250 million singles according to recent census data. Surprised? Then this will really take your breath away — since 2001, the number of unmarried women between the age of 20 and 29 years has gone up by 60%. Long story short, marriage is not the priority anymore, and the millennial generation wants to be with someone they know or are in love with and with people that share their interests, hobbies and profession.
Read | There's nothing traditional about love anymore
And apps make this filtering possible. You can search for people according to your preferences — that can be anything from cooking to travelling. "Youngsters are not so much driven by the social fabric; they don't want to outsource their relation to parents," Sumesh Menon, co-founder and CEO of Woo, which too boasts of two million users.
And using the app couldn't be simpler: Swipe right if you like someone, and left if you don't. Once you 'like' someone, an alert is sent to the person on the other end. If the other person accepts, you can start chatting. Then the app lets you take it from there — and if all goes well, you could find someone special to spend your life with.
"Once they are more comfortable chatting, they exchange numbers and meet," said Bhatia.
Both Woo and TM claim to be for serious relationships and for singles. But the undisputed champion is Tinder, the big daddy of all dating apps and a global platform based in the US, popularly known as the 'hook-up app'.
Read | In pics: Valentine's Day around the world
In the past one year, Tinder's user base grew 400% and it registers 7.5 million 'swipes' every day. "Tinder is breaking down barriers in meeting people around you. We are bringing people closer by providing a platform that facilitates meaningful interaction leading to friendships and relationships," said Taru Kapoor, head of Tinder India.
That dating apps are growing in popularity is not news, but the fact that people are now spending more time on these mobile cupids than social networks is definitely a shocking revelation. On TM, the average time spent is 42 minutes, while of Facebook it is 36 minutes per day.
If you're in the market for a date or fling or even a life partner, maybe it is time to download one of these apps.
Personalise your news feed. Follow trending topics