Amid injury layoff, loss to Marin and coach's emotional outpour, PV Sindhu keeps her smile intact
Jan 17, 2023 08:07 AM IST
The India badminton superstar will hope for a better campaign than the Malaysia Open last week, where she went down fighting against long-time rival Carolina Marin.
PV Sindhu sports a huge smile, her face glowing with positivity as she enters the pre-tournament press conference for the India Open. The star shuttler is receptive to tough questions, which, in all fairness, are plenty. She even stops to acknowledge requests for selfies, the smile never fading away for a single second. Behind that radiant face is five months of relentless struggle with an injury that even caused her coach, Park Tae-Sang, to momentarily lose control over emotions.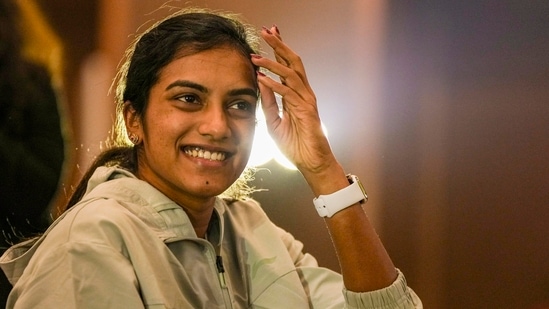 The last few months have been rough on India's two-time Olympic medallist. The star Indian shuttler had faced a left-foot stress fracture that kept her out of action for five months; the injury took place during the Commonwealth Games in August, where she had won a gold medal. The long layoff meant Sindhu had to miss the BWF World Championships as well as the World Tour Finals, as she continued her recovery. The 27-year-old Indian shuttler eventually made her return to the court at the turn of the new year in the Malaysia Open but went down fighting against former World No.1 Carolina Marin.
But as Sindhu walked into a packed hall for the pre-tournament press conference at the Indian Open, she oozed confidence and blazed positivity.
Sindhu and Marin share a rich history of rivalry; their match in the final of the 2016 Rio Olympics remains one of the most iconic ties in women's singles in the last decade. Marin crushed Sindhu's dream for an Olympic gold at the time, and defeated the Indian shuttler again in Malaysia as Sindhu went down in three games. However, Sindhu's emotions across both defeats remain quite the opposite.
Coming from a long injury layoff, Sindhu says she was "satisfied" with how she performed, insisting that it wasn't easy facing Marin after a significant period of time away from the action.
"In Malaysia, playing with her after the injury, I was happy that I could give my best. It (the match against Marin) went till three games, and overall, I was satisfied with how I played. Coming back from an injury, it's not an easy thing. When you make a comeback, just the confidence to get down there and play your best… it takes a lot of time. I'm happy that I have (given) my hundred percent. Winning and losing is a part of life. Apart from that, I think every tournament is important and here we are now at the Indian Open," Sindhu told Hindustan Times.
Also read: 'Quite unfortunate we're meeting in 1st round twice in a week': Lakshya Sen on drawing Prannoy yet again at India Open
While Sindhu is content with where she is in terms of her performances and fitness, her coach, Park Tae-Sang, had seemingly failed to grab hold of his emotions after the Indian shuttler's defeat to Marin last week. In a post on Instagram, he wrote, "Returned after 5 months. And unfortunate results. everyone, her lack is my fault as a coach. We will prepare for the Indian Open in Delhi next week. Please encourage @pvsindhu1 rather than reprimand. I'll try harder."
When this publication asked Sindhu about her coach's emotionally-charged post after the loss, Sindhu stated Park was very concerned over her lack of badminton action.
"After the injury, coming back itself is a really hard thing. It's not so easy. My coach put up his feelings because, for the last five months, we haven't played. I feel we need to take one match at a time. We need to be happy that we actually attempted to play after an injury. By god's grace, I hope everything will be fine and there will be good days," Sindhu told Hindustan Times.
"Olympic qualifications are going to start soon, so we need to prepare and plan accordingly.
Fans coming back key for Sindhu
The previous edition of the India Open was played behind closed doors due to the Covid-19 pandemic. Over the year, things began to return to normal and the Badminton Association of India (BAI) announced ahead of the tournament that fans can enjoy free entry to the KD Jadhav Indoor Stadium. Furthermore, since India Open has now been upgraded to 750 series from 500, it will also see a star-studded lineup in both the men's and women's singles categories as well as in the doubles.
"For the first time, as we all know, the Indian Open is going to be 750. There are a lot of memories here, and that time it was 500. Playing in the home ground is always exciting and it gives that confidence where there's everybody cheering for us. Due to the pandemic last year, we couldn't see the crowd up there but I'm sure this time, it's going to be a lot more exciting," Sindhu said during the press conference ahead of the tournament on Monday.
Sindhu also addressed her fellow counterpart Carolina Marin, who was also a part of the presser. Recalling her games with the Spain star, Sindhu added that she hopes for a huge crowd support over the six days at India Open.
"All of our Indian players are looking forward to that. There are a lot of matches that I won and lost here. Carolina has also played here and we had some really good matches in the previous few tournaments. The crowd is also very supportive all the time. Their cheering is completely different and it feels special," said Sindhu.