Kunlavut Vitidsarn, An Se-young win titles as Gen Next rises at India Open
Jan 22, 2023 10:40 PM IST
Thai topples Danish Olympic champion Viktor Axelson and the young Korean upstages Japan's Akane Yamaguchi in the men's and women's finals respectively
Viktor Axelsen and Akane Yamaguchi entered their respective final as odds-on favourites but were beaten by younger challengers in front of a capacity crowd at the BWF India Open in New Delhi on Sunday. Axelsen held a 6-0 record against Thailand's Kunlavut Vitidsarn while Yamaguchi led her Korean challenger An Se-young 10-5 in head-to-head clashes. It didn't matter on the day as both youngsters trumped their celebrated rivals in three games to claim their maiden India Open titles.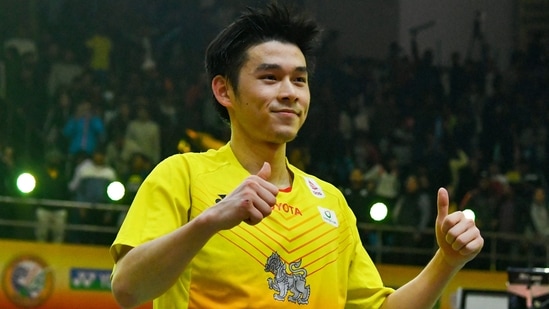 Vitidsarn showed enormous composure and a complete all-round game to win 22-20, 10-21, 21-12 in 64 minutes. While the Thai didn't give Axelsen many opportunities to unfurl his smashes -- the kind that tormented Jonatan Christie in the semi-final on Saturday – a number of unforced errors by the Dane world No 1 always kept Vitidsarn in the hunt.
Axelsen looked slightly off-colour to begin with, his early smashes repeatedly finding the net. Vitidsarn rarely played tosses to the backcourt, trusting his defence to deal with Axelsen's powerful returns from the centre of the court. His body saves were particularly impressive as was his judgement in letting some powerful blocks sail beyond the baseline. When the opportunity presented, Vitidsarn unleashed his attacking game too, ripping a down-the-line smash in the first game that Axelsen didn't bother chasing.
The change of ends suited Axelsen as he looked much better in the second game. He ran up a 13-5 lead and an under-pressure Vitidsarn began to fluff his lines. Axelsen's smashes found their range again as the errors went down, which meant the 29-year-old world champion began to control the rallies and dictate the pace. Despite not being at his dominating best, Axelsen's 21-10 second game win was a ringing reaffirmation of his superior game.
The decider ended up being a tame affair as the rhythm completely eluded Axelsen. From leading 4-3, Axelsen slipped to a 7-11 deficit as Vitidsarn blocked and parried body smashes with ease. Soon, errors began to creep in Axelsen's game and the Thai took the match when the Olympic champion hit a return into the net.
"Overall, my attack and presence on court were not good today. If I had taken the first game that would have made a difference," Axelsen said.
An Se-young wins
An and Yamaguchi had set up a repeat of last week's Malaysia Open final but the 20-year-old Korean made sure there was no repeat of the result as she rallied to beat the world No 1 15-21, 21-16, 21-12 in 62 minutes.
An came back strongly after an error-prone first game. Her placements improved while Yamaguchi started to hit wide. The Japanese's overhead returns from the backcourt that were finding the lines in the first game began to miss their mark. An began using drop shots more liberally, often beating a lunging Yamaguchi.
"After the first game, I made a conscious attempt to cut down on my errors. I don't think Yamaguchi made too many mistakes. Both of us ran well and played well. I think she made me run too much in the first game. After that, I was determined to cut down on my mistakes," An, ranked No 4, said.
The doubles saw two withdrawals, both featuring Chinese pairs, due to ill health handing the titles to their Japanese opponents.
Wang Yi Lyu, due to play the mixed doubles final with Huang Dong Ping against Japan's Yuta Watanabe and Arisa Higashino, and Chen Qing Chen, due to partner Jia Yi Fan, against Japan's Nami Matsuyama and Chiharu Shida, reported sick due to diarrhoea and withdrew.