How online coaching helped India get a 1-2 in triple jump
Published on Aug 08, 2022 11:48 PM IST
With foreign coach (jumps) Denis Kapustin not being able to travel with the team to Birmingham because of a visa delay, Paul and Aboobacker contacted their national coach Harikrishnan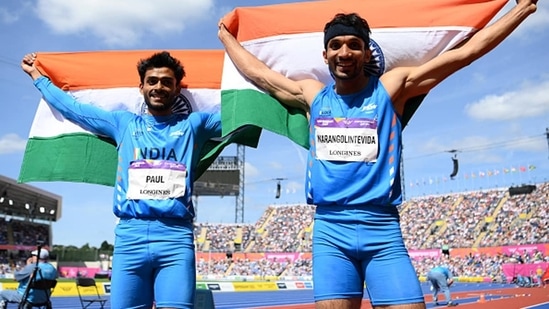 n the lead up to the Commonwealth Games in Birmingham, Eldhose Paul and Abdulla Aboobacker weren't too happy with how they were shaping up. The World Championships in Oregon did not go the way they wanted. Aboobacker wasn't satisfied with his performance while Paul, despite making it to the final, realised a technical glitch was holding him back from giving his personal best.
With foreign coach (jumps) Denis Kapustin not being able to travel with the team to Birmingham because of a visa delay, they were pretty much on their own. They knew a 17-plus jump could put them in a medal position but a technical correction was the need of the hour. Aboobacker had already jumped 17.19m this season, while Paul had touched 16.99m but could they make everything come together on the day of the final.
Paul was having some issues with his landing, but Aboobacker was in bigger trouble. Aboobacker was part of the Indian team that trained in Chula Vista, US, three weeks prior to the Worlds and he did not have a triple jump coach to assist him.
"He was doing his technical and runway sessions on his own and there were some serious flaws that crept into his technique," said India jumps coach and former international M Harikrishnan, under whom both train at Bengaluru national camp.
"He was not getting good speed on the runway and that's because his hand movement was slow which I noticed when he sent me a video. He was shattered after the Worlds and low on confidence, very worried about CWG. I had to motivate him a lot," said Harikrishnan, who competed in the 2010 Commonwealth Games in the long jump.
It was then that Harikrishnan started taking online technical sessions with both of them. He would connect over a video call in the US and supervise their training till early morning India time. "I would start at 1am here and used to be over video call for three hours overseeing their technical sessions."
"I was always giving them a plan for the day but doing it alone could be difficult. Paul's visa was delayed so he was working in the national camp and did all his technical sessions and speed sessions before leaving for Oregon. He had minor issues with his landing and we rectified that. With Abdulla, it took more sessions to get it right," he said.
Even on the day of the final, Harikrishan was on the line with long jumper Muhammed Anees Yahiya who was sitting in the gallery close to the jumpers and relaying instructions of the coach to them. Harikrishnan has been training Aboobacker since 2018 as Air Force coach while Paul joined him in 2020. Having worked with them for a long time, he is well aware of their strengths.
"Aboobacker is a fighter, aggressive with his jumps. He has good speed. He just needs some encouragement and he will go all out. Eldhose is good with his rebound capacity (contact time with ground). He is like a rubber ball."
"I told them that the first jump should be a safe jump and go all out from the second. But Eldhose wasted his first chance but thankfully he was back on track from the second jump and got his best in the third (17.03m). I am just relieved that all the hard work has paid off."
Enjoy unlimited digital access with HT Premium
Subscribe Now to continue reading
Personalise your news feed. Follow trending topics