Cristiano Ronaldo, partner Georgina Rogriguez to break huge Saudi Arabia law, authorities 'to turn a blind eye': Report
Jan 06, 2023 06:45 PM IST
Cristiano Ronaldo and his partner Georgina Rodriguez are set to break a law in Saudi Arabia, and two lawyers feel that the authorities won't take any action against the pair.
In a move which many fans and experts predicted to happen, Cristiano Ronaldo joined Saudi Arabian club Al Nassr on a 2-1/2 year contract last week. The Portugal captain saw Manchester United terminate his contract after a controversial interview with Piers Morgan, where he criticised the club's hierarchy and manager. In a statement, Al Nassr revealed that Ronaldo joined the side on a deal until 2025, and it has been estimated to be worth more than 200 million euros.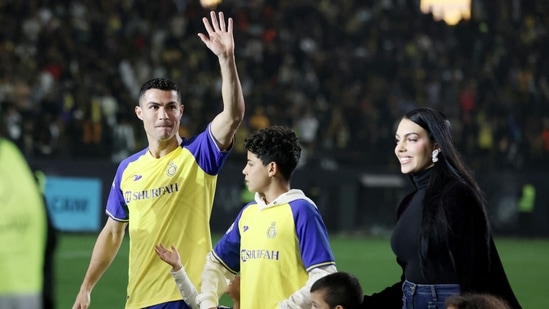 Al Nassr were forced to postpone their first Saudi Pro League fixture since the arrival of Ronaldo by 24 hours due to technical problems at their stadium. The 37-year-old is not expected to make his debut due to a two-game, he received after smashing an Everton fan's phone as he walked off the field after a match at Goodison Park in April last year.
Also Read | Fans vs GF: Who will footballer Julián Álvarez choose?
It also looks like Ronaldo is set to break a Saudi Arabia law by living together with partner Georgina Rodriguez. The pair are not married and under Saudi law, it is illegal to live in the same house without being married. Despite the law, the pair are not expected to be punished by authorities. Ronaldo met Georgina while playing for Real Madrid in 2016 and they have two children (Bella and Alana) together. He also has three other children, Cristiano Jr, Eva and Mateo, who are twins.
According to Spanish news agency EFE, Ronaldo's status makes a punishment highly unlikely. EFE also quoted two Saudi lawyers, who predicted the authorities would not take any action against the former Real Madrid, Juventus and Manchester United star. "Although the laws still prohibit cohabitation without a marriage contract, the authorities have begun to turn a blind eye and do not persecute anyone. Of course, these laws are used when there is a problem or a crime", one lawyer said.
"The Saudi Arabian authorities, today, do not interfere in this matter [in the case of foreigners], but the law continues to prohibit cohabitation outside of marriage", meanwhile another added.