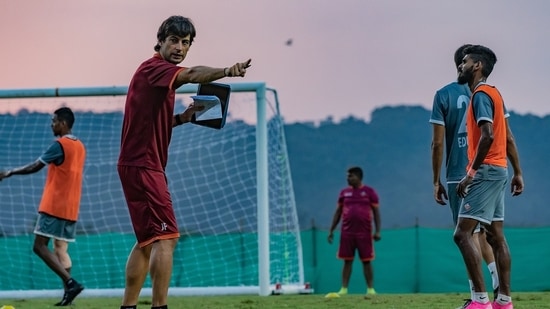 FC Goa face Al-Rayyan after Persepolis low
It was against Al-Rayyan that Goa had begun their campaign on April 14.
By Bhargab Sarmah
, Guwahati
UPDATED ON APR 27, 2021 07:04 AM IST
Two back-to-back defeats at the hands of Iranian powerhouse Persepolis have somewhat dampened the mood in the FC Goa camp after the high of bagging points from their opening two games against Al-Rayyan and Al-Wahda. When the Juan Ferrando-coached side takes on Laurent Blanc's Al-Rayyan in Margao on Monday night, they will look to put the memories of their last two games behind and build on the results of the first two.
It was against Al-Rayyan that Goa had begun their campaign on April 14. Despite a lion's share of the chances falling to the Qatari club, Goa came out of that game with an enormous boost in confidence as they managed to defang the Al-Rayyan attack and keep the scoreline goalless. That confidence was reflected in the next game where Goa gave Al-Wahda a run for their money in another goalless draw.
But two straight games against one of the best teams in the continent have sapped both the energy and morale of the Goan side. Ferrando said that after the four high-intensity games in this group stage, exhaustion is an issue.
"The players are more tired. When the Champions League began, everybody was ready and in good fitness. Now, after 10-12 days, there are problems because players are tired. It's a different game but we can't forget that we are playing against a very good team," he told reporters in Sunday's pre-match press conference.
The 40-year-old Spanish tactician, however, exuded confidence that Goa would improve after the last two defeats. "I know we can change, we can improve; we can prepare a new plan. The players are ready and I am sure that this match will be better than our last two games," Ferrando said.
Ferrando will be without Sanson Pereira on Monday, with the full-back suspended due to an accumulation of yellow cards. Skipper Edu Bedia, who was suspended from the last game and is recovering from a knee injury, could return to the midfield against Al-Rayyan. "We have to forget about the last game and think about the challenges that we have in front of us," Bedia told the club's website ahead of the game.
"We can still mathematically finish second in the group. Now, that would be something historic. We have to recover from the effort we put into all these games and believe that we can do it."
To finish second in the group, Goa will have to win their next two games and also hope that Al-Wahda don't pick all three points against Persepolis, who are almost assured a place in the next stage, in Monday's early kick-off. Al-Rayyan, who already have no chance of making it past the group stages after their two defeats to Al-Wahda, have only pride to play for.
As Champions League debutants and underdogs in Group E, two points from four games don't reflect badly on Ferrando's side. And even if the likelihood of a round of 16 spot looks slim, Ferrando's side will look to put their best foot forward in these final two games. Especially against a side like Al-Rayyan that has underwhelmed in this competition, FC Goa will fancy their chances of springing a surprise.
But as forward Jorge Ortiz explained to reporters on Sunday, the gulf between the Indian Super League (ISL) and the AFC Champions League is significant and there is no scope for a lapse in concentration in the latter.
"On the pitch, the one big difference is the time and space you have on the ball. In ISL, a lot of teams tend to stick to one strategy throughout the game, so that means you can try to continue to do what you are doing constantly, over and over again.
"But in the Champions League, the teams adapt a lot quicker; they analyse more deeply. So once you do something, you are not going to have the chance to do that again. So you have to try and constantly improvise and understand what you are trying to do." Ortiz said.
Topics
Close