Real looking to Benzema, again
Jan 27, 2023 10:27 PM IST
The French forward has seven goals in seven games since missing the World Cup due to injury
The question came some nine minutes into the press conference after France had made their second successive World Cup final. "There's a report today that said Karim Benzema could come back to Qatar…Is there any possibility you would use him for a few minutes," Didier Deschamps was asked deep inside the Al Bayt Stadium . "I am not going to dignify that with a response. Next question, please," he said.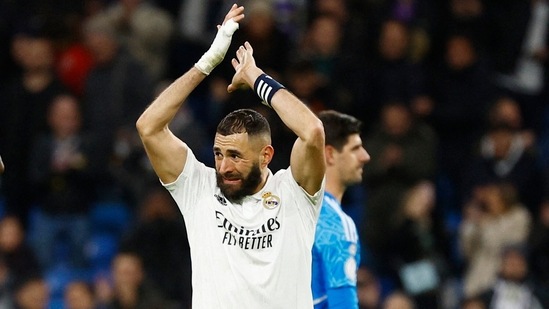 Ahead of the final, the question was tweaked. Was Deschamps "surprised" that Benzema had played a friendly and would he "come here and support the group"? Sergio Aguero's exuberance from the stands and in the Argentina changing room was still over 36 hours away but the question seemed valid because Benzema had been in Qatar till a thigh injury ruled him out one day before the World Cup began. Adopting the even tone he had after the 2-0 win against Morocco, Deschamps said: "It is not my job to invite current and former players here."
One day after the final, Benzema retired from international football. "I wrote my story and ours is ending," he said on Twitter after 97 games and 37 goals in a career blighted by a near six-year absence from the national team because of a blackmailing scandal. Since returning to the national team in 2021, Benzema had scored 10 goals in 16 games. A Nations League title is all he has to show for Le Bleus.
Deschamps didn't replace Benzema, or Lucas Hernandez who as injured in their first game against Australia, but didn't want him either.
It is the opposite at Real Madrid for whom on Thursday, Benzema scored his seventh goal in seven games in all competitions since the World Cup. It was his 336th goal in 624 games for the club. Only Cristiano Ronaldo (451) has more. Including five Champions League trophies, Benzema has won 23 competitions for Real and at 35, he is far from done.
On either side of Benzema's goal were strikes from Rodrygo and Vinicius Jr. They helped Real beat Atletico Madrid 3-1 in the Copa del Rey quarter-final at Santiago Bernabeu stadium. Real trailing till the 79th minute meant it was a lot closer than the scoreline suggests – Antoine Griezmann and Memphis were denied by Real goalie, and former Atletico player, Thibaut Courtois and Griezmann also shot over from inside the penalty area– at least till Stefan Savic's 99th minute red card for a second booking.
Alvaro Morata, a former Real player, had put the visiting team in front after an acrimonious build-up to the Madrid derby with an effigy of Vinicius Jr being slung from a bridge with an accompanying banner, "Madrid hates Real." This was after Benzema had found Vinicius Jr but the Brazilian couldn't shoot. When Vinicius Jr returned the compliment, Benzema's shot was kept out by goalkeeper Jan Oblak. Rodrygo's superb solo effort going past three players fetched the equaliser before Benzema struck at Oblak's near post in the 103rd minute after Vinicius Jr miskicked Marco Asensio's pass. Vinicius Jr's smart placement in the 121st minute eventually made it a good evening for the men in white.
"Today, we had a very difficult game but with the character and the players that we have, we were able to turn it around," Benzema told the Spanish television channel Teledeporte. "Suffering is not good – we have to score the goals earlier."
Benzema had a stellar season in 2021-22 helping Real win La Liga and the Champions League with 44 goals in 46 games (or 3919 minutes, according to transfermarkt.com) and 15 assists. He was the top scorer in La Liga with 27 goals. It was the fourth time in as many seasons that Benzema had notched up over 20 goals. And he was the top scorer in the Champions League where he had 15 goals including two knockout round hattricks against Paris St-Germain and Chelsea.
"There's no problem saying we depend on Benzema…It's a reality and a good thing. I am happy to depend on a player like him," Real Madrid manager Carlo Ancelotti had said of the current Ballon d'Or winner. The best advice Rodrygo said he received last term was to pass the ball to Benzema. It came from the Frenchman himself.
Benzema understands the game like few forwards do, an unnamed La Liga manager was quoted as saying in The Guardian last year. He can combine and create overloads, is technically adept, finishes well and makes teammates better, the manager said.
This term, despite being out for 63 days due to injuries (transfermarkt.com), he has 13 goals and one assist in 19 games. Benzema has missed seven games in La Liga but with nine goals (three penalties) in 10 games is third behind Robert Lewandowski (13) and Joselu (10). He could help Real (41 points) extend their three-point lead over third-placed Real Sociedad on Sunday and keep the heat on leaders Barcelona (44 points).
Benzema is out of contract in summer along with Luka Modric, Toni Kroos, Asensio and Dani Ceballos, who helped turn the game around on Thursday. It will be nothing short of a surprise if Real don't renew it for a year like they do for players over 30 from when Bernabeu was president (1943-78). Maybe they could even break tradition for their skipper.
Topics