Hockey World Cup: Finalists Germany's India link
Jan 28, 2023 06:19 PM IST
Finalists Germany have benefitted from South African scientific advisor, Robin Arkell, who was in India's corner when they won bronze at the Tokyo Olympics
In a sense, India's loss is Germany's gain.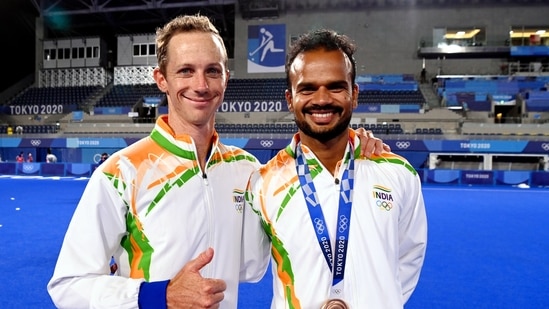 There are two things common between the Indian hockey team at the Tokyo Olympics and Germany in this World Cup. Firstly, both teams are podium finishers – India won the Olympic bronze while Germany are assured of at least silver after reaching the final.
The other common factor is Robin Arkell. The South African was India's scientific advisor, helping the then Manpreet Singh-led outfit to the Olympic rostrum after 41 years.
Having joined the Indian setup in June 2017, Arkell transformed India, making them a much fitter unit that led to unprecedented success before leaving after the Olympics. Arkell joined Germany as strength and conditioning coach last December and has helped them reach their first World Cup final since New Delhi 2010.
Arkell played a crucial role in the development of the Indian team. From planning training programmes to diet, everything was done in consultation with India chief coach Graham Reid, who joined the set up in April 2019.
During his four years in India, Arkell focused on not just the fitness but also increasing the stamina levels of the players, formulating what has come to be known as red (150 minutes) and green (90 minutes) sessions. The longer and more strenuous session included a goal of running 8km in total by each player, part of it as running exercises, partly as distance covered during on-turf game drills.
Arkell also brought technology into play, upping the usage of global positioning system (GPS) pods that are fitted into the players' sports bras and bibs. He meticulously compiled the data, discussing it with them in analysis sessions. "They want to know whether they have achieved the target set for them," Arkell had said in an earlier interview.
The physical demands of modern hockey have made coaches and biomechanical experts rely more on technology to tell them exactly what's happening with a player's body. The GPS vest is a handy tool for that; it monitors a range of parameters, including total distance covered, intensity of running, sprint distance, acceleration and deceleration, among others.
Since hockey is a game of short sprints, that's the one aspect Arkell monitored most extensively. "I give them the number of sprints they (have to) perform and high-speed running distances (they have to cover). These are some of the most important parameters. They are conveyed to them before each session," Arkell had said.
Knowing Reid's predilection for live data, Arkell was clinical in his assessments before passing on the details of each player to the chief coach.
Turning the ball around with acrobatic body feints, making blistering runs down the flanks, shooting from acute angles, the changes were visible in the team after Arkell joined the setup.
Arkell has introduced similar, if not the same, measures now with the German team, who are on the cusp of World Cup victory with only defending champions Belgium standing in the way.
After leaving India, Arkell worked with the German rugby union, started his high performance company (Athlete Performance Authority) before joining the Germany hockey team.
"The physical part is huge in hockey. It has developed over the last years. It's something you have to be working through over the years as there's not much you can change during a tournament," said Germany skipper Mats Grambusch. "Robin is a really good guy. He came in a couple of months ago. What he does here is great, especially in the recovery session. But I can't tell everything we are doing with him."
Enjoy unlimited digital access with HT Premium
Subscribe Now to continue reading