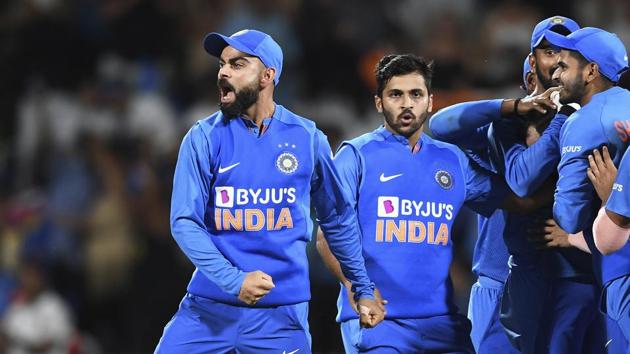 India vs New Zealand 4th T20I in Wellington Highlights: As it happened
IND vs NZ 4th T20I as it happened
: Virat Kohli kept his calm to finish the match in Super Over as India became the first side to win successive T20Is via the one over eliminator. Jasprit Bumrah bowled the Super Over for India, gave away 13 runs and in reply KL Rahul hit a six and a four to give India a great start before getting out. Shardul Thakur bowled a brilliant last over in which India got 4 wickets - 2 via run out - to stretch the match into another Super Over. Colin Munro and Tim Seifert struck impressive fifties but India hung in their and Saini, Bumrah and Thakur bowled three brilliant overs to hold New Zealand on level terms. Earlier, Manish Pandey struck a masterful half-century to take India to 165/8 in 20 overs. This after Ish Sodhi ran through the Indian line-up, taking a three-wicket haul. Earlier, New Zealand won the toss and elected to field first against India in the fourth T20I in Wellington. Big blow for Kiwis as Kane Williamson was ruled out due to shoulder injury and Tim Southee was given the captain's armband. India made three changes as Sanju Samson, Navdeep Saini and Washington Sundar come in place of Rohit Sharma, Mohammed Shami and Ravindra Jadeja respectively.Follow highlights of India vs New Zealand 4th T20I here:
UPDATED ON JAN 31, 2020 05:35 PM IST
17:00 hrs IST
Virat Kohli reacts after Super Over Win
"There's something new that I've learnt, that you've just got to stay calm in the game, observe what's happening and if the opportunity comes then you capitalize on it. The fans couldn't have asked for a better finish I two consecutive games. We hadn't played Super Over before, and now we have played two back to back," said India captain Virat Kohli.
16:54 hrs IST
Shardul Thakur reacts
"You couldn't ask for anything more. This is what we play for, these nail-biting finishes. After the last game, we learned that we should never lose hope. If I bowl a dot ball or a wicket ball, the pressure is on them. It was important to stretch the partnership in the middle, and should have carried on until the 19th and 20th over, so hopefully next time things turn out better for me," said Shardul Thakur.
16:45 hrs IST
India script history
This was the first time when two consecutive matches ended in a tie and on both occasions India ended up on the winning side courtesy the Super Over. India have now taken a 4-0 lead. It looked down an out, perhaps even worse than the one in Hamilton but India hung in there. Kept putting the pressure back on New Zealand and stretched the match into the Super Over.
16:40 hrs IST
Super Over ball 5
Southee to Kohli: 4 runs! India win. A short delivery from Southee and Kohli pulls it through the gap for a boundary.
16:39 hrs IST
Super Over ball 4
Southee to Kohli: 2 runs! Just a dab and Kohli sprints for a couple, great awareness from the India captain.
16:38 hrs IST
Super Over ball 3
Southee to Rahul: OUT! Southee comes back and gets Rahul. Can we take any more drama? Sanju Samson walks out to bat with India needing 4 off 3 balls.
16:37 hrs IST
Super Over ball 2
Southee to Rahul: 4 runs! Rahul on fire! Another ball on the body and Rahul pulls it for a four.
16:35 hrs IST
Super Over ball 1
Southee to Rahul: 6 runs! That is huge! KL Rahul deposits Southee over mid-wicket for a huge six. What a start for India. They now need 8 off 5 balls.
16:33 hrs IST
India need 14
KL Rahul and Virat Kohli walk out to bat for India and looks like it will be Tim Southee once again in the Super Over for New Zealand. India need 14 runs to win it.
16:28 hrs IST
Super Over ball 6
Bumrah to Munro: 1 run! Is it a catch? The umpire's go upstairs. No it's a bump ball but New Zealand took a single. So they end up with 13 runs in the Super Over, India need 14 runs to win it.
16:27 hrs IST
Super Over ball 5
Bumrah to Munro: 4 runs! Smashed by Munro. Short and wide from Bumrah and Munro was waiting for it.
16:26 hrs IST
Super Over ball 4
Bumrah to Seifert: OUT! Finally an outfielder takes the catch. Seifert goes for 8.
16:25 hrs IST
Super Over ball 3
Bumrah to Seifert: 2 runs! Another drop catch, this time it's KL Rahul.
16:23 hrs IST
Super Over ball 2
Bumrah to Seifert: 4 runs! It was a miss hit but there was no one there. Good start for New Zealand.
16:22 hrs IST
Super Over Ball 1
Bumrah to Seifert 2 runs! Dropped catch
16:20 hrs IST
Bumrah for the Super Over
Jasprit Bumrah to bowl the Super Over and it will be Colin Munro and Tim Seifert for New Zealand.
16:18 hrs IST
4 wickets in the last over
Shardul Thakur has perhaps bowled the best over of his life so far. He had only 6 runs to play with, New Zealand needed 7 - 2 less then the last match - and Thakur picked up 2 wickets and gave away 6 runs to force the match into Super Over. The other 2 wickets were run outs.
16:16 hrs IST
2nd Super Over in a row
RUN OUT! We are heading into another Super Over. No shortage of drama at Wellington. It would've been a wide had Santner left it but he went for it and ended up hitting it towards the deep cover fielder. They wanted to come back for the second but Samson's good throw ensures another run out and both sides have finished with 165 on the board.
16:13 hrs IST
Shardul on fire
OUT! Are you kidding me? India have got 3 wickets in 4 balls and it has come down to 2 runs off 1 ball. A brilliant knuckle ball from Thakur and Mitchell doesn't get the connection and ends up skying it to the deep, no mistake by the fielder
16:10 hrs IST
Seifert is out
RUN OUT! It's all happening here. Another good delivery from Shardul Thakur, Mitchell misses, Seifert tries to sneak a bye but KL Rahul takes the stumps down.
16:06 hrs IST
Taylor departs
OUT! Oh boy, is this going the Hamilton way? Ross Taylor has skied one towards the deep and Shreyas Iyer makes no mistakes at deep mid-wicket. It has boiled down to 7 off 5 balls now.
16:04 hrs IST
Brilliant from Saini
What a good over from Navdeep Saini. Only 4 runs from his over and the match is still alive. New Zealand still need 7 runs from the last over.
16:00 hrs IST
Seifiert riding his luck
A top edge lands right in the middle of three converging fielders. One of those days for the Indian fielders and one of those great days for Tim Seifert.
15:58 hrs IST
Bumrah bowls a good over
A very over from Bumrah. If it wasn't for that boundary then the situation could have been tighter. 7 runs from Bumrah's last over. He finishes with 1 for 20 and New Zealand now need 11 runs to give back to India.
15:56 hrs IST
Fifty for Seifert
FOUR! Brilliant shot past the point fielder from Seifert and that'll bring up his 2nd T20I fifty. He has had his share of luck today but that takes nothing away from the knock.
15:53 hrs IST
18 required off 18
8 runs coming from Shardul Thakur's over. He hasn't done a bad job today but India needed wickets to make a comeback in this match, which hasn't happened. New Zealand are coasting towards the target.
15:48 hrs IST
10 runs from Bumrah's comeback over
Brilliant batting from Tim Seifert and Ross Taylor. They have taken 10 runs from Jasprit Bumrah without taking any risk whatsoever. They now need 26 runs in the last 4 overs, surely they cannot lose this one can they?
15:43 hrs IST
17 runs off the over
Fielding brought India back in this game and now fielding has let them down. 17 runs coming from Yuzvendra Chahal but you can't blame the bowler when you drop the same batsman twice in an over.
15:39 hrs IST
Saini, Bumra drop Seifert
Two drop catches off two balls and both of Tim Seifert. Looks like India don't wanna get rid of Seifert here. What's more? The first drop catch of Saini also went for a six. Both of them were easy chances at the international level to be honest.
15:37 hrs IST
Seifert ruins Dube's over
SIX! Just hits the boundary skirtings on the full. Seifert ruins Sivam Dube's over with a big off the final ball. Another slower ball on length and Seifert was waiting for it. He rocked back and slogged it over mid wicket for a six. 11 runs from the over.
15:28 hrs IST
Chahal gets Bruce
OUT! Bowled! Chahal comes back and gets rid of Bruce! He cannot leave a lasting impression and goes without troubling the scorers. Floated on leg stump, Bruce looks to paddle.This shot looks easy to play and cheeky when it comes off but when it does not it does not look pretty. On this occasion, it has not come off. Bruce has missed it completely and the ball goes onto disturb the pole. Once again New Zealand are making a meal of this chase and are losing the plot.
15:24 hrs IST
Simply outstanding from Kohli
RUN OUT! What happened there? Virat Kohli has pulled off an extraordinary run out. He wasn't after the ball, it was Thakur who was after the ball at covers but his throw could only reach as far as Kohli, standing inside the ring. The Indian captain turned in a flash and threw towards Munro, who had started to jog for the second without realising anything. The ball hit the stumps and Munro was short of his crease, a touch of brilliance from Kohli gives India a sniff.
15:19 hrs IST
Another good over for NZ
Colin Munro is in full control of this chase. He hasn't let India's young bowlers settle into rhythm at all. Once again takes 13 runs off Navdeep Saini's over. India have to remove Munro if they need to make a comeback in this match.
15:12 hrs IST
Munro gets to his fifty
FOUR! A straight hit over the bowler's head and that brings up the half-century for Colin Munro. 11th T20I fifty and his 3rd fifty against India. This has been an excellent innings from the left-hander. Someone had to step up in the absence of Williamson and he has done it in style.
15:08 hrs IST
Seifart shows his talent
SIX! What a pick up shot from Tim Seifert. Nothing wrong with that delivery from Chahal, perhaps little fuller than he would've like it to be but full marks to Seifert for first getting a good stride and then slog it over mid-wicket for a six.
15:05 hrs IST
Big over for New Zealand
13 runs! A boundary from Tim Sefert's bat and then a huge six by Colin Munro - New Zealand have put pressure on young off-spinner straightaway. This is an important period in the game.
15:00 hrs IST
Chahal starts well
A very good start from Yuzvendra Chahal, only 4 runs from his first over and more importantly, there were signs of the ball gripping a little.
14:56 hrs IST
Munro launches into Thakur
A six over square-leg, followed by two boundaries - one over cover, the next through mid on - Colin Munro has decided to take Shardul Thakur apart. The right strategy from the left-hander, this is the last over of the powerplay and New Zealand needed to make the most of it, 17 runs off the over from Thakur.
14:52 hrs IST
Outstanding over from Bumrah
Three dots and a wicket, only four runs from Jasprit Bumrah's second over. He means business tonight. This chase won't be an easy one for New Zealand.
14:48 hrs IST
Bumrah strikes
OUT! A nothing shot really from Martin Guptill maybe that injury he got fielding restricted his movement. It was a length delivery from Bumrah, Guptill looked to whip it through the leg side without any feet movement and ended up getting a top edge. Rahul, the man with the gloves, stationed himself under it and took the catch safely.
14:45 hrs IST
Expensive over from Saini
Navdeep Saini dropped the ball short and Colin Munro hit him for a six over mid wicket. 9 runs came from that over from Saini as New Zealand are looking to get a move on after a sedate start to chase.
14:40 hrs IST
Run-out chance
Colin Munro went for a suicidal run after nudging a Jasprit Bumrah delivery towards mid-on. Shardul Tahkur picked the ball and had a shy at the stumps, only to miss. Replays showed Munro was way out of the non-striker's end when the ball whizzed past the wickets.
14:35 hrs IST
Navdeep follows up well
Colin Munro hit a boundary off Navdeep Saini over mid-off but he pulled things back well and gave away just 5 runs in the over. Indian bowlers have done well to not give New Zealand a flying start in the chase.
14:30 hrs IST
Good start for Thakur
Shardul Thakur kepps things steady and gives away just four runs in the first over of the innings. India need early wickets to put pressure on the home side and not giving runs will make then go for big shots which could result in wickets.
14:24 hrs IST
NZ chase begins
Shardul Thakur has the new ball in his hands and he will bowl the first over of the innings. Colin Munro and Martin Guptill are opening the innings for Kiwis as they chase 166 to win the match.
14:18 hrs IST
Stat attack
Manish Pandey's third T20I fifty. 1st fifty batting at #6, only the 2nd IND batsman to score fifty at #6 after MS Dhoni 52* vs SA at Centurion in 2018. 6th consecutive instances where Pandey has remained unbeaten when he came out to bat for IND
14:11 hrs IST
India innings ends
Manish Pandey completes his half-century in the last over of the innings and this is his third fifty in T20Is. 11 runs came from the last over from Kuggeleijn as India end innings as 165/8. Ish Sodhi was the best bowler for Kiwis as he ended with a three wicket haul. Hamish Bennett scalped two for the home side.
14:05 hrs IST
Super Saini at work
Navdeep Saini has sent the Indian fans present at the venue in frenzy as he hits two boundaries off Hamish Bennett. The Kiwi pacer concedes 10 runs in the over as India go past 150-run mark. One more over to go and Manish Pandey will look to hit a few lusty blows.
14:00 hrs IST
Chahal heads back
Tim Southee picks his first wicket of the innings as he gets rid of Yuzvendra Chahal for 1. The right-hander edged the ball into the keeper. India have lost eight wickets as Navdeep Saini joins Manish Pandey in the middle. Two overs left for India to score closer to 150.
13:55 hrs IST
Thakur departs
India have lost their seventh wicket of the innings as Hamish Bennett gets rid of Shardul Tahkur for 20. The right-hander top edged a delivery and Southee took a good high catch near mid on. Yuzvendra Chahal joins Manish Pandey in the middle.
13:50 hrs IST
Good over for India
Manish Pandey hit Tim Southee for a boundary past the point fielder and with that, the pacer concedes 13 runs in the over. Pandey and Thakur have done well to take singles and doubles and that has kept the scoreboard ticking.
13:45 hrs IST
Five overs remaining
Manish Pandey and Shardul Thakur are dealing in singles and doubles and keeping the scoreboard ticking. Boundaries are currently hard to come by and India need to get closer to 150-run mark to stand any chance of getting a positive result out of the match.
13:40 hrs IST
India cross 100
The job at hand for Manish Pandey is to take India to a respectable score. Pandey and Thakur have put together 16 runs of 15 deliveries so far and helped India cross the 100-run mark. Six overs left in the innings for India to get closer to the 150 mark.
13:35 hrs IST
Sundar departs
Mitchell Santner bowled a regulation off spinner and the ball went through the gates of Washington Sundar to hit the stumps. India have lost their sixth wicket of innings and they haven't even reached the 100-run mark.
13:30 hrs IST
Sodhi strikes again!
Ish Sodhi picks his third wicket of the innings as Shivam Dube heads back into the hut. The southpaw hit the ball high in the air, towards long on, where Tom Bruce took the catch before colliding with Daryl Mitchell, who had also come to take the catch but bailed at the last minute.
13:25 hrs IST
10 overs completed
After the completion of first 10 overs, India's score reads 83/4. They have lost their explosive top order batsmen and Manish Pandey and Shivam Dube are looking to take India to a fighting score in the contest.
13:20 hrs IST
Rahul falls as well
It was a poor delivery from Ish Sodhi as he dropped the ball short, without any significant pace. Rahul somehow managed to hit the ball straight into the hands of Santner at mid wicket ropes. Rahul departs for 39 as Sodhi picks his second wicket of the innings.
13:15 hrs IST
Flurry of boundaries
Kuggeleijn concedes three boundaries in the over as Rahul and Dube take him to the cleaners. Rahul started the onslaught as he caressed the field on the off side for a boundary past point fielder. Dube then slammed two boundaries off three deliveries to make it 14 from the over.
13:10 hrs IST
Iyer falls
Ish Sodhi has done the trick for New Zealand as he gets rid of Shreyas Iyer for 3. The right-hander went for cut shot and ended up giving an easy catch to keeper Seifert. India are three down now and in a spot of bother. Shivam Dube joins Rahul in the middle.
13:05 hrs IST
Good over from Kuggeleijn
KL Rahul and Shreyas Iyer were kepy quiet by Scott Kuggeleijn, who gave away just 1 run in the over. India have lost some of the momentum after the dismissal of Virat Kohli and they will be hopeful Iyer and Rahul will put on a good partnership and bail them out of trouble.
13:00 hrs IST
Four, four, OUT
Virat Kohli smashed couple of boundaries off Hamish Bennett, one towards square leg and the other towards third man. On the next delivery, he top edged the ball and Santner took a good flying catch coming inside from the covers. India are two down now.
12:55 hrs IST
Southee pulls things back a bit
After a string a boundaries, Southee re-introduced himself into the attack and concedes just five runs in the over. Southee needs support from his other bowlers as they have been leaking runs at the moment.
12:50 hrs IST
More runs for Rahul
Santner bowled a length delivery and Rahul hit the ball over long on roles. Then, a classic cover drive to end the over which went for his first boundary of the innings. India getting a move on now with Rahul on the attack. Virat Kohli is playing the role of anchor at the moment.
12:45 hrs IST
Rahul cuts loose
Scott Kuggeleijn bowls a bit short and wide and KL Rahul hits the ball over covers for a huge six. Rahul's first six of the innings and the kind of form he is in, the Kiwis would want to stop him before he goes on to score another big one.
12:40 hrs IST
Samson departs
Sanju Samson showed his class as he flicked a Scott Kuggeleijn delivery over cow corner for a 94m six. But two balls later, he skied a delivery and Mitchell Santner took a good high catch, coming inside from point region. Good start for the Kiwis.
12:35 hrs IST
Good start for Southee
Stand-in-skipper Tim Southee bowls a decent first over as he concedes just seven runs off it. He didn't give away any boundary in the over and that will set the tone for him in the coming overs. Rahul and Samson are looking to get their eye in before they take the attack to the bowlers.
12:30 hrs IST
Southee leading NZ
Just a small recap folks: Kane Williamson is missing today due to the shoulder injury he sustained in the 3rd T20I. Tim Southee is leading the hosts in his absence as they look to pull one back after losing the first three matches of the series.
12:22 hrs IST
Match about to begin
The players are making their way into the middle and we are about to get under way with the fourth T20I. Sanju Samson and KL Rahul are opening the innings for India while TIm Southee will bowl the first over for the home side.
12:15 hrs IST
Stat attack
161: Average first innings total at Westpac Stadium across completed match.
· 4/11: Teams batting first have won in 4 out of 11 matches and lost 7 of them. All the 4 wins batting first came from NZ.
6: Kohli is 6 sixes away from becoming the 2nd captain to have hit 50 sixes as captain in T20Is after Eoin Morgan (62).
6: Martin Guptill is only 6 sixes behind Rohit Sharma (124) in T20IS, who holds the record for most sixes in T20Is.
14: Sodhi is the bowler with highest wickets against India in T20Is.
3: Guptill is 3 catches away from becoming the 3rd outfielder to take 50 catches in T20Is after David Miller and Shoaib Malik.
8: runs needed by KL Rahul to complete 4000 T20 runs
12:10 hrs IST
Playing XIs
New Zealand: Martin Guptill, Colin Munro, Tom Bruce, Ross Taylor, Tim Seifert(w), Daryl Mitchell, Mitchell Santner, Scott Kuggeleijn, Tim Southee(c), Ish Sodhi, Hamish Bennett
India: Sanju Samson, Lokesh Rahul(w), Virat Kohli(c), Shreyas Iyer, Manish Pandey, Shivam Dube, Washington Sundar, Shardul Thakur, Yuzvendra Chahal, Jasprit Bumrah, Navdeep Saini
12:03 hrs IST
Toss update
Tim Southee won the toss and elected to bowl first in the fourth T20I. Skipper Virat Kohli also conceded he was looking to bowl first. India have made three changes as Rohit Sharma has been rested as Sanju Samson will open the innings. Mohammed Shami and Ravindra Jadeja too have been rested in place of Washington Sundar and Navdeep Saini.
11:55 hrs IST
Toss will be crucial
Both teams would want to bowl first and try to restrict the other team to a low score. Let's see how that goes and which team gets the slight early advantage by winning the toss.
11:50 hrs IST
High praise for Jadeja
Jadeja has been fulfilling the role of India's premier all-rounder Hardik Pandya. But with Pandya set to return from an injury in India's next assignment against South Africa, it may pose a lot of headache for the Indian team management. According to Swann, however, there shouldn't be any debate on Jadeja's spot in India's playing XI. "All the other teams in the world do not want Jadeja to be playing in that India team. He's very very important player. From an English point of view, we'd very happy (if he doesn't play)," Swann said in the post-match show in Star Sports.
11:43 hrs IST
Worry for India
At this venue, New Zealand have a brilliant record in T20Is - they have not lost any T20I since 2014 and have won 6 matches on the bounce. Not only this, the Kiwis have won a total of 8 T20Is — the most for them at any venue. History suggests India will have a tough time today.
11:36 hrs IST
Big blow for Kiwis
Kane Williamson has been ruled out due to shoulder injury. In his absence, Tim Southee will lead the team for this clash. Statement from the Black Caps: Captain Kane Williamson has been ruled out of tonight's 4th T20I with a left-shoulder injury (AC joint) sustained while diving in the field in game 3. He will hopefully be available for the final game of the series at Bay Oval. Tim Southee will captain the side in T20I 4. 
Captain Kane Williamson has been ruled out of tonight's 4th T20I with a left-shoulder injury (AC joint) sustained while diving in the field in game 3. He will hopefully be available for the final game of the series at Bay Oval. Tim Southee will captain the side in T20I 4. #NZvIND pic.twitter.com/0Igj6RMnzg

— BLACKCAPS (@BLACKCAPS) January 31, 2020
11:32 hrs IST
India's predicted XI
Rohit Sharma, KL Rahul, Virat Kohli, Shreyas Iyer, Manish Pandey, Ravindra Jadeja, Washington Sundar, Mohammed Shami, Navdeep Saini, Jasprit Bumrah, Yuzvendra Chahal (Read full story here)
11:25 hrs IST
India could tinker with playing XI
During the post match press conference after 3rd T20I, India skipper Virat Kohli had hinted at possible changes in the line-up for the final two matches. "We will try to win 5-0. There are a couple of guys who are sitting out like Sundar and Saini, they deserve to get a game. The idea is to win the remaining two games," Kohli had said.
11:17 hrs IST
Pitch report
Over the years, Wellington has generally been a batting paradise. The team batting first have won four out of the last 5 T20Is at this venue. The seamers have been more successful in getting wickets here in Wellington but the spinners have been economical.
11:09 hrs IST
Weather report
Wellington promises bright sunshine and there is absolute no chance of any rain throughout the day. The temperature is likely to hover between 18 and 24 degrees, providing perfect conditions for both the teams.
11:00 hrs IST
India look to extend lead
Virat Kohli and his troops have already taken an unassailable lead in the five-match series following their thrilling win in Super Over in the last T20I. They will now look to extend their lead in Wellington and continue their winning streak in New Zealand.
10:55 hrs IST
India vs New Zealand 4th T20I live
Hello and welcome to the live coverage of India vs New Zealand 4th T20I at the Westpac Stadium in Wellington. India edged past New Zealand in the Super Over to win their first series in New Zealand will be on a high. New Zealand, will be feeling the exact after a heartbreaking defeat at Hamilton.
Close