Tokyo Olympics: Sharath Kamal and Manika Batra seal mixed doubles spot
Seasoned Sharath shakes off doubts as the Indian pair rallies to beat superior Korean rivals in the Asian qualification tournament final at Doha, Qatar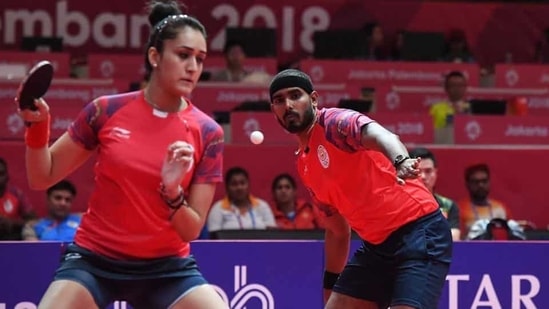 Updated on Mar 20, 2021 08:21 PM IST
For a 10am start to the table tennis mixed doubles Asian qualification final with a Tokyo Olympics spot riding on it, Sharath Kamal was up from 5am on Saturday. Two things were eating the mind of the 38-year-old paddler—he had no clue how he and Manika Batra, ranked world No. 18 in mixed doubles, were going to beat their fifth-ranked Korean rivals, and what to do with a huge opportunity staring in their face.
"We qualify now and we stand a chance for a medal at the Olympics, which is beyond dreams," Sharath recalled his morning musings. "We're presented with a golden opportunity here, which would not just do good for me and Manika but for the sport in India for the next several years. But I don't know how to convert this opportunity."
ALSO READ| EXCLUSIVE - Expecting this to be my best-ever Olympics: Sharath Kamal
With plenty of expectation and zero strategy, Sharath and Batra, 25, stood across the table facing Korea's Lee Sang-su and Jeon Ji-hee. In less than 20 minutes, the Indians were 2-0 down. The pair then turned it around spectacularly, winning the final 4-2 (8-11, 6-11, 11-5, 11-6, 13-11, 11-8) to seal the lone Tokyo Games mixed doubles berth on offer from the tournament.
It capped off a successful Asian qualifying event for India with G Sathiyan and Sutirtha Mukherjee winning their singles groups to qualify and Sharath and Batra adding a mixed doubles quota to assured singles qualification on the basis of their world rankings.
ALSO READ| EXCLUSIVE - One of the best moments of my life: Sathiyan on qualifying for Tokyo
With an age gap of 13 years, Sharath and Batra will be one of the 16 pairs in the mixed event that has been added for the first time in table tennis for Tokyo. Having got through the must-win qualifying event—they beat a tricky Singapore pair of Pang Yew En Koen and Lin Ye in the semi-finals before facing the Koreans—Sharath believes mixed doubles offers him a realistic shot at an elusive medal in his fourth Olympics.
"You're actually three rounds away from being there," Sharath said. "As a singles player, it might be very, very difficult for me to dream of winning that Olympic medal. In mixed doubles, you stand a chance. If we manage to pull it off, it can benefit the entire table tennis fraternity of India."
That seemed far-fetched after the second game on Saturday. But coach Soumyadeep Roy's advice to open up the game and get into rallies, to break the Korean tactic of finishing off points quickly, worked with the Indians bossing the next two games. Sharath and Batra rode the momentum for a 7-3 lead in the fifth game when those thoughts crept in again in his head.
"I got stuck because I thought, "maybe, we're going to win this match". That thought is enough to pull everything down," Sharath said. The Koreans caught up and earned two game points but the Indian pair saved them, winning the crucial game to gain the upper hand.
"Manika kept telling me, "C'mon bhaiya, you just play the ball. I'll be ready and waiting. I'm standing right behind you". Once we won that game, we were back on track," Sharath said.
That camaraderie and chemistry of a doubles partnership was missing in the couple of matches they played in the two World Table Tennis (WTT) tournaments leading up to the qualifiers, losing both 1-3. "We were not playing like a doubles pair," Sharath said.
Before the WTT events, their previous tournament together was in February last year, at the ITTF Hungarian Open. Since then, Sharath and Batra could not even train together owing to the pandemic, let alone play a match, before landing in Doha. "That was the difficult part. The way we played in the WTT matches, it took away a little bit of my confidence (for the qualifying tournament).
"But since we were there, we got more time to spend with each other and practice together. Somehow we figured out a way to understand each other and push each other," Sharath said.
Batra too was elated to grab both spots on offer for Tokyo. "I am happy that along with singles we could even make the mixed doubles. I had worked really hard in Pune (where she trains) and it helped me keep calm when we were down. I am also very happy to see two women qualify," she said.
Close Story