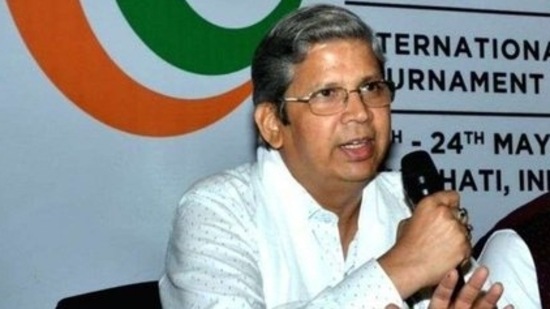 Boxing fraternity mourns the loss of RK Sacheti, the go-to man of Indian boxing
The crucial role he played in taking Indian amateur boxing to international success in recent times was highlighted by Boxing Federation of India president Ajay Singh.
By Avishek Roy
, New Delhi
UPDATED ON MAY 04, 2021 08:03 PM IST
Raj Kumar Sacheti, who died on Tuesday at the age of 55 after battling Covid-19, was the go-to man for Indian boxing. From being a key planner to execution on the ground, organising international tournaments or domestic meets, or looking after the smooth conduct of national camps, Sacheti, executive director of the Boxing Federation of India (BFI), was a powerhouse.
A driven sports administrator, Sacheti wore several hats with aplomb. He was associate joint secretary, Indian Olympic Association, member of the International Olympic Committee's (IOC) Boxing Task Force for the 2021 Tokyo Olympics, and an advisor to the Asian Boxing Confederation (ASBC).
Sacheti hailed from Alwar, Rajasthan, and was a chartered accountant by profession. The crucial role he played in taking Indian amateur boxing to international success in recent times was highlighted by Boxing Federation of India president Ajay Singh.
"RK Sacheti was the life and soul of the Boxing Federation of India. Indian boxing reaching such heights in the last few years was largely his contribution. We will miss him dearly. Indian sport will miss him. Rest in peace my dear friend. We will always be proud of you," Singh said in a statement.
Sacheti played an important role in bringing Singh, the Spiecejet managing director, as BFI president in 2016.
This introduced much-needed professionalism in the federation, which had been mired in controversy and suspended by boxing's global body for four years. Indian boxing soared to new heights under this administration, winning more international medals than ever before.
"I am so sorry for your loss...I will always hold you close in my thoughts. Your contribution and initiative in sports will be always cherished," tweeted London Olympic bronze medallist MC Mary Kom.
For the coaches and boxers it was a big personal loss. Sacheti was one phone call away from listening to their problems and trying to find solutions.
"He was the mastermind behind Indian boxing," said India's high performance director Santiago Nieva.
"It was because of his initiative that we could start the camp for the Olympics-bound boxers early in July and we could go abroad for training and competition last year. He was always available for any problem on tour, whether it was visa, travel, flights, he had a solution to all," said Santiago. "We have worked very closely and he gave me all his confidence to build a system. It is a great loss. I have no words to express."
While preparing the boxers for the Tokyo Olympics was on the top of his agenda, Sacheti also prioritised the training of youth and junior teams. He took initiative to begin an online coaching programme at the National Boxing Academy (Rohtak) for junior boxers during the lockdown.
"He also made sure that we safely reached Montenegro for the Adriatic Pearl Tournament and got a tournament before the Youth Boxing World Championships. During the Youth Championships in Poland, he was in touch till we safely reached the hotel," said Bhaskar Bhatt, youth women's head coach.
India recorded its best ever performance at the Youth Boxing World Championships last month, with the women's team winning seven gold medals.
"He congratulated me on return. He was unwell and that was the last time we spoke," said Bhatt.
This story has been published from a wire agency feed without modifications to the text.
Close