Mina Guli's "marathon" water conservation mission
Jan 17, 2023 11:00 PM IST
The Australian has run 155 of her mind-boggling target of 200 marathons as part of the India chapter of the Run Blue campaign.
What does it take to run 200 marathons in a year? Some might say it takes an insane amount of endurance, others might say willpower, still more might mention talent. But ask Mina Guli and she might tell you that the most important quality is having a cause.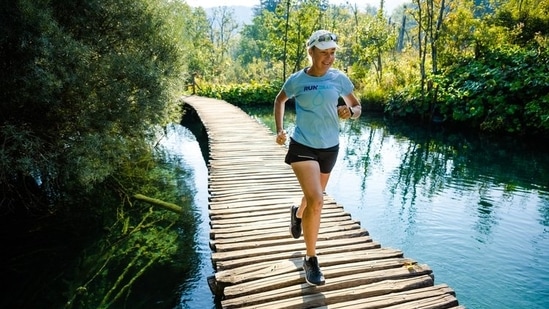 Water advocate and ultramarathon runner Mina Guli on Friday completed her 155th marathon to raise awareness on water conservation as part of the India chapter of the Run Blue campaign.
The campaign is being organised by life sciences company Bayer alongwith Guli and they want to run 200 marathons across the world in the build-up to the first global United Nations 2023 Water Conference scheduled to be held in New York from March 22 to 24.
"The reason I am doing this is for three things," Guli said. "I want to raise awareness about the global water crisis, I want to show the urgency of the problem we are facing and I want to most importantly drive action from companies that represent almost 90% of global fresh water use (directly or indirectly). I want to drive action from individuals (like each one of us) and I want to drive action from governments because the truth is that we need action from all of us.
"A lot of people have been asking me why running... well, running is important to me for a number of reasons. I want to show that with many small steps big things can happen. That we don't need to immediately need to take a giant leap. Small steps are okay."
For Guli, it is important to acknowledge that small steps on the pathway forward are incredibly critical to achieving big, bold goals.
For example, the government of India has set a bold and audacious goal to provide clean drinking water and sanitation services to the entire population. Right now, probably 60% of the population is covered. Some may look at that and say "gosh, we are moving too slowly," some may look at that and say "this is a disaster" but the truth is this is 60% then what you had when you were at 0. And it is still progress."
It was also important to raise awareness in a way where one didn't need huge amounts of technology to become part of the effort.
"And one of the brilliant things that happened when I was out running is that we had hundreds of people join me to say that we the people care about this issue, about water," said Guli. "I want to show the power that we have as individuals to do far more than we thought possible."
And that is how 200 marathons came into the picture. She once tried to complete 100 marathons in 100 days but fractured her femur bone during her 62nd run. She didn't give up though, not on her cause.
"I don't think of myself as a runner," said Guli. "I was the last kid picked for a sports team. I came late to running and I am bad at it. I am slow and it is not my natural space. But I do it because I have the capacity to use it to bring attention to this issue."
Change can be challenging but if we are all prepared to work hard anything is possible.
"Running 200 marathons is incredibly hard. I have torn muscles; I have been sick and I had gut problems in Vietnam where I was before I came to India," said Guli. "But every time I think about stopping, I remind myself that we can do hard things and that is the message I want to give out to everyone out there."
Everyone seems to be ready to have a conversation about deforestation these days but the water crisis is still not talked about in the same way.
"They are both linked for sure," said Guli. "It is the same for climate change as well. It is all over the media and we all talk about it but we forget that climate change is water change and climate risk is water risk. More droughts, more floods and you have seen it in India and even in my home country of Australia."
"These situations are going to pop up even more in the future. Our wetlands are disappearing and they are critical. In the big cities, we forget that water does not come from a tap. It comes from a healthy ecosystem. Getting the understanding that all these things are linked is important."
In the big cities we can sometimes start thinking that the water crisis is someone else's problem. But water powers everything... until it is gone.
So, with each step Guli runs, she wants to show that every drop of water matters and it truly is an effort worth getting behind.