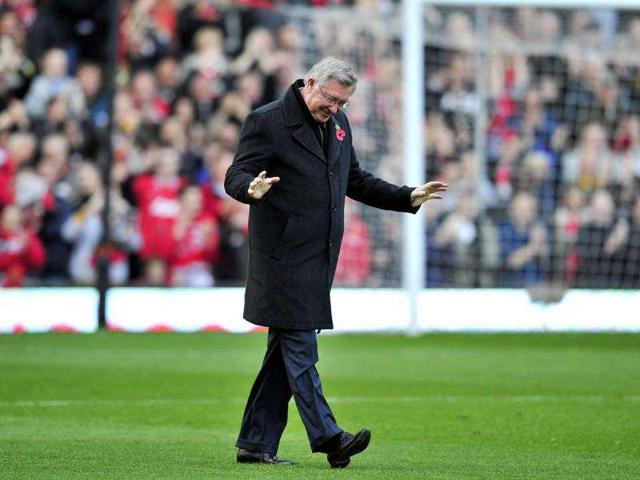 'Sir Alex's ability to adapt makes him great'
Anyone who's assiduously followed the English Premier League since the early days of it beaming into Indian households would be familiar with Denis Irwin. Tomojit Basu reports.
Hindustan Times | By Tomojit Basu
, New Delhi
UPDATED ON FEB 07, 2012 03:16 AM IST
Anyone who's assiduously followed the English Premier League since the early days of it beaming into Indian households would be familiar with Denis Irwin. The Manchester United legend who played primarily as a left-back but was comfortable in either full-back role and was a member of the Red Devils squad that won nearly everything that was up for grabs during his 12 years at Old Trafford. The Irishman paid a visit to the capital as part of the club's 'Champ19ns Trophy Tour'. HT caught up with him.


Q. Sir Alex Ferguson always admired your consistency. What would you attribute that to?
A. Just a lot of hard work. It's hard work which took me to the top and I had to work even harder to ensure that I kept my starting role. Of course, one needs a bit of luck along the way.

Q. About Sir Alex, what would you say makes him among the greatest coaches of all time?
A. There are no gray areas with him, he's a fair man and very honest about how he feels. It's a given that he's knowledgeable and despite being an old-fashioned coach, he's had to adapt to the times as the game has changed. It's faster, more physical and there's a lot of science involved in the building of a team and he's managed. In terms of players, he likes the hard-working and determined sort. If you slack at United, it's difficult to stay around.

Q. Did you always aim to be a set-piece specialist?
A. Well, I was good at set-pieces and I knew that even before I went to United (from Oldham Athletic). But the competition at United was immense with Giggsy (Ryan Giggs) being around among others and then of course, David Beckham. It came down to performing accurate free-kicks at training and I was given the opportunity.

Q. The title looks like it's staying at Manchester this year. What're your thoughts about City? Also, how likely do you think the big-spenders will be affected when the (Fifa) Financial Fairplay rules kick in next year?
A. City have done very well and I'd say that they were the better team for the first half of the season. They've spent a lot of money to assemble the side and are definitely finishing in the top two. About the financial fairplay rules, I don't think it'll affect the clubs much as they will find a way around it.

Q: May 26, 1999. How special was that evening in Barcelona?
A. Simply unbelievable. I think we became the first English team to win the treble after beating Bayern Munich in that Champions League final. But it was the way it happened which seemed to sum up our season as we had to fight back to win on at least four or five occasions that year. Besides, we wanted to win the trophy because of our disappointing exit in the '97 Champions League semifinal against (Borussia) Dortmund. Teddy (Sheringham) and (Ole Gunnar) Solskjaer came on late and somehow we edged it in extra-time. Nothing matches that.

Q. Two attacking players who troubled you?
A. John Barnes for sure and Hristo Stoichkov cause he was incredibly skilled. I never had the chance to face (Diego) Maradona or (Lionel) Messi though.

Q. With regard to the Ireland national team, they've qualified for the Euro for the first time since '88. Why do you think a major trophy has still eluded the country?
A. I actually think we've overachieved a little because football wasn't even the number one sport in Ireland for the longest time (it was Gaelic football and hurling). For a population of four million, we've made it to the World Cup in 1990, 1994 and 2002. Football's the top sport now and I think (Giovanni) Trapattoni's done a fantastic job with most Irish players now playing for top teams in England. Even though fans don't like his style, I think he's done very well to bring about an organized structure.

Q. And how did it feel to beat Italy in the '94 World Cup opener?
A. (laughs) Oh, fabulous. To beat Italy in our opening game after having been knocked out by them in the quarter-finals in 1990 was fantastic. And to do it in New York which had a big Italian population made it tougher.

Q: Do we see United playing an exhibition match in India soon?
A. Definitely, we know there's a big following for the Premier League here and we already have a tie-up with an academy in Mumbai. The club will definitely make their way here soon.
Close