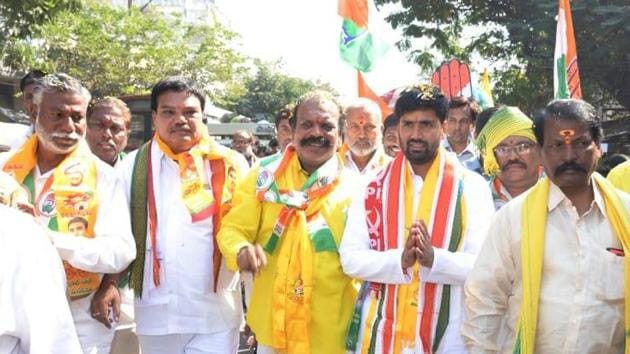 Telangana elections 2018: WhatsApp, NRI focus for Youth Congress
There are about two million people from Telangana residing and working in the Gulf nations and other countries, as per data available with state Congress.
UPDATED ON DEC 02, 2018 12:03 AM IST
When the Youth Congress in Telangana started its war room in Hyderabad two months ago, the first thing it did was approach Telugu non-resident Indians (NRIs) to pep up its social media campaign in the poll-bound state.
"We did not seek funds from them but asked them to do research and use their contacts in disseminating our promises and programmes to the people through social media since they have the time, wherewithal and resources," said state Youth Congress secretary and war room in-charge, Venkat Gurijala.
There are about two million people from Telangana residing and working in the Gulf nations and other countries, as per data available with state Congress.
In November this year, Telangana Congress president N Uttam Kumar Reddy and central leader RC Khuntia visited Dubai to meet NRIs and migrant workers and seek their support for the party.
Taking a lead over the parent organisation, the Youth Congress social media war room was set up on September 22. At present, it has 11 people working round the clock in a rented apartment.
The main focus of its strategy is an aggressive WhatsApp-based campaign, and not Twitter. It has created 4,000 WhatsApp groups with 30-40 in each of the 119 assembly constituencies. Gurijala said the party has focussed on WhatsApp and Facebook because of the wider reach of the two media. "We have connected over 800,000 people. Our strength is our content," said Gurijala, who was an assistant professor with a private college before joining the Youth Congress.
Though the party has an official Facebook page, it relies mainly on unofficial pages and websites to reach out to "neutral" voters.
"While the official page has a reach of one million users, the unofficial pages have already crossed the 20-million figure," he said.
The team has also compiled videos of Telangana Rashtra Samithi (TRS) leader and chief minister K Chandrasekhar Rao's pre-poll speeches in which he had made certain promises that remained unfulfilled during his tenure. These videos are continuously posted on social media.
"One such video is of KCR promising a Dalit chief minister if TRS comes to power at an election rally in the run-up to the 2014 assembly polls. We all know what happened to that promise," Gurijala said.
The other focus is youth, especially the 1.2 million new voters, and unemployment. The Youth Congress has enrolled 250,000 new voters through its "Project Ballot Campaign".
Gurijala claimed that KCR had promised to create 100,000 jobs in the government sector in 2014 but failed to keep the promise.
"Of nearly 250,000 government vacancies, only 25,000 have been filled in the past four-and-a-half years. In fact, around 2.8 million youth had registered for government jobs in November 2014. That reflects the job scenario in Telangana," he said.
To win over young voters, the Congress in its manifesto has promised ~3,000 as a monthly allowance to unemployed youth in the state.
And under its 'Yuva Shakti' programme, the Youth Congress has taken the party manifesto to 140,000 youth in the age group of 18-35 years. The team also verifies and monitors the door-to-door campaign through its 'volunteer management app'.
Close