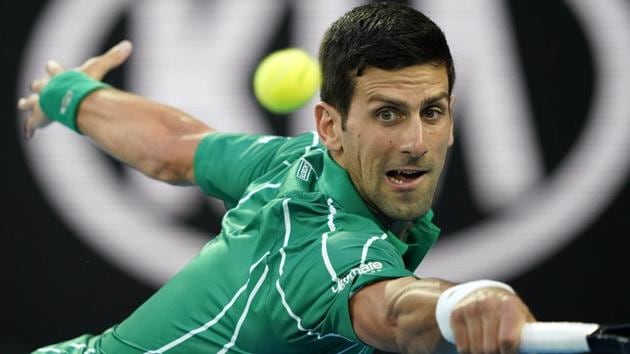 Australian Open Day 9 Highlights: Djokovic beats Raonic to set up semis clash against Federer
Australian Open Day 9: Novak Djokovic beats Milos Raonic to make it to yet another semi-final where he will face Roger Federer. Djokovic beats Milos Raonic 6-4, 6-3, 7-6 (7-1). The Swiss ace was pushed to the brink by the American Tennys Sandgren. On another day Sandgren would have been home and dry but Federer saved 7 match points to finally come out victorious. Meanwhile, Sofia Kenin and Asheligh Barty sailed through to semifinals and square off against each other on Thursday.Follow Highlights of the 2020 Australian Open:
UPDATED ON JAN 28, 2020 05:10 PM IST
17:05 hrs IST
Novak Djokovic wins!
Novak Djokovic beats Milos Raonic 6-4, 6-3, 7-6 (7-1) to set up Roger Federer clash in semifinal
16:59 hrs IST
11-minute game
After nearly 11 minute game, Raonic manages to hold serve to take it to 6-5 in the third set in his favour. Federer will now have to push this set to the tie-breaker.
16:39 hrs IST
Medical timeout
Djokovic has taken a medical timeout. Hopefully, this isn't too serious an issue? Nope, he's back. Hopefully, he's fit to play the rest of the match.
Note: Nothing to worry about, he had just gone to get his contact lenses changed! PHEW!
16:35 hrs IST
Raonic resisting in third set
Milos Raonic is resisting hard in the third set against Novak Djokovic. This could be his last stance to save himself in the match. He is ensuring he holds on to serve, and push this one to the tie-breaker.
16:23 hrs IST
On serve in the third
Raonic has battled hard to keep his serves far. He leads 3-2 in the third currently but Djokovic looks completely in control of the match.
16:01 hrs IST
Second set goes to Novak
The Novak juggernaut continues! Another great effort from Novak Djokovic and he has won the second set 6-3 against Milos Raonic. Just one set away from the quarters!
15:14 hrs IST
Djokovic wins 1st set
Novak Djokovic has won the first set 6-4 against Milos Raonic. It was a tough fight between the two players but Djokovic was able to clinch it by the finest of margins.
14:15 hrs IST
Djoker Time
Time for Novak Djokovic to take centre stage! The Serbian will take on Milos Raonic in their fourth round encounter and the match will begin in some time.
13:22 hrs IST
Federer: Draws are not getting easier
Roger Federer has that wit intact even after a gruelling 5 set match. He tells Jim Courier that he is lucky to be here and wants to make the most of it. He spoke about having a groin issue and coming back stronger. Courier to Federer: 'I must admit I haven't met anyone like you'
13:17 hrs IST
Federer wins; enters semis
Roger Federer has done it. For the 22nd time he fights back from match point down to win. What a performance from Sandgren but it was not to be. Federer won 6-3, 2-6, 2-6, 7-6, 6-3.
13:15 hrs IST
Sandgren stays alive, Federer serves for match
Sandgren has won on his serve to make it 3-5. Federer is serving for the match and the two players are locked at 15-15. Amazing backhand by Sandgren and that is an unforced error from the Swiss ace. Federer comes right back to make it 30-30.
13:10 hrs IST
Decisive Advantage for Federer
Roger Federer has shown who is the boss. After saving plethora of match points he is now up 5-2 in the decider. Sandgren will serve to stay in the match.
12:44 hrs IST
Federer level
A gruelling set comes to an end and Roger Federer has won it 7-6! Both players had multiple chances to clinch the set but it was the veteran who was able to finish it in the tie-break.
11:47 hrs IST
Sandgren wins 3rd set
Tennys Sandgren has won the third set 6-3 and he is two sets up against Roger Federer. Are we looking at a major upset?!
11:15 hrs IST
Federer in trouble
It is not looking good for Roger Federer as he is down 4-1 in the third set after winning the first set. However, Tennys Sandgren came back strong and took the second set to level things.
9:35 hrs IST
Barty through
Ash Barty stormed into her maiden Australian Open semi-finals on Tuesday with an emphatic 7-6(6) 6-2 win over Petra Kvitova that avenged her defeat to the hard-hitting Czech in last year's quarter-final at Melbourne Park.
9:03 hrs IST
Kenin wins
Sofia Kenin is through to the next round of women's singles after she defeated Ons Jabeur 6-4. 6-4.
5:00 hrs IST
Kenin vs Jabeur
14th seed Sofia Kenin and Ons Jabeur will face each other in the first Q/F to seal a place in the last four.
Close