Calendar changes for a week's break before Finals will come: WTA chief
Saturday saw her leapfrog Britain's Johanna Konta to clinch the last place in Singapore, giving her no time between the two events.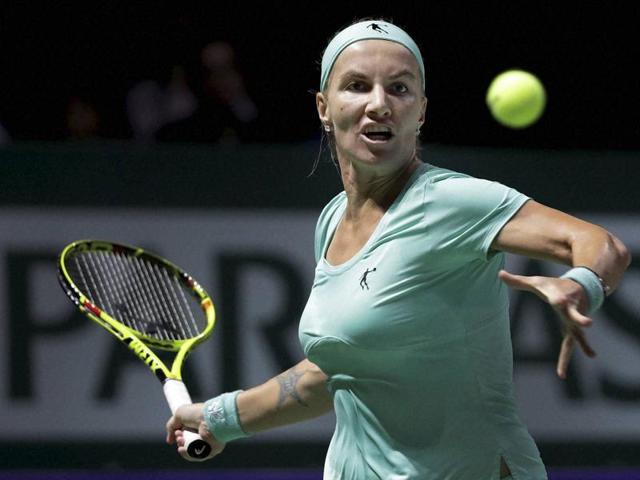 Updated on Oct 27, 2016 03:57 PM IST
The Women's Tennis Association (WTA) is relooking at its tournament calendar in a bid to avoid the last-minute qualification seen in this week's tournament, its chief executive said Wednesday.
"There should be a week lead-in to the WTA Finals. The WTA Finals should be the last event of the year. Period," said WTA chief executive Steve Simon, who admitted the organiser "clearly (has) some issues" with the calendar.
The WTA Finals in Singapore this week is limited to the top eight players while those ranked nine to 19 and a wildcard contestant will play for the WTA Elite Trophy next week in Zhuhai, China.
This year's Singapore line-up was complicated by the fact that American powerhouse Serena Williams pulled out citing a shoulder injury, opening up another spot. Svetlana Kuznetsova's last-gasp Kremlin Cup win on Saturday saw her leapfrog Britain's Johanna Konta to clinch the last place.
Konta had opted not to play last week because of a niggling injury so came to Singapore early to prepare, only to be sent packing before playing her first match.
Players are ranked according to the number of points accumulated during tournaments on the WTA circuit.
"It's (of) critical importance... we formalise the calendar that creates the supporting structure that provides for a healthier, better and stronger tour at the end of the day," Simon told reporters.
One suggestion, he said, was to swap the timing of the WTA Finals with the Elite Trophy.
"Seems on paper it's a simple flip, but there are obviously a lot of elements involved with that with respect to player flow, business issues, contracts."
Asked if Singapore will continue to host the event after its agreement ends in 2018, Simon said organisers have been speaking with the country's government.
"I would certainly like at some point for these WTA Finals to find a more permanent home for them where we can truly build the event, the traditions, and you can make the investments that you need to truly build an event...
"It's something that we will hopefully have more conversations (about) and see where they go," he added.
Close Story