Here are today's top news, analysis, and opinion. Know all about the latest news and other news updates from Hindustan Times.

Published on Sep 01, 2022 12:57 PM IST
Uddhav Thackeray has said that several parties have contacted him recently on the basis of religious ideology.

Published on Aug 26, 2022 05:52 PM IST
The case pertains to alleged financial irregularities worth ₹113 crore in the Jammu and Kashmir Cricket Association (JKCA) when Farooq Abdullah was the president between 2006 and 2012.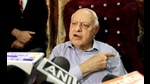 Updated on May 28, 2022 12:56 AM IST
Assam has been plagued with flooding and landslides due to torrential rainfall over the past few days. Chief minister Himanta Biswa Sarma said that Dima Hasao is the worst-hit as rail and road connectivity have been disrupted in the region due to erosion from floods and landslides.

Updated on May 19, 2022 09:28 PM IST
Written by Sharangee Dutta | Edited by Sohini Goswami
, New Delhi
Speaking at a public gathering in West Bengal's Siliguri, Union home minister Amit Shah said that the ruling Trinamool Congress (TMC) government in the eastern state is spreading canards that the CAA will not be implemented.


Updated on May 05, 2022 07:25 PM IST