Latest from chanda kochhar
A court on Friday allowed the Central Bureau of Investigation (CBI) to invoke section 409 of the Indian Penal Code against Chanda Kochhar, which provides for life imprisonment as the maximum punishment.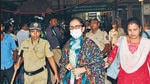 Published on Jan 13, 2023 10:07 PM IST
Chanda Kochhar bail: Bombay HC ruled the arrest of the ex ICICI Bank CEO and MD, and her husband, was not legal.


Updated on Jan 10, 2023 11:56 AM IST
Having joined the private bank as a management trainee in 1984, Chanda Kochhar rose to become the first woman to head a large bank in the country in 2009, having succeeded the then group chairman KV Kamath.


Published on Jan 09, 2023 01:53 PM IST
ICICI Bank Videocon Loan Fraud Case: The couple had earlier sought interim release account of the wedding of their only son, which is scheduled for January 15, and cancellation of remand.


Updated on Jan 09, 2023 12:33 PM IST
The CBI has alleged that ICICI Bank had sanctioned credit facilities to the tune of ₹3,250 crore to companies of the Videocon Group promoted by Dhoot in violation of the Banking Regulation Act, RBI guidelines, and credit policy of the bank.

Published on Dec 29, 2022 01:34 PM IST